Medically reviewed by Dr. Brian Paris, D.C on Jan. 20, 2019.
Spondylolisthesis ("spon-dee-low-lis-thee-sis") is a big fancy word that simply means a vertebra in your spine has slipped out of position.
It sounds like a pretty extreme condition. And spondylolisthesis can be the source of severe back pain, usually in the lower back.
But just like herniated discs, you may have the condition and never know it.
In fact, it's estimated that 3 to 11.5 percent of adults have spondylolisthesis but it's estimated that as many as 75 percent of those affected don't have any symptoms.[i]
That's the good news.
The bad news is ignoring it altogether may lead to excessive "swayback" curvature of your spine (lordosis) or even "round back" (kyphosis)[ii] as your upper spine literally falls off your lower spine causing breathing difficulties, chronic back pain and possibly permanent nerve damage.
Fortunately, there are simple exercises and other actions you can take to prevent progression and get pain relief from spondylolisthesis.
Quick links:
Spondylolisthesis causes and diagnosis
In children, most cases of spondylolisthesis are caused by either a birth defect or some type of impact injury, like when playing sports.
This usually appears between the sacrum and the bottom fifth vertebra of the lumbar spine.[iii]
Spondylolisthesis in adults though is most commonly the result of spinal degeneration such as arthritis.
Most adults experience the condition slightly higher than children, between the fourth and fifth vertebrae of the lumbar spine.[iv]
Confirmed by an X-ray, CT Scan or MRI, your doctor will often start with a simple back extension exercise (leaning back) to begin diagnosing spondylolisthesis.
Those with a troublesome condition will usually experience some amount of pain when leaning backward.

Natural spondylolisthesis treatments
Most doctors will advise taking it easy when having a back pain flare-up related to spondylolisthesis.
This is good advice, but understand this doesn't mean complete bed rest.
From there some will recommend options such as anti-inflammatory pain pills (NSAIDs), steroid injections and decompressive laminectomy or spinal fusion surgeries.
but many people with Grade I or Grade II spondylolisthesis get excellent results by improving their flexibility and muscle strength, using natural anti-inflammatories and non-surgical decompression.
In a moment I'll show you a great spondylolisthesis exercise you can do right now to help stabilize your spine.
But first, let me share some natural alternatives to NSAIDs, steroid injections and surgery with you.
Natural inflammation-fighting alternatives to dangerous NSAIDs include turmeric, ginger, boswellia and devil's claw.
One of the best natural anti-inflammatories around is found in abundance throughout your body until your late 20s, called proteolytic enzymes.
These natural enzymes not only fight inflammation but also clear toxins and scar-tissue forming fibrin from your circulatory system.
But as we age the level of proteolytic enzymes in our bodies drops dramatically unless you supplement them.
Now let's think again about that decompressive laminectomy. The idea here is to cut away bone that's pressing on a nerve.
Why not simply relieve the built-up spinal pressure instead?
Relieve that extra pressure and out of place vertebrae and spinal discs may slip back into their proper position on their own.
You can do that easily and safely with either inversion therapy.
It gently relieves spinal pressure by decompressing your vertebrae, using gravity to relieve the pressure.
Spondylolisthesis exercises to prevent and relieve pain
One of the best ways to prevent or relieve spondylolisthesis pain is to perform exercises that engage your core muscles that stabilize your spine.
Two of my favorite spondylolisthesis pain exercises are the plank for strengthening your abdominal muscles and bridging for your glutes.
They're also great for other types of back pain. These exercises also relieve sacroiliac joint pain.
1. Plank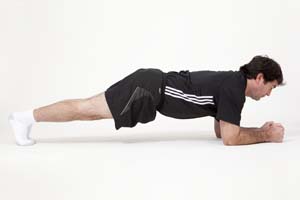 The plank is one of the core exercises and stabilization exercises you should add to your routine.
It strengthens your upper body and stomach muscles to provide stability to your spine.
Step 1: Lay on your stomach with your elbows and forearms at the side of your chest.
Step 2: Raise yourself onto your toes and forearms in a straight line. Keep you elbows shoulder-width apart. Your forearms should be at a 90-degree angle to your shoulders.
Step 3:  Tighten your butt and abdominal muscles to prevent your hips from sagging. Don't let your back arch, and don't look up or forward, as this causes strain on your neck.
Step 4: When you're body begins to sag and shake, lower yourself to resting position.
Repeat the process until you've reached your tolerance level or total fatigue.
To intensify this stretch, do a leg raise 1-2 inches off the ground. Alternate on the opposite leg for 10-20 seconds per side.
2. Bridge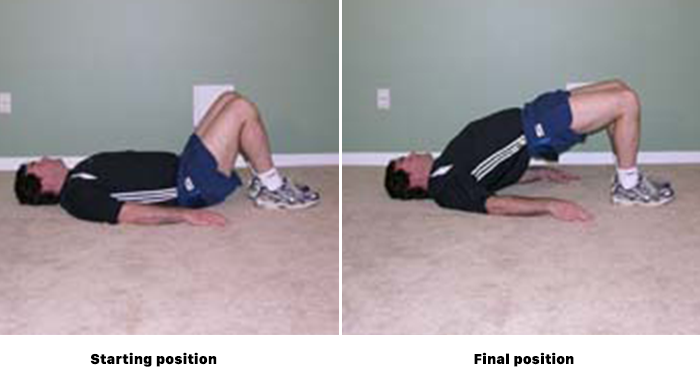 This exercise works your gluteal muscles, hamstrings, quadriceps, hip flexors and spine.
It's not as intense as a full bridge performed in gymnastics, but you will feel a slight gluteal stretch and some relief from lower back pain.
Step 1: Lie on a mat or carpeted area flat on your back with your palms and shoulders facing the ground.
With your feet shoulder-width apart, bend your knees to bring your feet towards your butt.
Step 2: Raise your butt, hips and back off the ground while keeping your shoulders, head, hands and feet pressing down.
Hold the top of the pose for 3-5 seconds.
Step 3: Lower yourself to the ground and repeat 10-15 times.
3. Standing arm exercise for spondylolisthesis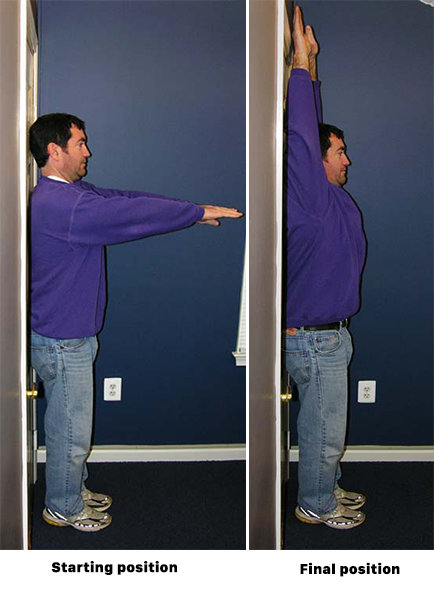 Step 1: Stand against the wall with your back as flat against the wall as you can.
Pull your pelvis backward to keep your lower back flat against the wall at all times throughout the exercise.
Your heels should be about two inches from the wall and remain flat on the floor throughout the exercise.
Step 2: Slowly raise your arms until they are straight in front of you and continue until they are directly overhead with the back of your hands touching the wall with your arms outstretched. Do not allow your back to arch.
Your lower back should stay in contact with the wall at all times.
If you cannot reach the wall without arching your back, go as far as you can while keeping your lower back in contact with the wall.
Step 3: Once you reach the highest point of the exercise hold the position to your tolerance.
You should feel your abs tightening as you hold this position.
Step 4: How many repetitions or sets of repetitions you perform is up to your tolerance.
Work towards completing the movement upwards to the wall and holding the top position longer.
Repeat this exercise throughout the day rather than all at once.
Variations Moving your feet farther from the wall can make it easier to touch the wall with your hands at the end position of the exercise.
As the exercise becomes easier, work towards completing the exercise with your feet closer to the wall.
Editor's note: This article has been reviewed by a member of our medical advisory board. The content provided is for informational purposes only and should not be construed as medical advice. Please consult with your physician if you have any questions about your health.
---
Read more:
Sciatica exercises to avoid: do this, not that
17 Muscles That Cause the Most Back Pain (and how to get relief!)
Can Constipation Cause Back Pain?
References

i Kalichman L, Kim D, Li L, Guermazi A, Berkin V and Hunter D (1976), "Spondylolysis and Spondylolisthesis: prevalence and association with low back pain in the adult community based population," Spine (Phila Pa 1976). 2009 Jan 15; 34(2): 199–205.  

ii Spondylolisthesis. Cedars-Sinai (www.cedars-sinai.edu) Acc. Oct. 30, 2018.

iii Spondylolysis and Spondylolisthesis of the Lumbar Spine. Massachusetts General Hospital: Pediatric Orthopaedic Department (massgeneral.org) Acc. Oct. 30, 2018.

iv Spondylolisthesis. The Spine Hospital at the Neurological Institute of New York (www.columbiaspine.org) Acc. Oct. 30, 2018.