… The Top Solutions, Causes, and Symptoms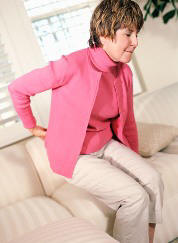 About 25 percent of Americans experience lower back pain every year, and virtually everyone will suffer from a significant back pain episode at least once. In fact, the fifth most common reason for all physician visits in the United States is — you guessed it — lower back pain.[i]
For some, lower back pain even becomes chronic, sometimes forcing the sufferer to adapt their lifestyle around the painful symptoms. While it's often said that lower back pain occurs for unknown reasons, a quick examination of your lifestyle may actually reveal the real underlying causes.
What are the Top Causes of Lower Back Pain?
If you've suffered an injury, such as a car accident, a fall, or an athletic injury, this can obviously cause back pain. But often, and much less obviously, so can your lifestyle.
Research suggests that in up to 85 percent of cases, lower back pain is not attributable to a specific disease (such as cancer) or spinal abnormality.[ii] This suggests that far more often, there is a more insidious cause. For instance, all of the following can trigger or exacerbate lower back pain:
Lack of exercise
Overweight or obesity
Sitting for too long (such as working a desk job)
Standing on your feet for too long
Repetitive lifting, pulling or pushing
Smoking, which can make it difficult for nutrients to nourish the disks in your back
Psychological and social factors
One or more of these factors, over time, can lead to muscle imbalances and actual damage to your spine. The end result is an array of conditions commonly associated with lower back pain, including:
Remember, these conditions are not the true cause of your back pain — the aforementioned lifestyle factors most likely are. So in an ideal world, you would simply avoid these strains and stresses to your back, and the resulting dysfunctions and syndromes, but doing so requires commitment (in the case of exercise or quitting smoking) and in some cases, such as sitting for hours or lifting while on the job, may not be easily avoidable. This is precisely why so many people share the symptoms of lower back pain, and in case you were wondering that can include more than just pain in your lower back.
Other symptoms include pain that radiates to your legs or arms, muscle spasms in your back, inability to stand straight, limited flexibility in your back or, in severe cases (that require immediate medical attention) loss of bowel or bladder control.
Is the Only Solution to Pop a Couple of Pain Pills or Get a Steroid Injection?
Medications such as non-steroidal anti-inflammatory drugs (NSAIDs), acetaminophen (Tylenol), and opioid pain relievers are one of the most common back pain "solutions" offered by conventional physicians. And when those stop working, or the person grows tired of the side effects, you may be offered a steroid injection or even surgery.
However, if these methods were actually effective, the world would be a very different place, as virtually everyone's back pain would be quickly relieved. If you've struggled with back pain for any length of time, you know this is simply not the case! Even the research shows: [iii]
"Recent studies document a 629% increase in Medicare expenditures for epidural steroid injections; a 423% increase in expenditures for opioids for back pain; a 307% increase in the number of lumbar magnetic resonance images among Medicare beneficiaries; and a 220% increase in spinal fusion surgery rates. The limited studies available suggest that these increases have not been accompanied by population-level improvements in patient outcomes or disability rates."
So does that mean you are simply destined to suffer with lower back pain? Absolutely not.
The Best Lower Back Pain Solutions
When it comes to truly healing lower back pain, often a multi-faceted approach works best. We encourage you to sign up for the free Lose the Back Pain newsletter, using the subscribe link in the upper-right corner of this page, to gain immediate access to the best natural tips available, such as the simple exercises below.
There are many additional strategies available that you may not be familiar with, which is why the newsletter is like a welcome friend letting you in on safe, lower back pain treatments that actually work. One point to remember, while the treatments themselves vary greatly, they share a common thread, and that is treating the underlying causes of your pain by addressing muscle imbalances, inflammation, spinal decompression and other forms of spinal stress.
Muscle Balance Therapy, which can help generate balance and stability in your pelvis and spine, and minimize excessive wear and tear of the disc and other joints of your spine
Far Infrared Heat, which is deep penetrating and longer lasting for pain relief and to increase joint range of motion
Rub on Relief, a broad-spectrum homeopathic pain cream that was formulated to address many of the foundational reasons why you are in pain. While giving you the simplicity and fast-acting relief you expect from a pain cream, this synergistic blend of homeopathic ingredients works to address both pain and inflammation without any side effects
Heal-n-Soothe, a natural anti-inflammatory formula that contains 12 of the most powerful and safest anti-pain ingredients, giving you pain relief without side effects.
Many have also found success integrating the following non-invasive techniques into their natural treatment plan:
Acupuncture, which has been found to be superior to usual care in treating chronic low back pain — especially if you have positive expectations about it.[iv]
Massage, which is proven beneficial for patients with subacute or chronic low back pain.[v] As an alternative, Trigger Point Therapy offers similar benefits, which you can administer yourself.
Regular exercise, which will help strengthen your back and abdominal muscles and help you maintain an ideal weight.
The more you know about the underlying causes of your back pain and the available modalities to treat it, the faster and easier your healing will be. Ideally, experiment with a variety of these techniques to see which one, or which combination, gives you lasting relief.