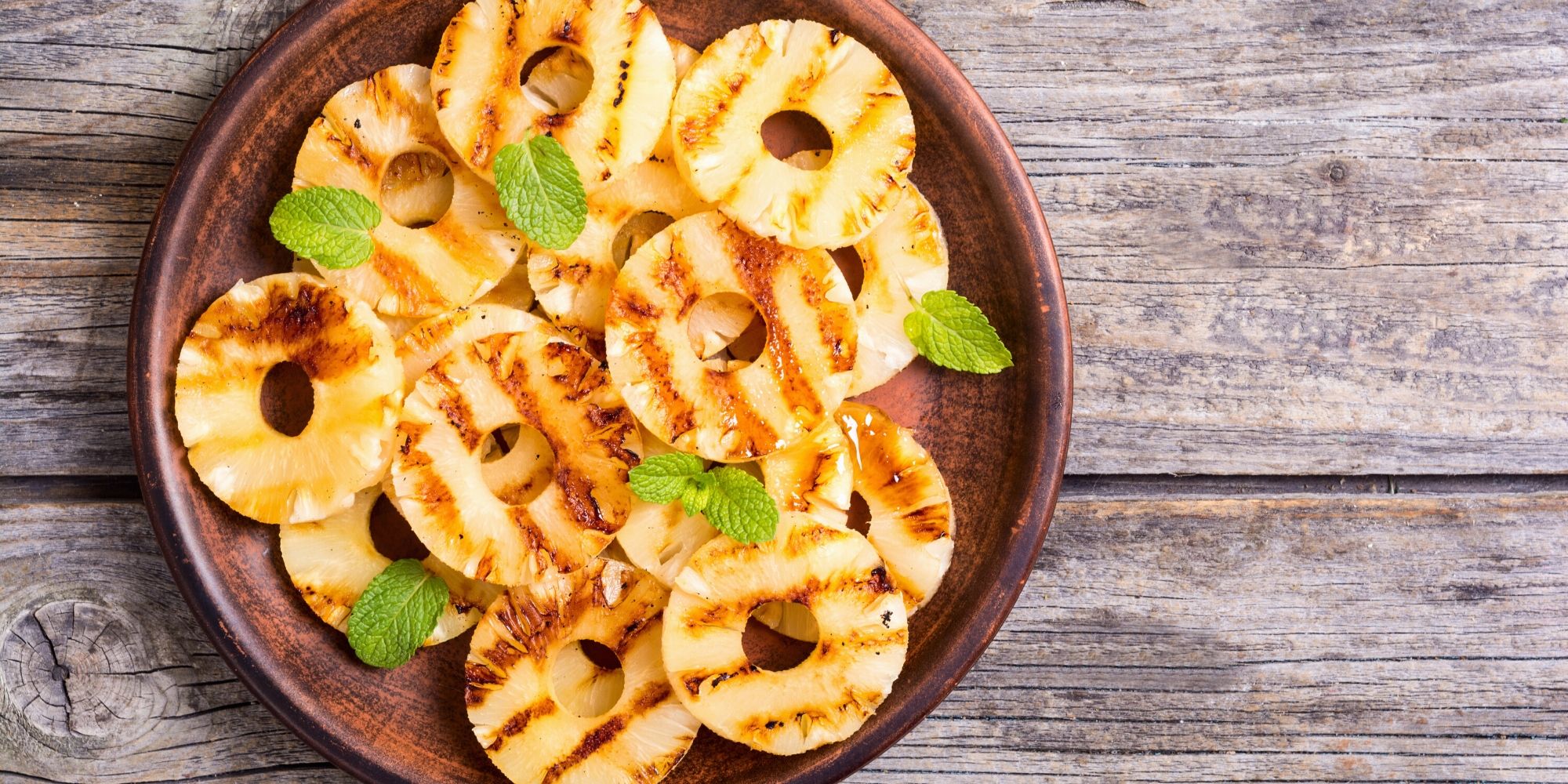 There's good reason why Hippocrates said "let food be thy medicine."
Housed inside perfect 'packages' like pineapples are amazing, complex substances that can nourish and heal your body.
The core and stem of pineapples contain bromelain, a mixture of proteolytic enzymes that has been used for centuries to treat indigestion and reduce inflammation.1
Bromelain also has analgesic, or pain-relieving, properties, with research showing the substance may reduce certain types of pain better than nonsteroidal anti-inflammatory drugs (NSAIDs).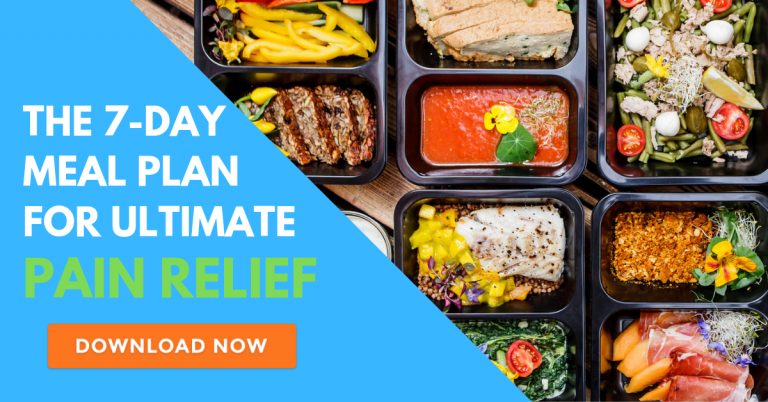 Consider:
New research published January 2014 found a complex of bromelain and two other anti-inflammatory substances (Devil's claw and turmeric) provided relief from osteoarthritis pain (with researcher saying they may be a "valuable and safe alternative to NSAIDs")2
Bromelain was found to be effective in ameliorating physical symptoms and improving general well-being in adults with knee pain3
Bromelain has been reported to reduce pain and swelling in acute soft tissue injuries4
Further, according to the University of Maryland Medical Center, bromelain is commonly used to reduce inflammation, and we all know that at the heart of most pain is raging inflammation:
" … bromelain may reduce swelling, bruising, healing time, and pain after surgery and physical injuries. It is often used to reduce inflammation from tendinitis, sprains and strains, and other minor muscle injuries. Studies of people having dental, nasal, and foot surgeries found it did reduce inflammation. In Europe, bromelain is used to treat sinus and nasal swelling following ear, nose, and throat surgery or trauma."5
Bromelain has additional benefits beyond pain relief, too, namely:6
Reducing cough and nasal mucus associated with sinusitis
Killing some viruses and bacteria
Removing dead tissue from third-degree burns when used topically (a process called debridement)
More Healthy Reasons to Eat Pineapple
The bromelain in pineapple tends to get all the attention, but it's actually only one healthful component of this tropical fruit.
Just one cup of pineapple provides more than 100% of the recommended daily value of vitamin C, which means it supports immune system health.
It's also an excellent source of manganese, which is a trace mineral important for bone and skin health, and more.
Pineapple also contains B vitamins for energy production and copper, which promotes wound healing.
So, undoubtedly, consuming fresh pineapple will supply you with valuable nutrients (and it's quite delicious, too, isn't it?).
However, if you're looking for the therapeutic effects of bromelain, specifically, you'd have to eat a lot of it raw to make an impact on your health.
Most of these enzymes are in the pineapple core and stem, which isn't typically eaten, and food processing destroys the natural, beneficial effects of these beneficial enzymes, so eating canned pineapple won't do the trick either.
According to the University of Maryland Medical Center, "Bromelain is found in the common pineapple plant, but not in high enough doses to act as medicine."7
The George Mateljan Foundation also states:8
"Excessive inflammation, excessive coagulation of the blood, and certain types of tumor growth may all be reduced by therapeutic doses of bromelain when taken as a dietary supplement. Studies are not available, however, to show these same potential benefits in relationship to normal intake of pineapple within a normal meal plan."
So in order to get the maximum dose of bromelain, and all of its associated benefits, this is one case where a supplement form is best.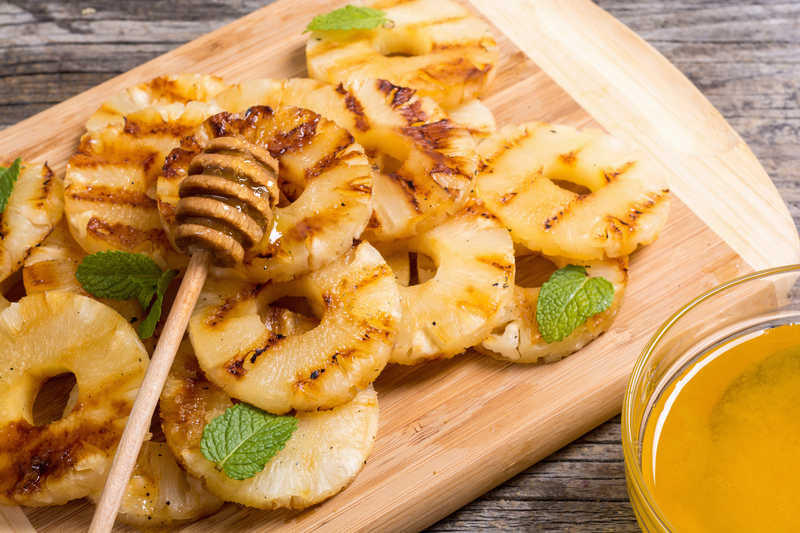 Recipe: Grilled Pineapple with Honey
Ingredients (makes 12 servings)

4 pineapples, sliced
2 tablespoons honey
3 tablespoons melted butter
1 dash hot sauce
Salt to taste

Directions
Coat the pineapple in the honey, butter, hot pepper sauce and salt. Cover and marinate for 30 minutes.
Grill the slices over medium heat for 2-3 minutes per side. Serve warm.
Nutrition (per serving)
Calories: 46 cal
Total fat: 3g
Cholesterol: 8mg
Sodium: 23mg
Carbohydrate: 5g
Fiber: <1g
Protein: <1g
---
If you enjoyed this recipe, you'll love our 7-Day Meal Plan for Ultimate Pain Relief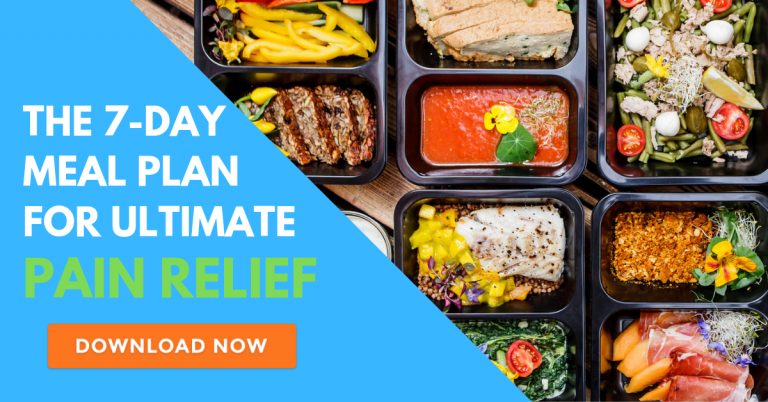 See Also:
8 Amazing Health Benefits of Bromelain
5 Foods With Antiviral Health Benefits
12 Best Foods That Fight Arthritis and Joint Pain
---