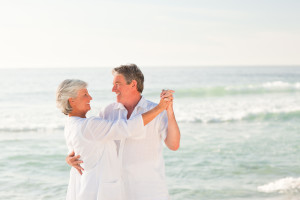 It's nearly impossible to watch an episode of "Dancing With the Stars" (DWTS) without marveling over the sheer athleticism of the contestants. Competitive ballroom dancing is easily one of the most taxing, most demanding of physical feats. As reported by the Associated Press (AP):[i]
"Even Olympians have been felled by the seriously grueling demands of competitive ballroom dancing."
Indeed, signing up for a season of "Dancing With the Stars" may very well mean you're signing up for serious injury and/or pain. As reported by the AP, since the show's debut in 2005, here's a sampling of the serious injuries that have occurred:[ii]
Cristian de la Fuente suffered a bicep tendon rupture in season six
Two-time Olympic beach volleyball gold medalist Misty May-Treanor tore her Achilles tendon in rehearsal
Former House Majority Leader Tom DeLay dropped out of season nine because of foot problems
Jewel suffered tibia fractures in both legs in season eight
Nancy O'Dell suffered a torn meniscus in season eight
Pro dancer Kym Johnson hurt her neck during season 12
Melissa Gilbert got a mild concussion and whiplash in season 14
Bill Nye, aka The Science Guy, suffered a leg injury in season 17
Billy Dee Williams dropped out of season 18 because of chronic back pain
What Should Anyone Competing on DWTS – or Engaging in Any Type of Strenuous Activity — Know?
If you're a contestant on DWTS … or you engage in any type of strenuous sport, dancing, or other activity (including work related), you've got to zero in on inflammation and even stop it before it starts. No one has this practice down to a science more than, perhaps, Olympians.
As an Olympic athlete, every aspect of their performance is analyzed and tended to in order to prevent injury and enhance performance. As reported by Wired:[iii]
" They don't just rub Bengay on tired muscles, they follow elaborate hydrotherapy regimens to limit muscle damage and reduce soreness by 16 percent. And instead of pounding out hour after hour of training, they sometimes do a targeted workout of insanely high intensity, approved by their physiologists, which can give them better results in as little as four minutes."
Some Olympians are also known to enjoy beet juice to help muscles use oxygen more efficiently, while others drink cherry juice, which fights inflammation.[iv] Cortisone and non-steroidal anti-inflammatory drugs (NSAIDs) used to be the go-to treatment for pain – and pain prevention — among athletes. But that is changing.
For starters, research now shows that taking ibuprofen before a strenuous run does not improve performance, even when it's taken by athletes with sore muscles. In fact, those who took ibuprofen fared worse on a second run, exhausting quicker, than those who took a placebo.[v]
Separate research also showed those who took over-the-counter pain relievers prior to a marathon had five times more adverse events than those who did not.[vi] Adverse events included gastrointestinal cramps and bleeding, cardiovascular events, blood in the urine and more.
An Elegant Solution if You Engage in Strenuous Sports, Exercise, Work or Other Activities
Fed up with their significant side effects, and looking for a safer, more effective avenue of relief, some Olympic teams are turning to proteolytic enzymes, which research shows may speed recovery and lessen pain after intense exercise.
Dr. Joseph Keul, a sports medicine physician, was among the first to use proteolytic enzymes to help Olympic athletes recover from injuries. They were so effective that the German and Austrian Olympic teams ordered more than 1 million tablets of the enzymes prior to the 1998 Winter Olympics. Research shows, for instance:
People with sports-related ankle injuries who took proteolytic enzymes had faster healing and less time away from training (reduced by about 50%)[vii]
Proteolytic enzymes significantly speed healing of bruises and other mild athletic injuries as well as finger fractures[viii]
Further, as reported by PR Newswire:[ix]
"Systemic [proteolytic] enzymes have been shown in numerous studies to support recovery from muscle and joint pain following strenuous exercise. In one study of boxers published in The Practitioner, systemic enzymes significantly reduced injuries such as cuts, broken vessels, bruising and sprains prior to entering the ring.

In another placebo-controlled study, 22 of 44 patients with sprained ankles received systemic enzymes for 10 days, and were found to have less pain and swelling, and greater mobility than the control group.

More than 20 additional studies have confirmed the use of enzymes to promote recovery from injuries. Other studies suggest that systemic enzymes may also help lessen the wearing away of muscle tissue caused by over-training."
This Stuff is Seriously Good …
There are many proteolytic enzyme supplements on the market, but I can confidently say our Heal-n-Soothe systemic proteolytic enzyme formula is the most powerful you will find. In fact, since we first formulated Heal-n-Soothe in 2007, we've carefully been making adjustments to make it even better.
Along with the proteolytic enzymes, Heal-n-Soothe contains 12 of the most powerful natural painkillers on the planet, which work synergistically to heal and soothe pain and its underlying inflammation. If you want to know more, here are seven reasons why you simply won't find a better proteolytic enzyme supplement than this.
Now I'm not saying proteolytic enzymes could have prevented every one of those injuries on "Dancing With the Stars" … but they certainly may have … or at least could have helped. Even if you're not a professional dancer — maybe you're a gym rat, a weekend tennis warrior or are employed in a strenuous profession, like construction work or firefighting – do yourself a favor and pick up a bottle of this stuff.
And before I forget, here's one more pain-relief strategy that two-time USA Olympian Debbi Lawrence said helps her "recover from intense workouts much faster" and after using it her "legs have never felt better." You can read about it here.
[i] Associated Press September 30, 2015
[ii] Associated Press September 30, 2015
[iii] Wired June 25, 2012
[iv] ABC News July 30, 2012
[v] J Athl Train. 2015 Mar;50(3):295-302.
[vi] BMJ Open 2013;3:e002090
[vii] NYU Langone Medical Center, Proteolytic Enzymes
[viii] NYU Langone Medical Center, Proteolytic Enzymes
[ix] PRNewswire.com May 12, 2000