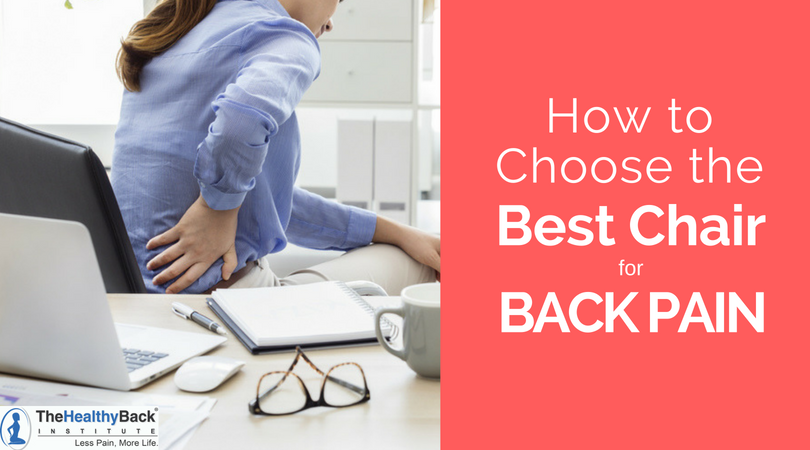 The average American spends anywhere from eight to 12 hours a day sitting.
Despite the significant amount of time we spend sitting throughout the day, most people don't pay any regard to the chair they use.
But know this: a good chair can be a key factor in relieving debilitating back pain and neck pain — and avoiding them altogether.
Whether you're looking for a cushy executive chair or a task chair for your home, there are a number of factors you should consider before spending your hard-earned cash.
In this article, I'll show you what to consider before you buy a chair, and what to look for in a high-quality ergonomic chair.
I'll also share with you two products that my staff and I used regularly use to alleviate back and neck pain (they aren't chairs…)
First, let's clear up a misconception about "good posture."
---
Sitting up straight is NOT best for your back
Poor posture as you sit is one of the most common causes of chronic back pain.
That's because sitting actually puts more pressure on your back than standing.
If you slouch or sit in an uncomfortable position, your muscles and ligaments can become overstretched, fatigued and strained.
You've probably been told to "sit up straight" since you were a child.
But know this… Sitting up straight at a 90-degree angle can actually cause chronic back problems.
That's because sitting too upright puts unnecessary strain on your spine, causing your spinal discs to move and become misaligned.
Researchers from the University of Alberta Hospital in Canada proved this in a study.
They used magnetic resonance imaging (MRI) to review study participants' spine health while they were seated in different postures — either 90 degrees or slightly reclined at 135 degrees.
What researchers found is that the 90-degree angle actually caused the most strain and prominent movement of the spinal discs.[i]
The study author, Waseem Amir Bashir, noted:[ii]
"A 135-degree body-thigh sitting posture was demonstrated to be the best biomechanical sitting position, as opposed to a 90-degree posture, which most people consider normal."
Many daily use chairs and office chairs on the market actually keep your posture fixed in the 90-degree position, potentially making your back pain worse.
Knowing that information, you should choose a chair that provides a neutral position for your spine close to the 135-degree body-thigh posture.
The chair you choose should also have the following features to alleviate pressure on your spine:
Cushioned, adjustable armrests
A five-point base
A padded seat
Adjustable seat height and width
A seat pan that feels comfortable for your body height
Even though a slightly reclined position is easier on your spine than a stick-straight posture, it doesn't mean slouching is ok.
In the video below, I review a handful of chairs, as well as the Freedom Back cushion, which we'll discuss later in this article.
---
The best chair for back pain will not let you slouch
In fact, slouching is virtually guaranteed to give you chronic pain sooner or later …
When you slouch, your shoulders and head move forward in an unnatural position that strains your spine, neck and jaw.
This can lead to headaches and jaw pain, because a slouch can put the equivalent of 100 extra pounds of stress on your lower back.
The more you slouch, the worse the damage becomes; for each inch your head drops while slouching, another 10 pounds of stress is added to your spine.[iii]
The trouble is, most people aren't disciplined enough to keep their spine in its proper alignment.
If your chair allows you to slouch, there's a good chance you will, especially when you've been sitting for four or five — or eight to 10 — hours at a time.
The best ergonomic office chairs prevent you from slouching. However, you should make sure to test this feature in the chair before you order.
You can also opt for a back cushion and/or seat cushion to add to your chair to drastically reduce slouching.
The Freedom Back and Back Pain Seat Cushion, which we'll cover more at the end of this post, both prevent you from slouching and help align your spin to healthy neutral posture.
Whether your buying seat cushions or a high-quality office chair with an ergonomic design, you should choose a product that provides crucial lower back support, also known as lumbar support.
---
Why adjustable lumbar support is so essential
The natural curve in the lower portion of your spine, called the lordotic curve, needs special support while you sit.
Proper lumbar support helps relieve the muscles surrounding your spine, which otherwise have to work overtime to keep your spine in the proper alignment when you're sitting.
If you lack lower back support while seated, your head and upper back pitch forward to compensate, which encourages slouching and exacerbates pain.
Chairs with adjustable lumbar support can adapt to the position and shape of your back, providing both comfort and pain relief.
If your chair lacks lumbar support, try placing a rolled up towel behind your back. This trick can provide some quick relief, but it's only a short-term solution because the towel will move every time you get up.
For a long-term solution, try a back cushion or seat cushion to add lumbar support to your existing chair and give you proper posture.
In the next section, we'll show you a couple recommended chair products that my staff and I use to make good office chairs more effective.
The best part: they're significantly less expensive than buying a brand new chair for back pain and they provide better pain relief.
---
Try these products in your office or on the go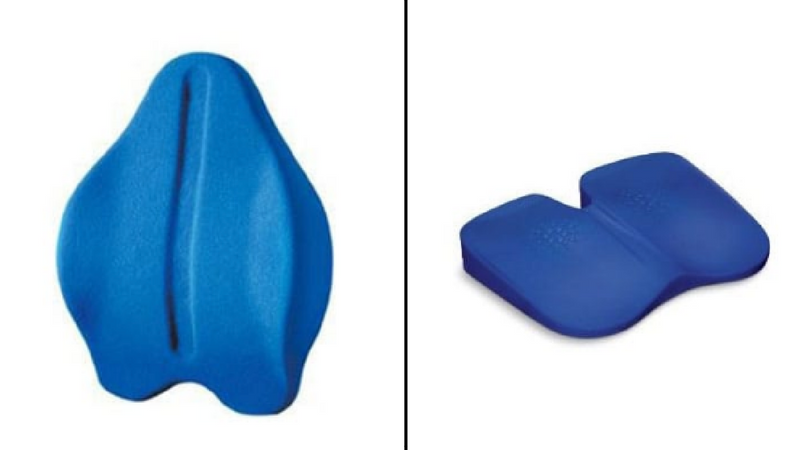 If you've ever been in the market for an ergonomic office chair, you know there are countless models on the market — but most fail miserably when it comes to keeping you comfortable and pain-free.
You can easily spend upwards of $3,000 on a quality chair, which isn't exactly economical for most of us.
Alternatively, high-quality back cushions and seat cushions can provide the support your back needs at a fraction of the cost of the best ergonomic chair.
That's why we recommend choosing a quality back cushion and seat cushion to augment your existing chair instead of buying a new one.
We've tested dozens of products over the years, but have found the Freedom Back and Back Pain Seat Cushion are two of the best options for all body types.
Also, you can take these products with you on the go. Having these on a plane, in a long car ride, or at a business conference can make a world of difference when you're traveling.
Let's take a look at the Back Pain Seat Cushion first…
---
Why we like the Back Pain Seat Cushion
The Back Ease is a seat cushion with a unique design that promotes a healthy sitting posture, and it can naturally relieve any type of chronic back pain or sciatica.
One of the best features is the Coccyx Relief Cutout, which makes sure you're putting zero pressure on your tailbone area.
The cutout minimizes direct contact between the sensitive tailbone area and the seating surface. This reduces uncomfortable stress and pressure which can build up during prolonged sitting.
The cushion is also made out of highly resilient material, with a high-density foam interior.
Seat cushions made of high-density foam provide superior support and even distribution of your body's weight, reducing uncomfortable pressure points around the pelvic bone.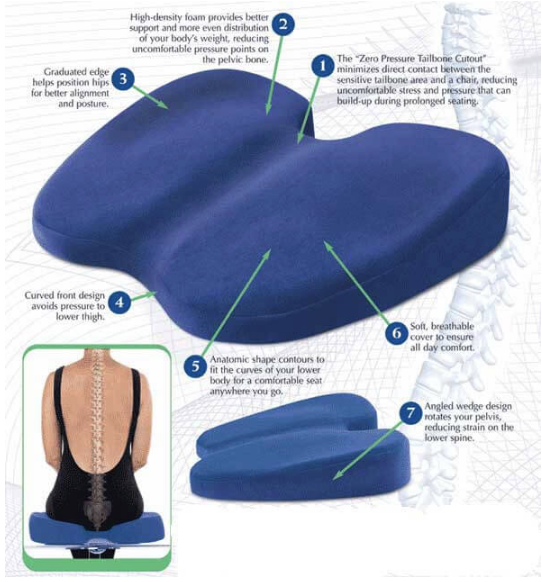 The Back Pain Seat Cushion has a cradling edge design that positions hips for better alignment and good posture.
Its anatomic shape contours to fit the curves of your lower body for a comfortable seat.
We like the angled wedge design, which rotates your pelvis, reducing lower back pain. This also helps restore your lumbar curve and comforts spinal discs.
Plus, this product's dimensions allow it to work with almost every size chair, so you can use it at home, on the plane, or in the car.
In addition to a high-quality seat cushion, you should also consider adding a back support cushion to your chair.
---
Why we like the Freedom Back
My staff and I regularly use the Freedom Back, which jokingly refer to as "The Cadillac of Back Support Pillows."
Aside from being incredibly comfortable, the Freedom Back does the "work" of sitting correctly for you.
When most of us sit, our spine takes a "C" shape, causing our shoulders to move forward from of our hips.
The proper position is actually when our spine takes an "S" shape. But holding that position means working trunk muscles and creating a habit to sit that way.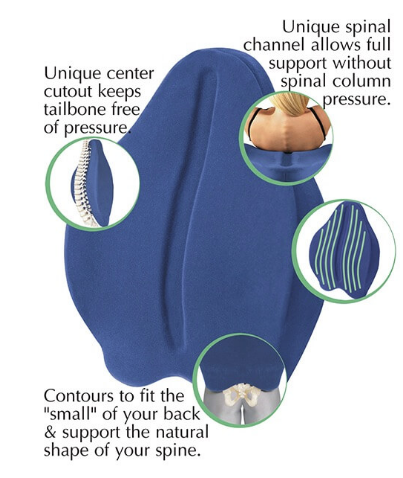 The Freedom Back provides that perfect posture for you without making you re-adjust your body or remembering to sit that way each time.
We also like that the contour is designed to fit the shape of the entire back, from the upper back all the way down to the hips.
The unique spinal channel in the middle provides full support without putting pressure on your spinal column.
Also, the special cut out shape on the bottom ensures you're not putting pressure on your sacrum.
If you want to learn more about the Freedom Back, click right here.
You should only use these products individually. As for which one is best, it does come down to personal preference. You'll have to try different options to see what works for you.
Whether you choose to use a back cushion and seat cushion or invest in an expensive chair, you also need to make sure you don't stay seated for extended periods of time.
---
Final thoughts
Your body is not meant to stay in one position for long periods of time, which is why experts recommend you get up and stretch at least every 20 minutes or so when you're seated.
Realistically, most people do not do this. You become engrossed in your work, are on a phone call, or in a meeting and simply cannot get out of your chair every little while.
Prolonged sitting, especially when you're slouching, stresses the tissues supporting your spinal column, fatigues your muscles and ultimately can lead to back pain, especially low back pain.
Getting up from your chair and moving throughout the day will promote blood flow in your body and alleviate pressure on your spine.
Most chairs only add to the problem of extended, sedentary sitting, as they are made in a fixed position that does not allow for much movement while sitting.
The healthiest chairs for back pain are those that allow for ample moving and stretching even while you're in a seated position.
While it's still important to get up as often as you can, pick a chair that facilitates movement is essential for your back health.