Back Pain Seat Cushion

See Customer Comments
Best Retail Price:
Sorry, We're Out Of Stock
Enter your email and we'll
notify you when it's available.
90 Day Money Back Guarantee
Place Your Order By Phone 1(800) 216-4908
HOW CAN Back Pain Seat Cushion HELP?
If you are suffering from any type of back pain or sciatica and would like to be able to sit without pain, I highly recommend you try this seat cushion.
After testing dozens over the years this is the one that we (and our customers) have found works the best.
Coccyx Relief Cutout - The "Zero Pressure Tailbone Cutout" for coccyx area, minimizes direct contact between the sensitive tailbone area and the seating surface. This reduces uncomfortable stress and pressure which can build-up during prolonged seating.
Highly Resilient Material - High-Density foam provides better support and even distribution of your body's weight, reducing uncomfortable pressure points around the pelvic bone.
Cradling Edge Design - Graduated edge of seat cushion positions hips for better alignment and posture.
Contoured Surface - Curved front design avoids pressure on lower thigh.
Anatomic Shape - Anatomic shape contours to fit the curves of your lower body for a comfortable seat - anywhere you go... home, work, car or plane!
Breathable Cover - Soft, breathable cover to ensure all day comfort.
Wedge Shape - Angled wedge design rotates your pelvis, reducing strain on the lower spine. Helps restore your lumbar curve and comforts spinal discs.
New Surface Dimples! - Enhance softness and air ventilation.
These Specific Dimensions - Allow it to work with almost every chair: 16 x 14.5 x 2.5.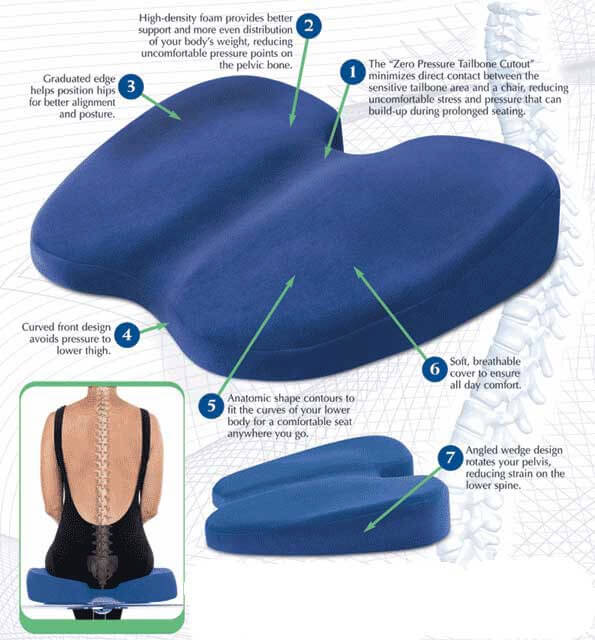 FREQUENTLY ASKED QUESTIONS!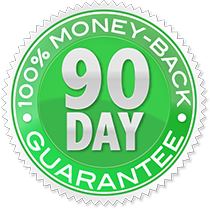 90-Day
100% No Risk
Money Back Guarantee
We truly want to help you live pain free. That's why we test every single product we offer and develop many of our own exclusive products you can't get anywhere else.
If you are unhappy for any reason, simply return your order within 90 days and get your money back, less shipping. Your returned product must be sent back in its original packaging and in like new condition with all parts and pieces.
Please Note: All returns are carefully inspected by the our returns department. If there are any signs of damage, foul odors, pet hair, dirt, and other debris, the return will not be accepted.