With a recession looming in today's economy, people are worried about their financial security more than ever. And for most people, their job is their lifeline. If that lifeline gets cut, financial ruin soon follows.
The average American has a bank account balance of just $5,300. This means if most Americans lose their jobs, they're only a few months away from going broke—unable to pay their mortgage or rent.
Not long ago, Steven Kaiser faced a similar fear that kept him up at night, filled with anxiety and dread.
Steven is an industrial electrician with over 30 years of experience under his belt. His job is demanding and he works hard. On any given day, you'd find Steven crouched down or hunched over in some tight nook and cranny making crucial electrical repairs. As an industrial electrician, the stakes are high—one small mistake could turn deadly in a flash.
Unfortunately, after 30 years on the job, Steven's knees were shot. The pain got so bad that Steven developed a noticeable limp. But the worst part for Steven was he knew his job was on the chopping block. These "young bucks" were running circles around him for much lower salaries.
If Steven didn't get a handle on his knee pain soon, he'd find himself unemployed. Unfortunately, loyalty with employers goes out the window pretty fast when they're only seeing dollar signs.
Like many people with joint discomfort, Steven tried the usual solutions without much relief. Desperate to keep his job and maintain his independence, he flirted with the idea of getting a knee replacement. But considering a price tag of $30,000 to $50,000 per knee, that wasn't appealing even after insurance coverage.
Fortunately, around this time Steven found our leading natural formula, Heal-n-Soothe®. He decided to try it on a whim and a prayer, because at that point, what did he have to lose?
He took his first couple doses then went to bed that night. When he woke up the next morning, his jaw hit the floor. As he walked out to the kitchen, he noticed his knee pain was GONE! He couldn't believe it. And the aches and stiffness have stayed away ever since he started taking Heal-n-Soothe®.
Now, Steven is back to his old self and no longer worried about losing his job. In fact, he has no problem keeping up with those "young gun" electricians anymore.
But even more heartwarming is the positive effect this has had on Steven's family life. Here's a direct quote from Steven himself:
"As I walked in the snow with my 18-month-old granddaughter to cut a Christmas tree…
And as I felt all the shifting pressures and demands caused by walking on snow and ice in the mountains…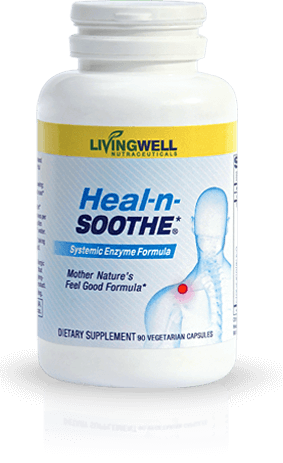 I had tears in my eyes, I was so thankful… because without Heal-n-Soothe I would have had to stay back at the truck."
How incredible is that? And Steven's story isn't a fluke either. Thousands of people have ended their joint aches with the help of Heal-n-Soothe®. You can listen to some of their personal success stories HERE.
Now to be clear, we can't guarantee you'll experience overnight relief with Heal-n-Soothe® like Steven. Everyone's situation is different and results can vary.
But the fact is, the 12 superfoods in Heal-n-Soothe® are clinically-proven to relieve joint discomfort in unique ways that other solutions can't. Especially our multi-enzyme complex. This complex clears out old protein debris to restore soothing blood flow and oxygen to your joint tissues.
You can find out more about our unique blend of joint-soothing ingredients HERE.
Where Can We Send Your FREE Bottle of Heal-n-Soothe®?
Unlike most companies, we're willing to prove to you how well Heal-n-Soothe® works on our own dime. That way, you risk nothing.
That's why we'd love to send you a completely FREE bottle of Heal-n-Soothe® so you can experience the life-changing results for yourself. You'll get a full 30-day supply with this complimentary bottle.
Just click the link below and tell us where to send it. Once you feel the relief wash over your joints, we're confident you'll become a happy Heal-n-Soothe® customer for life.
But supplies are limited for this free bottle offer. So claim your bottle now while you still can:
⇒Click Here to Claim Your FREE Bottle of Heal-n-Soothe® Today