As you probably know, inflammation is a major culprit in chronic joint pain. More inflammation typically means more pain.
But how do you know how much inflammation you have? Not everyone with stiff and aching joints experiences the same levels of inflammation. Well, this simple 3 question quiz is a great starting point.
Just answer these 3 questions below to get a quick glimpse of your personal inflammation score.
Question 1: What is your C-reactive protein level?
C-reactive protein is a protein made by your liver that measures the level of inflammation in your body. The higher your C-reactive protein, the more inflammation you have.
C-reactive protein can be measured through simple bloodwork like other labs you already get done. So if you don't know your C-reactive protein level, consider asking your doctor to include it in your next set of labs.
Question 2: What is your HbA1c level?
If you're dealing with high blood sugar issues, you probably already know your HbA1c.
HbA1c is a long-term measurement of your blood sugar levels. The higher your HbA1c, the higher your blood sugar levels are over time. And as you may know, high blood sugar is linked to inflammation.
Like the C-reactive protein test, your HbA1c can be measured through routine blood work.
Question 3: Do you consume any of these foods or drinks on a regular basis?
Fried foods
Processed meats (such as deli lunch meats)
Pasta
White bread
Cookies
Candy
Ice cream
Alcohol
Soda
Fruit juice
Processed/packaged foods
Artificial sweeteners
This list is not all-inclusive. However, these represent some of the most common foods known to cause inflammation.
Unfortunately, if you're positive on any of these 3 questions, then there's a good chance your inflammation score is sky high.
And if you're dealing with ongoing joint aches and stiffness, this is at least part of the reason why.
Here's the good news: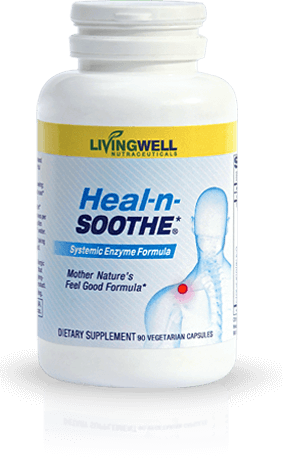 You can dramatically reduce your inflammation score—along with your joint discomfort—safely and naturally.
How?
By supporting normal levels of inflammation with our premium nutritional formula, Heal-n-Soothe®.
And while limited supplies last, you can claim a FREE bottle of Heal-n-Soothe® to try for yourself today.
Simply click the link below to claim your free bottle and see some of the life-changing results our customers have experienced.
⇒Click Here to Claim Your FREE Trial Bottle of Heal-n-Soothe®.