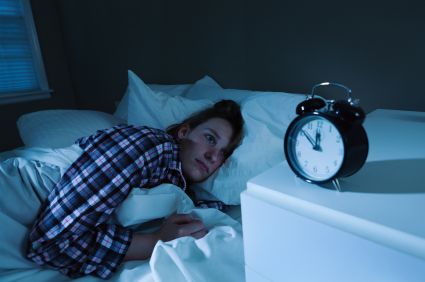 Do you often find yourself lying in bed wide awake, unable to sleep at 3 a.m. because of a wondering brain? Research has shown that people with insomnia have difficulty shutting down mind-wandering brain regions at night, which makes it difficult, if not impossible, to fall asleep.
Racing thoughts at night not only disrupt your sleep, they also interfere with your ability to function the next day. One study found that insomniacs had to work harder at their jobs during the day than normal sleepers because they had trouble turning on brain regions necessary to perform memory tasks.[i]
Further, the people with insomnia had trouble shutting down brain regions used for daydreaming even during the day (so it's no wonder their minds continued to wander at night, too). Dr. Sean Drummond of the University of California, who lead the study, said:[ii]
"Some aspects of insomnia are as much a daytime problem as a night-time one."
Proper sleep isn't only crucial for memory and focus during the day, of course. Too little sleep is linked to a shorter lifespan and chronic conditions like obesity, depression, diabetes, cancer and high blood pressure.
So if a wandering mind is preventing you from sleeping at night, taking action to quiet it could, quite literally, save your life.
Wandering Brain? 7 Ways to Get Your Sleep Back
Wouldn't it be nice if there were an 'off' button for your brain? This way you could simply shut it off when racing thoughts are keeping you awake. The next best thing is to take steps to quiet your brain before bedtime and during the night, should you wake up. By using the tips that follow your brain will be just as ready for restful slumber as the rest of your body.
7. Write Your Worries on Paper
Do this well before bed by simply jotting down all those pesky worries and unfinished tasks in a notebook. This will clear them from your head and lessen the chances of waking up to ponder them. Be sure to make your worry list well before bedtime (you don't want to write the list right before bed, as they'll still be fresh in your mind when you want to sleep).
If you still find that you wake up with racing thoughts, keep a notepad by the side of your bed to write down thoughts in the middle of the night.
6. Deep Breathing
Quiet your mind chatter by taking slow deep breaths and purposefully focusing on each breath as you do so. Feel your lungs expand, your chest rise, the air flowing through your nose … then slowly exhale and repeat until you're asleep.
5. Distract Your Brain
If your brain keeps wandering to anxiety-inducing thoughts, distract it by focusing on something else. Try to think of celebrity names that start with "A" or 'sing' your favorite song in your mind. Another trick is to put your fingers on the inside of your wrist to feel your pulse, and simply focus all of your attention on that.
4. Remove Disturbances from Your Bedroom
It's important to minimize things that may wake you up from a sound sleep (allowing your mind to start wandering). Common sleep disturbances include pets, a snoring partner, light pollution, temperature (typically too warm) and noise. Try adding pink noise to your bedroom and using an eye mask to create a quiet, dark environment that is conducive to sound sleep.
3. Think Positive
Turn your wandering nighttime mind from stressful thoughts to positive ones. Focus on an enjoyable event in your life or imagine yourself in your favorite location, such as at the beach or hiking through a forest. Mentally transfer yourself to your happy place.
2. Get Out of Bed
If you've tried the above tips and still can't sleep, don't force yourself to lie in bed. Get up, grab a cup of chamomile tea and read something (calming). When you feel yourself nodding off, get back into bed.
1. Try GABA — a Natural Brain Quieter
Gamma-aminobutyric acid (GABA) is a neurotransmitter known for its inhibitory effect on nerves, essentially helping them to calm down.
Low levels of GABA are linked to mood and anxiety disorders, which is why some anxiety medications and hypnotics like Ambien and Lunesta actually work by increasing GABA activity. These drugs are linked to serious and bizarre side effects (like sleep eating, sleep sex and sleep driving!), so I can't recommend their use.
However, GABA in its natural form can be invaluable. When taken orally, one study found that GABA worked effectively as a natural relaxant, inducing relaxation and diminishing anxiety within one hour of taking it.[iii] When you don't have enough GABA, you may have racing thoughts and other feelings of anxiety that make it nearly impossible to sleep. GABA is known for essentially shutting off brain activity and reducing feelings of anxiety that keep you awake.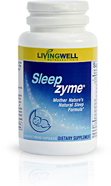 If you want to stop your wandering brain at night from interfering with your sleep, try Sleepzyme. It contains GABA (200 mg) plus 9 other natural sleep aids:
Magnesium citrate
Valerian root
5-HTTP
Inositol
L-Theanine
Lemon balm leaf
Hops flower
Passion flower
Melatonin
Just take two capsules of Sleepzyme approximately one hour before bed each night with an 8 oz. glass of water to calm your mind chatter and get some sleep.
---
Filed Under:
Sleep
Written By: Updated:
February 17,2014