3 reasons your body can't use the vitamins in your food

Did you know your body cannot absorb vitamins if you do not have:
a) enough trace minerals, and…
b) enough trace minerals in the right proportions?
Oh, you may consume your daily recommended amount of vitamins (either in food or supplement form). But if you don't have the right balance of minerals as well, your body simply cannot absorb these vitamins.
That's right – your body won't absorb vitamins if you have a mineral deficiency
Fresh fruits and vegetables used to be chock full of trace minerals. But that hasn't been the case for at least 80 years.
Way back in 1936, the U.S. Department of Agriculture (based on research conducted by the prestigious academic institutions Yale, Rutgers, Johns Hopkins and Columbia) warned of depleted minerals in the soil fruits and vegetables grow in. One researcher – Dr. Charles Northern issued this apocalyptic warning:
" . . . Countless human ills stem from the fact that the impoverished soil of America no longer provides plant foods with mineral elements essential to human nourishment and health. Millions of acres no longer contain the valuable trace elements . . . It is not commonly realized, however, that vitamins control the body's appropriation of minerals, and in the absence of minerals they have no function to perform. Lacking vitamins, the system can make some use of minerals, but lacking minerals, vitamins are useless."
This was over 80 years ago. Since then, the problem has gotten worse.
A 1992 Earth Summit report placed the decline in mineral content of North American soils at 85 percent. Seven years later, in 1999, a Rutgers University study revealed the mineral content of commercial fruits and vegetables was less than 16 percent of normal compared to vine-ripened organic produce, and the trace elements necessary for vitamin production were completely absent.
Since the mineral content determines the vitamin content (and therefore how much vitamins you can absorb), commercial produce is nowhere near as healthy as it once was!
Here are 3 reasons why modern methods have depleted soil of vital vitamins and nutrients.
1. Dams. Huge dam control and reduce natural flooding. We might think that this was a good idea, but it wasn't necessarily so, since floodwaters actually carry essential mineral nutrients back into the land. Plants grown in these mineral-poor soils were increasingly unable to extract the nutrients into their produce and bring them to our tables.
2. No Rest. Modern farming methods do not allow the soil to rest. Unlike our ancestors, farmers today use the same fields year after year instead of alternating them. This taxes the soil and does not allow it to reabsorb nutrients from the environment (see #1).
3. Bigger, Faster, Pest Resistant. To increase profits, agricultural practices over the last 80 years have focused on growing bigger, faster, and more pest resistant food. This forces the plant to extract the maximum amount of nutrients out of soil in the minimum time possible.
Add that to the POST processing of food…such as picking food before it is ripe, long shipping and storage, and cooking, freezing, or canning (and other processing methods) and it is no wonder even so called healthy food is lacking in vitamins and minerals.
This is a huge problem because – as the quote mentions above – if your body lacks minerals, vitamins are useless. Your body literally cannot put vitamins to work if you do not have enough minerals in the proper proportions. This is why Nobel Prize winning scientist Linus Pauling once famously quipped, "You can trace every sickness, every disease and every ailment to a mineral deficiency."
Causes pain too!
Especially joint and arthritis pain. You see, your bones and cartilage are made up of at least 12 minerals. If you are not getting these minerals in your diet (and you are probably not, because they are lacking in the soil), your bones weaken, your joints hurt, and you suffer.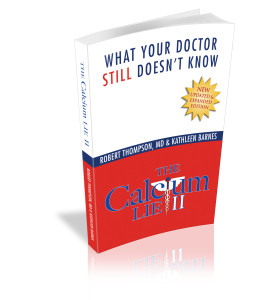 The good news is that there is an easy fix. On the next page you'll see how to get all of the vital minerals you need for optimum health, plus 3 new discoveries that halt inflammation…rebuild cartilage…restore joint mobility and get you pain free in 30 days or less.
Click here to become pain free in 30 Days or Less
This article is based on excerpts from the newly updated book, The Calcium Lie 2 by Dr. Robert Thompson. While supplies last you can get a free copy here.
Filed Under:
Back Pain
Written By: Updated:
September 1,2014