Imagine if getting rid of joint pain and stiffness was as easy as washing away dirt and grime with a power washer.
That probably sounds too good to be true. But as it turns out, our bodies do have a built-in power wash mechanism. And this microscopic power wash can make your arteries as clean as a whistle—so nourishing blood and oxygen flow freely.
Obviously, this internal power wash is great for keeping your heart healthy and protected. But the benefits don't end there.
This power wash also works wonders for soothing chronic joint pain. No matter if it's in your knees, hips, back, or anywhere else. I'll reveal what this power wash is in a moment. But first, let's talk about why you need this power wash to relieve joint pain and stiffness for good.
There's a protein called fibrin that is silently wreaking havoc inside your joints. Fibrin protein is a major component of blood clots. If too much fibrin builds up in your coronary blood vessels, you're at increased risk of a deadly heart event.
If too much fibrin builds up in the blood vessels of your joints, it robs your joint tissues of soothing blood flow and oxygen. The result? You stay trapped in an endless cycle of joint damage and agony.
Many studies from prestigious universities have shown that fibrin deposits are present in inflammatory joint conditions.
Like this Swiss study from last year:
This is why washing away that extra fibrin from your joints is so important. It's crucial if you want to enjoy permanent pain relief.
And as you probably guessed, anything you get from your doctor or buy over-the-counter at your local pharmacy isn't going to address this fibrin issue.
So how do you power wash away this joint-suffocating fibrin protein?
You do it with systemic enzyme therapy! In particular, you want the enzymes bromelain and papain. Bromelain and papain are known as proteolytic enzymes.
This means they break down protein. And both bromelain and papain are incredibly effective at breaking down excess fibrin.
The result?
You open the floodgates so that soothing blood and oxygen wash over your joint tissues…
And wash away the pain and stiffness.
How does that sound?
This is exactly what our leading natural formula, Heal-n-Soothe®, can do for you. Just several capsules and 30 seconds a day is all it takes.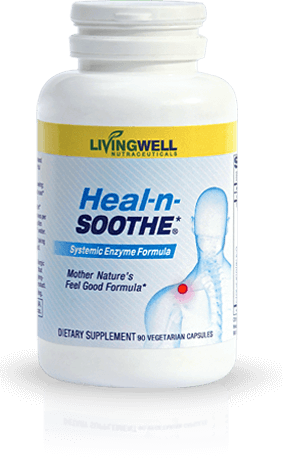 Heal-n-Soothe® contains generous doses of bromelain and papain to power wash away that excess fibrin protein.
Heal-n-Soothe® works so well, it has already helped transform thousands of lives. But you don't need to take our word for it, because we'd love to prove it to you firsthand.
That's why when you tap the button below, we'll send you your first bottle of Heal-n-Soothe® for FREE.
That way you can feel the difference for yourself. We're so confident you'll love the results from that first bottle, that you'll be coming back for more.
For financial reasons, we can't give away an unlimited amount of free bottles. So click the button below to claim your free bottle of Heal-n-Soothe® while supplies last:

Claim Your FREE Bottle of Heal-n-Soothe® Today
Filed Under:
Back Pain
Written By: Updated:
July 25,2023