Cortisone injections are a commonly prescribed treatment for all kinds of joint and tendon injuries.
But are cortisone shots really a good choice?
After a systematic review of studies on their effectiveness and safety, researchers reported to The Lancet that while cortisone shots may offer fast relief from pain, they can actually slow the healing process.
They also discovered some patients, such as those treated for tennis elbow, had significantly worse long term healing results.
Cortisone shots are an anti-inflammatory agent, but many joint and tendon injuries are actually degenerative in nature. So while you may temporarily reduce the symptoms, you're not getting the real healing needed to correct the problem. And you might compound the problem in the long run.
But there's an alternative which can lead to fast healing of numerous joint and tendon issues. I consider it to be a real miracle of joint pain relief — providing relief even to those suffering from severe arthritis. It's a therapy created by Dr. Frank Shallenberger called prolozone therapy.
Prolozone therapy is based on prolotherapy, which actually stimulates localized inflammation to help your body heal areas with lower blood supply (such as tendons and ligaments) — the exact opposite effect of cortisone shots. Prolotherapy has been found to help tendons and ligaments rebuild as much as 40% stronger than the originals.
But prolozone therapy adds critically important new components to standard prolotherapy: ozone and nutrients. Due to the low blood supply in your joints, oxygen needed by your body is in short supply — but ozone, which is an unstable molecule with 3 oxygen atoms instead of the usual 2 we breathe, provides the extra oxygen needed for joints to quickly heal. The nutrients injected give your body exactly what it needs, where it needs it, to quickly repair.
Prolozone therapy may be the most promising treatment I've ever seen for treating joint problems such as arthritis. If you have any type of joint, tendon, or ligament injury, or if you are considering or already getting cortisone shots, definitely make time to listen to my interview with Dr. Shallenberger about prolozone therapy.
Don't Miss Our Full Color Pain Relief Book!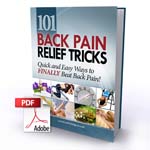 References
Coombes BK, Bisset L, Vicenzino B. Efficacy and safety of corticosteroid injections and other injections for management of tendinopathy: a systematic review of randomised controlled trials. Lancet. 2010 Nov 20;376(9754):1751-67.
Reynolds G. Phys Ed: Do Cortisone Shots Actually Make Things Worse? The New York Times. 2010 Oct 27.
Filed Under:
Arthritis
Written By: Updated:
October 18,2011