New research indicates that back pain due to degenerated and herniated intervertebral discs (IVD) may now have found a cure in stem cell research. This is a huge scientific breakthrough when back pain statistics are factored into the equation. For example back pain is one of the most common reasons that Americans see their doctors and more than 25 million adults suffer from regular back pain.
Numbers this large spell millions of dollars in profit for the manufacturers of pain medication and surgical equipment, physical therapists and other back specialists.
While traditional treatments like pills and surgeries treat the symptoms of pain, inflammation and stiffness they do nothing to correct the underlying problems causing the issue. While some physicians believe that surgery does correct the problem (e.g., herniated disc), about 80% of all back operations are unnecessary and do nothing to help the patient in the long term. What's more, the scar tissue commonly found after back surgery leaves the patient in worse condition than the original back pain.
Is back surgery a waste of time? For many patients, it is and I myself used to believe it was a scam. While I'm not still sold on surgery, I have come across a revolutionary surgical procedure being tested in the United Kingdom that gives me hope that in the future back pain can be successfully treated and cured through surgery.
Stem Cell Breakthroughs
In 2006 a researcher at the University of Manchester uncovered a method that uses stem cells to regenerate injured intervertebral discs. More important than the method was the fact that the patient did not reject the stem cells. This probably has something to do with the fact that the cells were from the patient to minimize the risk of rejection.
Dr. Richardson, the primary researcher in this study collaborated with German biotech company Arthrokinetics to develop a procedure that repairs IVD through regeneration right at the site of the damage.
This procedure is minimally invasive and therefore very appealing particularly to patients since it reduces the chances of post-surgical pain and scarring as well as side effects.
The key to Richardson's research was finding stem cells in the bone marrow that have been shown to grow into a variety of cell types. When combined with the collagen gel, these cells have been able to regenerate to repair damaged spinal discs.
The procedure is currently in the final stages of clinical trials, which means that it will soon be available within the United Kingdom. The implications of a minimally invasive treatment such as this are enormous as it means billions of dollars saved in prescription medications, lost productivity and ineffective surgeries.
According to Richardson;
Once implanted, the differentiated MSCs would produce a new NP tissue with the same properties as the original and would both treat the underlying cause of the disease and remove the painful symptoms.
Patients suffering from a variety of different back ailments will be looking at this procedure with hope that it will soon become a widely available treatment method.
In many instances the human body can regenerate the disc on its own without of vitamins, nutrients and water. Your physician can test you in order to find out if you suffer from any vitamin or mineral deficiencies. You may also want to make sure you aren't suffering from chronic inflammation, which can prolong the healing process.
Spinal decompression is an effective way to increase blood circulating to the injured area. You will also have to muscle imbalances which is the underlying cause of many cases of herniated discs. Without addressing this issue a treatment like stem cell therapy will be minimally effective.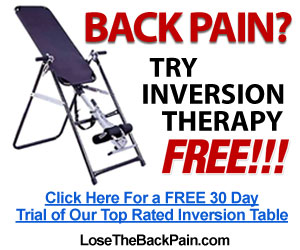 UPDATE NOVERMBER 2012
Our earlier report on the use of stem cells to repair damaged spinal discs has drawn a LOT of interest. Unfortunately this treatment is still in the clinical trial stage and we are unable to direct readers to surgeons performing this treatment at this time. We will keep you updated as more information becomes available.
Make sure you get regular updates and plenty of other free resources for neck pain, back pain, sciatica, and general health by subscribing to our free email updates. Just enter your email address into the Subscribe Via Email box near the top right of this page. Make sure you check out our offer for free Inversion Therapy!
References:
University of Manchester. "One-Off Treatment To Stop Back Pain — Using Patients' Own Stem Cells." ScienceDaily. 5 Dec 2006.
BBC News. Stem cell cure hope for back pain. 30 Nov 2006.
Diamond, S. Stem Cells Can Aid Spinal Disc Repair. 5 Jan 2009.
Filed Under:
Back Pain
Written By: Updated:
October 1,2010