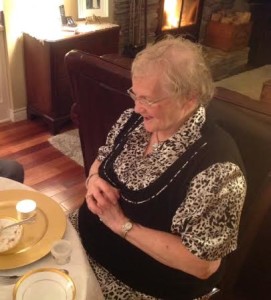 You should take your health and wellness into your own hands and always try to keep it there. Toward that end — if you want to take control of your health and avoid serious diseases, your first step is this: Get a free copy of my book, The End of All Disease.
That's what Joni Bund of British Columbia did, and she hasn't looked back since. At 84 years young, she's finally found relief.
Now, she says, "I can sit in front of my sewing machine without pain," which is wonderful news, as Joni spends her time sewing for Days For Girls, a grassroots non-profit organization that provides reusable feminine hygiene products to girls in developing countries (not having access to such supplies means girls miss out on two months of education — and opportunity — every year).
Joni has struggled with chronic back pain from a young age. She was involved in her first car accident at 5 years old, which left her with a concussion and unconscious for several hours. Over the years, she was involved in five more car accidents, each of which caused her multiple injuries and left her with chronic pain (and for the record, Joni says none of the accidents were her fault).
Like many of you reading this right now, Joni has tried many things to relieve her pain – medications, creams and she even applied to grow her own medical marijuana. None of them gave her lasting relief, and she says she gave up on her plan to grow medicinal marijuana after an incident with a special "marijuana butter" left her "deathly ill." She explained:
"No matter what the doctor prescribed for pain, if it did not work within a month I would no longer take it because the damage these pharmaceuticals can do to your liver and kidneys is far worse than the pain it is supposed to be controlling. So I decided to control it from my brain after reading "The End of All Disease."
Now, she says:
"I never use painkillers or creams anymore, but rely on my brain and advice from your "End of all Diseases" book and mild stretch and exercise. When our snow melts, more walking."
A Doctor Told Her She'd Be in a Wheelchair by 1981 – She Proved Them All Wrong
Joni's pain was not only chronic but also severe. She has had two heart attacks in her lifetime but says she felt no pain from them. "… Pain is relative," she explained. "Because I had so much pain from my back and right hip, nothing else that ever happened could be classified as pain."
A medical doctor once told her that with the rate her spine was deteriorating from spinal stenosis, she should expect to be completely dependent on a wheelchair by 1981. "I have proved them all wrong," she said. Indeed, other than her thyroid medication, she uses no pharmaceutical drugs today – even after suffering a serious fall in November 2015.
"I control everything else from my brain, successfully I might add… Now I am pain free when I sit down and I use a walker or cane to try to walk upright ever since the fall in November 2015…

The doctor said I had pulled every muscle and tendon in my back and right shoulder that would be possible but no broken bones because I have a very strong bone structure. I am healing from that fall and now wear a "Lifeline" around my neck but still do not take any pain medications. I guess you might say a lot of it is attitude."
In her lifetime, Joni has been through two marriages (one horrendous and one wonderful) and raised eight children (six her own and two step-children from her second marriage). When asked what advice she has for others suffering from pain, she had this to say:
"Do all that you can, read all you can find on the subject and study it out… "
In other words, get educated and involved in managing your own health! Joni did it and so can you.
Want more tips on how to stay well and live pain free? Read the book Joni's been raving about… Get your free copy of my book, The End of All Disease, now.
Filed Under:
Back Pain
Written By: Updated:
March 8,2016