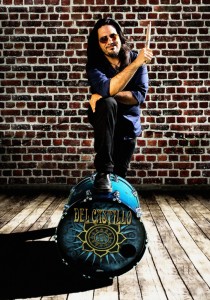 His band, Del Castillo, "pull together Latin music's romance and rock's grit," according to Billboard Magazine.
They lay down "infectious Latin rhythms with mind-boggling solos. They whip crowds into a frenzy," according to Guitar Player Magazine, and display "eruptions of technique and taste (that) conjure images of Eddie Van Halen fronting early Santana (with an assist from the Gipsy Kings)," according to Rolling Stone.
They have received numerous major awards, including "Band of the Year," "Best Live Act," and "Album of the Year"…
They've recorded music with Willie Nelson and with Santana and Los Lobos, and their music has been featured in movies ranging from Spy Kids 3D to the film Once Upon a Time in Mexico starring Johnny Depp, Antonio Banderas, and Salma Hayek…
As for drummer Mike Zeoli himself, he was voted "Drummer of the Year," has been featured in the world's #1 drum magazine, Modern Drummer, and is generally regarded as one of the best drummers in the business today.
So when back pain hit Zeoli hard — especially in his lower and upper back — he was "desperate" and tried many things, including chiropractors and massage, but "nothing was working."
But he found something that finally did stop the pain… almost instantly, in fact!
But before Zeoli tells you himself about what he discovered, check out his amazing drum solo below so you can see why suffering back pain just doesn't go with this rock star's line of work…

Did you watch that all the way through? JAW-DROPPING!
And clearly, you can't have back pain slamming your back when you need to slam the drums like that!
So what finally gave Zeoli the back pain relief he'd been desperate for?
The seated inversion chair that received our absolute HIGHEST recommendation here at The Healthy Back Institute®!
But let Zeoli tell you about it himself…
Now maybe YOUR lifestyle doesn't demand quite the amount of effort from your back as Zeoli's does…
But if you've been frustrated in your search for something to really stop the pain…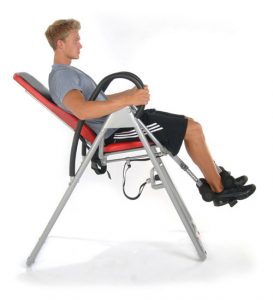 If you've ever felt "DESPERATE" for fast relief that also lasts…
If YOU are sick and tired of suffering and want to slam that pain away…
I absolutely, positively, 110% urge you to try the seated inversion table yourself!
It's simple to use, and guaranteed to work like nothing else you've tried, as you'll see…
And it will have you feeling as good as good as Mike Zeoli and his band, Del Castillo, plays!!!
Speaking of which…
Del Castillo have a nearly endless catalog of beautiful and amazing songs… I highly recommend their latest CD, Infinitas Rapsodias, featuring some powerful new songs plus some of their best of the best "classics" including this song, Para Mi Sobrina (performed live here below)…

And after having your spirits elevated by that song…
Make your own commitment to finally put an end to YOUR back pain...
And rock on!
Filed Under:
Back Pain
Written By: Updated:
September 22,2015