The Truth About Erectile Dysfunction… and What Mainstream Medicine Isn't Telling You
Erectile dysfunction (ED) is a huge problem… so what's really causing it?
Maybe you know our modern environment is a toxic soup of chemicals, heavy metals and pollutants that lead to all sorts of health issues.
We've talked a lot about how these "invisible" chemicals light an inflammatory "bonfire" in your body. So you probably already know inflammation is the root cause of most diseases.  
But maybe you've never thought inflammation could be giving you grief in the bedroom.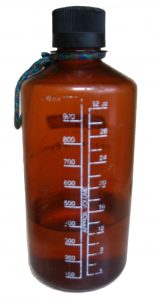 Or that inflammation is the catalyst behind an epidemic that has "castrated" millions of otherwise healthy American men.
Takeout coffee cups, children's toys and plastics around your house are all proven to make you feel less "manly" by decreasing testosterone and increasing estrogen levels.
Not to mention the Western Diet full of processed foods and soy products is ALSO linked to problems in the bedroom.
However, it goes beyond just your hormones.
There's ANOTHER core issue killing the sex lives of otherwise healthy guys…
And you might be one of them.
It's the one thing no one else is talking about. Not your doctor. Not the alternative health gurus. And certainly not the pill manufacturers.
Yet when you solve this ONE little-known problem… you'll finally find yourself making her toes curl night after night.
See, those very same chemicals cause a different problem:
They make an important part of your manhood get so "clogged" and closed off… that instead of a healthy, rock-hard erection… it becomes flaccid, deflated and useless.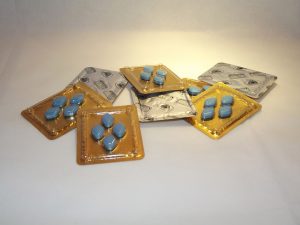 It ends up in such a sad state that prescription drugs (Viagra, etc.) and potency supplements (Tribulus, Horny Goat Weed, etc.) won't always solve the problem.
You've got to clean your pipes before your "manhood" will feel the benefits of extra testosterone…
Or improved blood flow from supplements like l-arginine.
What am I talking about?
The REAL Cause of Erectile Dysfunction: Fibrin
If you're a regular reader, you've heard me talk about fibrin. Fibrin is that "sticky" scar tissue your body uses to help cover and heal wounds.
But many people get excess fibrin not from injuries, but from chronic inflammation caused by these environmental toxins.
Inflammation triggers an overproduction of fibrin… and all that extra sticky goop in your blood is NOT a good thing.
Excess fibrin acts like a web which BLOCKS blood flow and traps red blood cells, preventing oxygen from reaching tissues and waste from being removed.
And excess fibrin could be holding you back from having the best sex of your life… regardless of your age.
Here's why:
As you already know…
Fibrin overgrowth is the result of excess inflammation in your body. This inflammation is due to hundreds of thousands of nasty and unnatural chemicals you encounter every day.
But how does this affect your performance downstairs?
First, the endothelial cells (the cells that help blood circulate) lining your blood vessels are thin and fragile. Each cell is protected by a thin layer of fibrin. This protects them from being ruptured by bacteria in your bloodstream.
This is a good thing… until your body's fibrin production goes off the rails.
High levels of inflammation cause your body to ramp up fibrin production – WAY more than it needs. Your blood vessels become overloaded with sticky, tough fibrin. They go stiff like an ironing board.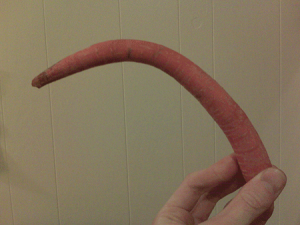 This creates blockages. Blood can't get through the vessels. This causes a DRASTIC reduction of oxygen and blood flow throughout your entire body – even to your penis.
But it gets even worse for you (and the little soldier).
Studies show excess fibrin can transform your blood into a thick, sticky mess.
So, not only are your blood vessels "closed off"… but that trickle of blood that does manage to seep through… is thick and goopy like motor oil.
The result?
Blocked blood vessels combined with goopy blood causes a double-whammy of poor circulation to your member.
This makes it IMPOSSIBLE to get it up… and to KEEP it up.
So, if those "blood flow" supplements (like l-arginine) haven't been working for you, now you know why. Your pipes jammed up with excess fibrin.
Now, let me be clear:
This is NOT supposed to happen. So, please don't think this is a flaw in your body. Our bodies were not designed to cope with this runaway freight train of fibrin.
As I said before, hundreds of thousands of new chemicals in our environment have thrown our bodies' most important processes out of whack.
And one of those is our body's natural mechanism for dissolving that extra fibrin that causes your penis to go limp.
The only way to solve the problem? Clear out that excess fibrin.
So if you've been having issues in the bedroom and have tried everything… now you know why even good solutions might not work.
Because yes, testosterone can be one part of the problem. If your testosterone levels have hit rock-bottom, a shot of artificial testosterone in your butt can help you get it back up. But unless you have the T levels of a female kitten… more testosterone might not be enough.
And even if you'd like to give your T levels a bit of a boost (and who doesn't)… think twice about some of the formulas you see in popular potency supplements.
Perhaps you've heard of some of the more common testosterone supplements like Tribulus, Horny Goat Weed or Maca. And if you've tried them, you probably didn't feel as much as a tingle downstairs.
Here's why: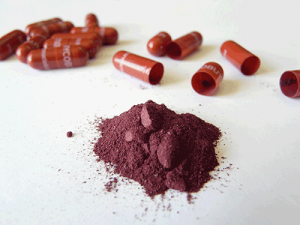 There's evidence that herbs like Maca can help ED. Yet, most "testosterone boosters" sold at health stores like GNC or on Amazon.com contain extremely low doses of the active ingredient.
Supplement manufacturers cut costs by putting small, ineffective doses into each capsule.
But a few hundred milligrams of Maca or Horny Goat Weed?
It won't do squat!
To get a decent "bump" in your testosterone, here's what I'd recommend:
Purchase a big bag of a proven natural testosterone booster at your local health store. Every morning, stir a few BIG spoonfuls into a smoothie.
This can raise your testosterone levels. And you'll probably feel a bit more energy. But it will not solve a fibrin overgrowth problem that's causing ED.
So, how do you combat excess fibrin?
The best way to achieve harder, longer erections whenever the mood strikes… is to dissolve the excess fibrin through your body's natural mechanisms…
Your fibrin dissolving enzymes.
The REAL Cure for Erectile Dysfunction
Their name?
Proteolytic enzymes.
And what do proteolytic enzymes do?
They help dissolve excess fibrin and scar tissue in the blood stream. They also recognize "bad" prostaglandins that cause excessive inflammation and dispose of them.
However, after about age 27, your body's production of proteolytic enzymes falls off a cliff. And if that wasn't bad enough…
Your body is not naturally equipped to dissolve the amount of fibrin created due to rampant inflammation from chemicals in our modern environment.
In other words, inflammation has "broken" your body's system to produce ENOUGH proteolytic enzymes to dissolve hunks of massive fibrin overgrowth.
This is why studies show that guys as young as 25 struggle with ED. Their levels of proteolytic enzymes are already at dangerously low levels, due to growing up in our modern world.
And it's nearly impossible to replace your store of proteolytic enzymes through diet alone, even with a diet of only healthy, organic foods.
But you can safely and easily replace them through supplementation. And unlike many vitamins and drugs, you literally cannot get too many enzymes (or erections).
When one considers how helpful they are for reversing damage in your cardiovascular system… relieving joint pain… inflammation from diabetes… AND erectile dysfunction…
It's not just a "good idea" to find a high quality proteolytic enzyme supplement for daily use…
It's essential.
There are a few proteolytic enzyme supplements on the market.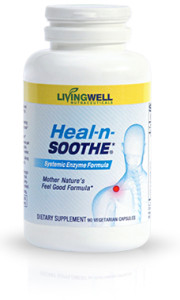 But you can get the world's most potent proteolytic enzyme supplement right here at the Healthy Back Institute®.
It's called Heal-n-Soothe®.
If you're interested in making her toes curl… and send her to bed with an ear-to-ear grin…