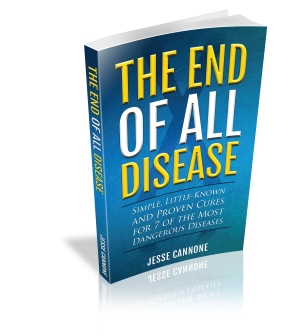 The following is adapted from Jesse Cannone's latest book, The End of All Disease. To get a free copy, click here
Cancer is applied to so many different types of dysfunctions that it is impossible to say there is a one-size fits all cure for "cancer". However, there are a few different methods that are very effective at zeroing in on the root cause of a particular type of cancer and addressing that excess, deficiency, or stagnation.
Here are two:
Gonzalez Protocol –
This therapy basically involves three components: diet, aggressive supplementation with nutrients and pancreas product (containing naturally occurring enzymes), and detoxification…specific to each patients needs.
Clark Protocol –
The Clark Protocol states certain cancers are a result of intestinal fluke parasites and propyl alcohol. Without both of these components, cancer cannot develop.
The first steps involve killing these parasites and flushing propyl alcohol from your system. Secondly, Dr. Clark stresses you need to stay vigilant against picking up parasites from a wide range of sources. Undercooked meats and dairy products, pets and even other people—including family members—all make an appearance on Clark's list of potential carriers.
According to Dr. Clark, you can reinfect yourself with parasites even though something as seemingly simple and innocent as a kiss.
For more in-depth info about the treatments recommended here I recommend you consult The End of All Disease book.
Click here to get your free copy today