As the Affordable Care Act (aka Obamacare) looms on the horizon, doctors, medical experts and patients alike are all worried: how is the already frail healthcare network going to handle an influx of 32 million newly insured patients?
Worries include much longer waiting periods for appointments… more crowded emergency rooms… and subpar service, with physicians being more rushed than they already are.
While the impending law is inevitable, low quality healthcare is not. There are plenty of action steps you can take–right now–to protect your health for years to come.

Why Are We Experiencing a Doctor Shortage, Anyway?
A shortage in practicing primary care physicians was expected long before the Affordable Care Act was passed in March 2010. Even before then, the Association of American Medical Colleges (AAMC) expected a gap of 39,600 missing doctors by 2015.
That projection has nearly doubled to 91,500 in 2020… and 130,600 in 2025.
The shortage is a simple matter of supply and demand… with devastating consequences.
Demand for more doctors will skyrocket as the number of insured increases. Over the next two years, 32 million Americans will have new insurance–not to mention the 15 million new retirees that will soon be eligible for Medicare.
Demand increases with an aging population. Over 24% (about 76 million people) of the population is over 55 years old, according to the 2011 U.S. Census Bureau. With age comes chronic illness and the need for more frequent care.
Supply dwindles with retiring physicians. Nearly half of the over 830,000 practicing physicians in the United Statesare over age 50. Doctors in the baby boomer generation are preparing to retire, but due only in part to their age. Some experts believe many aging doctors would rather retire than learn all new insurance and tax laws… not to mention the serious demand increase on their time.
Supply is spread over specialties, not concentrated in general practice. Specialty fields are known for commanding higher fees and more flexible schedules, attracting more and more doctors and clinicians that are needed as primary care physicians. "There's going to be lines for the newly insured, because many physicians and nurses who trained in primary care would rather practice in specialty roles," says Dr. David Goodman of the Dartmouth Institute for Health Policy and Clinical Practice.
Supply is not renewing fast enough.  In 1910, there were 166 medical schools in the U.S. A century later–and with a 300% larger population–there are 21% fewer, at only 131 medical schools. Plus, only 43% of medical school applicants are accepted, despite applying to 14 schools on average and being qualified to attend.
Take Control: Protect Your Own Health
Despite the impending tidal wave of new patients, you can still maintain a high quality of care for yourself and your family. This is what doctors and medical experts now advise:
1. Find a primary care doctor before January 2014.
Access to care is going to get more difficult over the next few years, especially if you have or will be receiving a Medicare card. Dr. Andrew Morris-Singer, president and co-founder of Primary Care Progress, says, "If you don't have a primary care provider, you should find one soon."
2. Get insurance before the law kicks in.
New patients will be able to purchase insurance through a program called an "exchange." These clinics help you understand the ACA and find the right insurance. However, it's important to note some medical facilities will not accept policies purchased from exchanges. You'll have more flexibility from a provider outside the exchanges.
3. Don't rely on Medicare/Medicaid, if you can.
Doctors around the country are already limiting or refusing to take on new Medicare/Medicaid patients because of how little reimbursement they get from the government–about 60% less than private insurance sends. With 15 million new patients coming into the system, it will be even more difficult to find a doctor if you use these programs. If you must rely on Medicare, try to make prevention your number one priority.
4. Be flexible with where you get your healthcare.
For simple things like getting tested for strep, antibiotics for an ear infection or bandages for a minor burn, accept the fact that "standing by" at your primary doctor's office may not be the best choice–for you, your doctor, or other patients. Consider visiting a retail nurse practitioner's clinic–such as the MinuteClinic available in many Walmart stores.
Don't underestimate the expertise of a nurse just because she doesn't have an M.D. Virtually all nurses are capable of doing everything a doctor would in these minor cases–they are simply not allowed to because of bureaucratic red tape.
5. Get used to "telemedicine."
Doctor-nurse teams are finding great relief in practicing telemedicine for minor or non-urgent conditions. For a low fee (covered by some insurance companies), you can email your doctor or set up a face-to-face web chat. You can also schedule appointments, request referrals and request prescription refills. You save time, money and considerately give your doctor more time to attend to emergency situations.
6. Do your research–and take your health into your own hands.
No one knows your body better than you do. Keep track of your symptoms and do as much research as you can. Websites like WebMD and the Mayo Clinic can help you treat non-emergency symptoms while you wait for an appointment.
Of course, don't overlook natural approaches that not only alleviate health problems without needing to head to the doctor… but can often be safer and more effective than conventional medical approaches. In fact, you can find help naturally relieving two of the most common pain problems you're likely to encounter in your lifetime right here!
Back Pain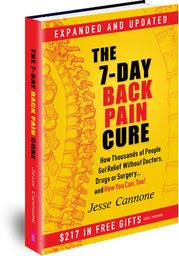 If you've struggled with back pain for months or even years, get a free copy of my book, The 7 Day Back Pain Cure a try. This is now the second edition of my popular book, and it's available to you for free.
I've made it my personal mission in life to help people end their pain… and have set a goal of giving away one million copies of my book! I've given away over 250,000 copies so far and have received numerous thank you letters from those it has helped. If you have any type of back pain, neck pain or sciatica, be sure to ask for your free copy now.
Ask for your FREE copy of The 7 Day Back Pain Cure here
Arthritis Pain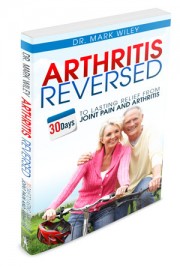 I'm excited to share with you our newest free book offering… designed specifically for those suffering from any form of arthritis pain. It was written by my good friend, Dr. Mark Wiley, who is a member of our Medical Advisory Board and a world-renowned chronic pain specialist.
Both rheumatoid arthritis and osteoarthritis sufferers will find help in the pages of Dr. Wiley's book, Arthritis Reversed. Best of all, Dr. Wiley gives you a personal 30-Day Arthritis Relief Action Plan you can use to finally get relief from arthritis… even if the painkillers no longer seem to work.
Ask for your FREE copy of Arthritis Reversed here
Remember, your health is ultimately in your hands. So take advantage of these free resources now to keep you out of the soon to be even more crowded doctor's office.
References
Pipes S. Thanks to Obamacare, Doctor Shortages Set to Quintuple. Human Events: Powerful Conservative Voices. 2013 July 19.
Shortage of Primary Care Physicians Exacerbated Under Obamacare. Associated Press via Newsmax. 2013 Jun. 22.
As ACA Insures More Americans, Doctor Shortage Looms. MPR News: The Daily Circuit. 2013 Jul. 9.
U.S. Medical School Applicants and Matriculants by School, 2012. Association of American Medical Colleges. 2012 Dec 17.
Perry M. The $64 Billion Physician Cartel Got a Free Ride. Carpe Diem: Professor Mark J. Perry's Blog for Economics and Finance. 2010 Mar 29.
Mercer M. How to Beat the Doctor Shortage. AARP. 2013 Mar.
Gearon C. E-Medicine Increases in Popularity. AARP. 2010 Jul 29.
Filed Under:
Back Pain
Written By: Updated:
July 31,2013