Chronic lower back pain is relentless, especially if you're forced to sit for long periods of time because of your job. Spending hours and hours in a chair can hurt your back by itself, in addition to any other back problems you may have been suffering before. The position you achieve in a chair is sometimes harmful, with your back rounding and placing unnatural pressure on discs and the soft tissue in your neck, and upper and lower back. The discs can get misaligned, leading to pain and disc degeneration. Your nerves can get pinched in your spine or hip joints, and your joints themselves can get bent out of shape, causing more pressure on your spine, including the upper and lower back.
Getting up and walking around, or doing stretches may not be sufficient to relieving the pain you feel. Driving a car for long periods of time can be detrimental to your back as well. If you spend an inordinate amount of time in a car or truck, either personally or professionally, you know how your back can suffer after even an hour on the road. And the more you travel, the sooner it hits you right after you get behind the wheel. Normal car seats are designed for comfort, but not necessarily for steady lumbar support and posture control.
You may have tried analgesics for relief, and realize how short-lived they can be in helping your pain symptoms. Something to consider is your posture while sitting. After consulting with a physician, and he or she okays it, consider cushions for your office chair and car seat. There are a number of orthopedic cushions available that not only improve your posture, but are just plain comfier than your normal chair. You can find them online or at your pharmacy, or your doctor can recommend a good store for orthopedic supplies. The ideal cushion will offer support to the lumbar region of your back and offer posture correction. It's true that you can find chairs now that will offer some relief from your pain symptoms, but cushions may be a cheaper way to go, especially if you want to try a few before you commit to the ideal one.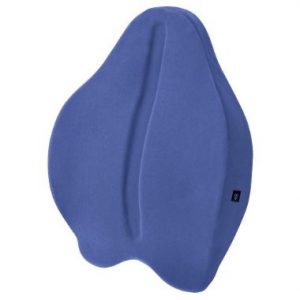 Aside from the spinal support and posture control, is the importance of just being comfortable. You want one that offers padding to your rear, as well as the aforementioned benefits. Make sure it fits you and makes you comfortable. The size is important, as cushions are not one-size-fits-all. You'll want to give several candidates a try, perhaps using them for a few days to see which one fits.
Instead of shelling out for a purchased lumbar cushion for your lower back pain, you might try some household items first. You can use pillows, or multiply-folded towels under your rear, and behind your lumbar region. Position a folded towel under your rump, and a rolled towel behind your lumbar region, trying different configurations until you achieve relief.
You can see our highest rated back pain cushions and other related products, by visiting the product section of our website.
Filed Under:
Back Pain
Written By: Updated:
June 28,2011