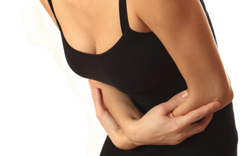 Lower Back Pain with Nausea may be caused by various medical conditions. It depends on the location of the back pain, how severe the pain in the back is and if there are any additional symptoms. In some cases, the nausea may be caused by the severity of the back pain, but generally, back pain and nausea are connected to some diseases that affect the intestines or kidneys.
Causes of lower back pain with nausea vary in nature, but one of the most common causes is menstrual cramps. Painful menstrual cramps affect many women and the cramping can occur in the lower abdominal area as well as in the lower back area. For many women who experience lower back pain associated with their menstrual cycle, nausea is a common symptom. The pain can start a few days before the cycle begins and last throughout the entire period. Although some pain is normal, excessive pain is not and if this continues you should consult your physician.
Keep in mind, the two symptoms may be separate issues. Obviously, if the pain is severe you will want to go see a doctor. If you would like to learn more about lower back pain first, please click the link below:
Kidney stones may be another cause of lower back pain with nausea. Kidney stones are a solid mass made up of tiny crystals and can form when the urine contains too much of certain substances. These substances create the 'crystals' that form into stones. When the stones pass through the bladder they can block the flow of urine. This causes swelling of the kidneys and lower back pain and nausea. The pain is usually severe.
West Nile virus is a disease spread by mosquitoes and is another cause of lower back pain with nausea. Researchers believe West Nile virus is spread when a mosquito bites an infected bird and then bites a person. Although many people are bitten by mosquitoes that carry West Nile virus, most do not know they've been exposed. Even though the disease was first identified in 1937 in Africa, it wasn't until 1999 that it was discovered in the United States. Very few people have developed severe cases of the disease or even notice any symptoms, but since its first discovery in New York, the virus has spread throughout the States. If you have been experiencing back pain and nausea and have been camping or in an area where you have been exposed to mosquitoes, then a simple blood test will tell your doctor if you have the virus. .
The number one cause of lower back pain with nausea for women, is pregnancy. Some women can have a menstrual cycle and be pregnant without knowing it, and just assume that the lower back pain and nausea is due to an uncommonly painful cycle. However, if you are experiencing multiple symptoms including lower back pain, nausea, weight gain, bloating and fatigue, you may not be having a painful period, but you may be pregnant and not even know it. If you are experiencing lower back pain and nausea for more than one consecutive cycle, you may want to confirm whether pregnancy may be the cause.
Keep in mind, the two symptoms may be separate issues. Obviously, if the pain is severe you will want to go see a doctor. If you would like to learn more about lower back pain first, please click the link below:
Filed Under:
Back Pain
Written By: Updated:
June 27,2011