It's an Olympic year, and there are at least three things you can be sure will be part of the Summer Olympic Games in Rio: the Olympic torch, fierce competition… and pain.
We're not talking about the pain of missing a bronze medal by a hundredth of a second (which has got to rank right up there with passing a kidney stone). Or the pain of being body-slammed by a Russian heavyweight in a Greco-Roman Wrestling match. We're talking about the plain old kind of pain that many of us non-athletes experience every day.
No doubt, Team USA and the other national Olympic squads will have access to any and every kind of pain treatment available so they can stay in the game. And why shouldn't they? After all, they've been getting up at 4 a.m. every day for years preparing for their moment in the sun.
But what about the rest of us occasional athletes who have to endure muscle and joint pains–many of them chronic–due to overexertion, injury, and conditions that result from the wear and tear the body undergoes as it ages, such as arthritis and fibromyalgia?
And don't think that arthritis is just something that happens to old folks. It affects nearly one in five American adults–that's 46 million people. Arthritis is second only to heart disease as a cause of work disability, and 7 million people have it so bad that they have difficulty with everyday activities such as walking, dressing, and bathing.
This kind of nagging pain can take the joy out of life and produce a feeling of hopelessness. In fact, surveys indicate that roughly half of those with arthritis don't think anything can be done to help them.
But the good news is, you can have access to the same, cutting-edge treatments Olympic level athletes enjoy. This is where a completely natural topical treatment such as Rub On Relief® can make a difference.
Three-time USA Olympian Debbi Lawrence said, "I ABSOLUTELY love this stuff! My legs have never felt better and it helps me recover from intense workouts much faster."
I could go into all the details about how Rub On Relief® helps a variety of joint and muscle pains with its proprietary combination of natural oils and organic ingredients works to bring near-immediate relief from the daily aches and pains we experience…
How its ingredients are proven effective in relieving rheumatic pains, swollen and stiff joints, tendon pain, sciatica, tenderness in knee joints, low back pain, neck stiffness and even head aches.
Or how it's far safer than other pain relief options such as Cortisone and non-steroidal anti-inflammatory drugs (NSAIDs) which carry a number of unpleasant side effects.
I could even share how Rub On Relief® contains powerful antioxidants that work to neutralize free radicals–unstable molecules cause damage to blood vessel walls and the cartilage tissue that surrounds your joints.
Or the clinical study which asked participants suffering from arthritis to switch to using one of the ingredients in Rub On Relief® once a day for three days – and had 90% say they got faster pain relief than the products they had been using (without the strong smell of typical topical rub on creams, either).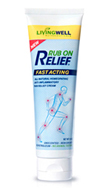 But instead… I'll simply ask you to try it for yourself to experience the same pain relief Olympic athlete Debbi Lawrence raves about.
There's no risk. With my money-back guarantee either it relieves your pain or you get your money back. Click the link below to learn more.
Filed Under:
Pain Relief
Written By: Updated:
March 26,2008