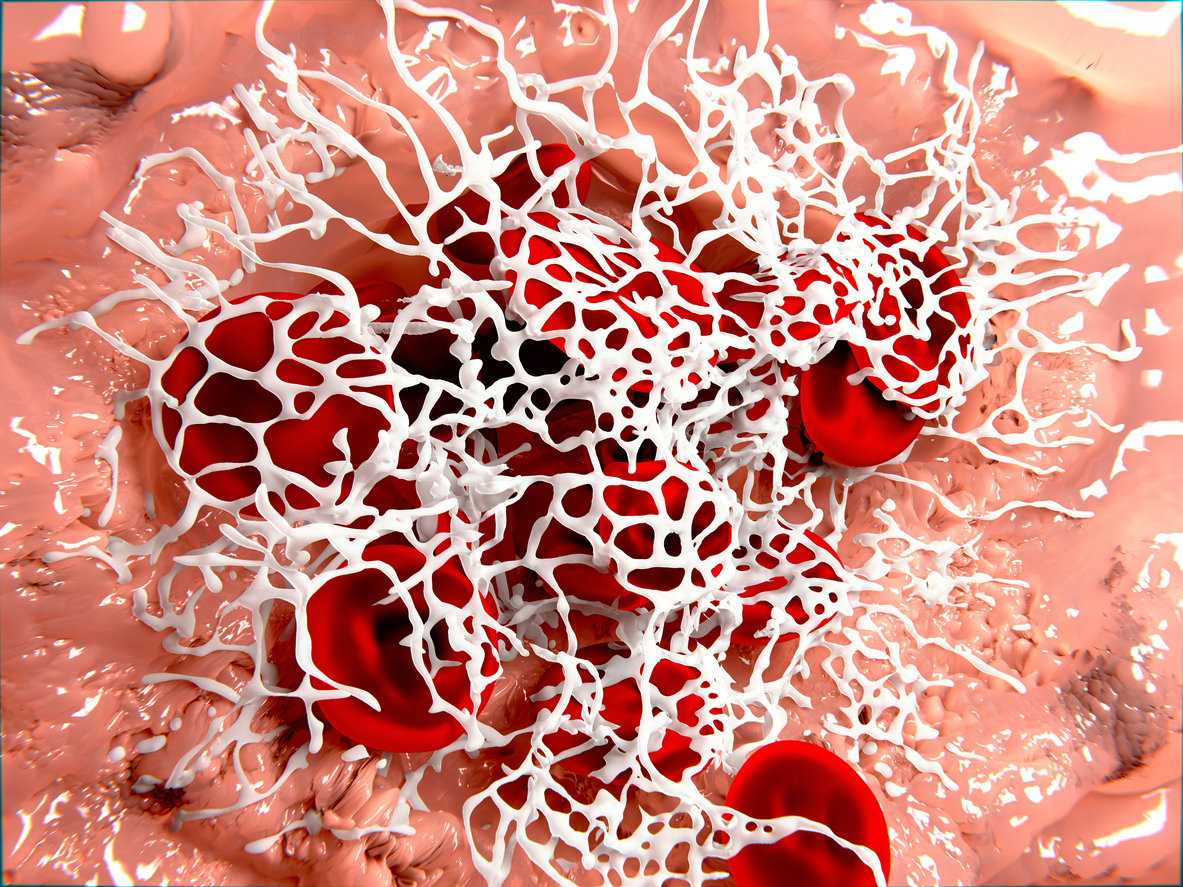 The sticky clumps covering the red blood cells pictured above is called fibrin. It's your body's first response to injury and pain.
Fibrin itself is not bad, unless it gets out of control.
Fibrin dictates how healthy and flexible every part of your body stays as you age. Lingering pain, loss of flexibility, and chronic inflammation can all be traced back to out of control fibrin levels.
Not that you'll hear much about fibrin from most pharmaceutical companies… They know once you understand what it is and how it works, you can reclaim a pain-free life. And stop wasting money on their dangerous pain pills.
---
Fibrin: just the facts
Fibrin is an insoluble protein that acts as a first responder whenever your body is injured.
When the call for help goes out, fibrin molecules rush to the scene.
Shaped like long threads, each fibrin molecule interlaces to form a thin mesh around your wound.
This mesh is critical for trapping the platelets and red blood cells needed to form blood clots.
Without fibrin, even small wounds would just keep bleeding. Fibrin mesh is the base material for clots, scabs, scars, and eventual healthy skin.
When everything is in perfect working order, the fibrin rushed to the injured site is returned to your body as you heal.
After a few days of repairs, your system sends in a second clean-up crew of enzymes to dissolve the excess fibrin and leave your muscles, nerves, and blood vessels just as they were before you were hurt.
Unfortunately, most of our bodies aren't in perfect working order. When we hurt, we take pills, and pain pills cancel the body's signal for enzymatic clean-up crews. Fibrin keeps rushing to the scene.
Over time, the fibrin molecules thicken and stiffen, forming scar tissue masses that can block blood vessels, interfere with muscle function, and lead to chronic inflammation.
---
Fibrin malfunction means major pain
This fibrin malfunction is no laughing matter. Excess scar tissue restricts blood flow and oxygen throughout your body, slowing down your healing process and keeping you in pain longer. As the scar tissue thickens, it reduces your range of motion and contributes to chronic pain.
A prime example of this process is fibromyalgia. The pain and suffering of fibromyalgia have been linked to an excess of fibrin in your muscle tissues.
Known as fibrosis, this condition can spread to affect every muscle and organ in your body.
Excess fibrin is associated with the aches and pains of getting older.
After all, the longer we live, the more we do to interfere with our natural healing systems — and studies show that our internal fibrin control systems begin to decline around age 27.
It doesn't take long for fibrin overgrowth to become a real quality of life issue.
---
Reversing excess fibrin
Fortunately, it doesn't take long to reverse fibrin overgrowth. The key is re-activating your body's natural fibrin clean-up crew.
This crew is made of proteolytic enzymes, a group responsible for breaking down protein molecules.
They hit fibrin masses and literally eat them away. As an added bonus, proteolytic enzymes cleanse toxins from your blood, fight viruses, and fortify your immune system.
Unfortunately, your regular diet alone won't overcome the massive drop in natural proteolytic enzyme production as you age.
Not only are most modern foods lousy nutritional sources, but the best naturally occurring proteolytic enzyme food sources are not a significant part of our normal diet.
You can get proteolytic enzymes from plant sources like pineapple stems, caper leaves, and papaya, but they need to be extracted in a lab. Unless you have one at home, you'll want a proteolytic enzyme supplement.
It's no surprise Big Pharma doesn't want you to ask "what is fibrin" and discover the truth about how fibrin is keeping you in pain – and can be safely and easily eliminated.
If everyone understood the basic mechanics of the fibrin response and how pain pills mess things up, their sales would plummet.
They want you on expensive, addictive, and toxic medications — but to improve your health and live pain-free, you just need to boost your systemic proteolytic enzymes.
"Arthritis and Joint Pain Breakthrough!"
…and the Secret to LASTING Relief Without Prescription Drugs 
See Also:
The powerful health benefits of proteolytic enzymes
Big Pharma says this cure is not 'economically viable'
Bromelain health benefits that will inspire you to eat pineapple