And Its Top Disease-Fighting Benefits For You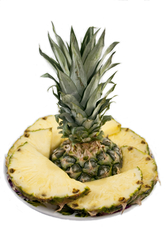 What does a pineapple have to do with providing powerful relief for your pain?
Perhaps the better question to ask is, what is bromelain?
Bromelain, a mixture of enzymes found in the juice and stem of the pineapple, was discovered by Western medicine soon after Christopher Columbus landed in the New World — and found pineapples — on the island of Guadalupe in 1493, and has been used for centuries to relieve inflammation and indigestion.
Also according to the history books, the benefits of pineapple and bromelain grew in fame beyond Europe during the 1600s when pineapples started being passed around the world to more tropical climes (India, Africa and the Pacific Islands) for growing.
Finally, bromelain was isolated as an enzyme for the first time some 200 years later in the late 19th Century. But, that's ancient history…
A MUST If You Are Beyond Your 20s…
Bromelain just isn't any kind of enzyme. This natural and completely safe compound is a proteolytic enzyme, responsible for breaking down and eliminating the excess proteins that accumulate at the scenes of an injury, irritation or burn. More to the point, bromelain mops up a specific protein — Circulating Immune Complex (CIC) — that's sent by the human immune system to form a protective wall around injured areas.
So, why use a natural substance to treat a natural, cellular process?
Beyond our mid 20s, unfortunately, our bodies stop producing enough proteolytic enzymes to do the heavy lifting, leaving us more vulnerable to the inflammation that increases our aches and pains associated with arthritis as we age, not to mention stroke, Alzheimer's and heart attack as well as unknown damage to other internal organs.
Here's the rub: Eating pineapple does increase your body's supply of healthy proteolytic enzymes, but you'd have to eat a lot of it raw to make an impact on your health.
Also, food processing destroys the natural, beneficial effects of these good-for-you enzymes, so eating canned pineapple does your body no good either.
Have YOU Hit the Wall?
Have you hit the proverbial wall looking for a natural and completely safe way to relieve your pain without the need for harmful prescription drugs, like Celebrex, Vicodin or Oxycodone?
And, have you become increasingly wary with the increasingly growing number of studies citing all the health problems associated with over-the-counter meds like aspirin, acetaminophen, ibuprofen and naproxen?
One of the best and safest way to get the right amount of bromelain for your health is among the most convenient too. Bromelain is one of 12 natural and powerful anti-inflammatory ingredients in Heal N Soothe that work synergistically to give your body a powerful one-two punch against pain and inflammation.
(By the way, bromelain has been recognized by the American Cancer Society as an effective alternative treatment to help reduce the effects of some kinds of chemotherapy, and it was approved by the German Commission E in the 90s to treat inflammation or swelling related to sinus surgeries.)

Discover All 12 of the MOST POWERFUL
Natural Pain Relieving Ingredients Now
Center For Integrative Medicine/University of Maryland Medical Center