… What to Look for, What to AVOID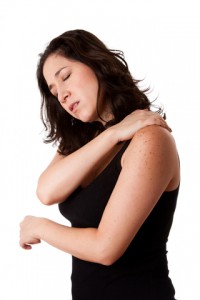 If you've been struggling with back or neck pain for some time and have grown tired of conventional drug treatments that only cover up your pain, you may have begun your search for real back pain relief — the kind that actually heals the underlying causes of your pain instead of simply masking your symptoms.
If so, you are not alone.
Many find themselves on a similar journey for lasting pain relief, often after conventional drug, injection and surgery treatments have failed them. If this sounds familiar, you have come to the right place.
There's a good chance you've heard of inversion therapy before; it involves using an inversion table to invert your body at varying degrees of incline (not necessarily completely upside down), providing an antidote of sorts to the pull of gravity that compresses and wears down the discs in your back on an around-the-clock basis.
But, quite possibly, you've never explored it further, shrugging it off as a funny-looking "new age" or "quack" treatment. It might give you pause to know that there's nothing funny, or fraudulent, about inversion therapy — unless you get a laugh out of how long you struggled with back pain when this simple solution existed all along.
Why Might Inversion Therapy be the Back-Pain Solution You've Been Waiting For?
Spinal traction, of which inversion therapy is one variety, has been used for many centuries, including by Hippocrates, the Father of Medicine himself, who is said to have hung patients upside down on a ladder for this very purpose.
The effects are deceivingly simple: by hanging upside down, you increase the space between your vertebrae, relaxing the pressure on your discs, ligaments and nerve roots. Increasing intra-vertebral space means reducing pressure on the nerve roots, which means less back pain and less likelihood of nerve root damage. When you oscillate up and down on an inversion table, it creates a pumping action for the fluids around your spinal discs. This forces waste out and draws in fluid around your discs.
Other benefits include:
Relaxing muscles and increasing blood flow
Helping to realign your spine when used in the long term
Improved circulation, flexibility and mobility
Better posture — which is key to healing and preventing more back problems in the future
Science Backs Up the Pain-Relieving Power of Inversion Tables
Is it really possible that inverting for a few minutes a few times a week may heal your back pain? Here's a look at what the research shows:
A study in the Archives of Physical Medicine and Rehabilitation found that inverted positioning for short periods significantly increased spinal length and reduced EMG activity (indicating the amount of muscle pain in participants) by 35% — in as little as just 10 seconds after becoming inverted.[i] This study was done over 30 years ago, but many are still missing out on these pain-relieving benefits!
A study of 175 people who were experiencing back pain bad enough that they were unable to work found that after just 8 inversion treatments, nearly 89% were able to return to their jobs full-time. Improvements in a variety of conditions, including spondylolisthesis, herniated discs, lumbar osteoarthritis with sciatica and others, were reported.[ii]
A 1985 study on the effects of gravity-facilitated traction (inversion) found the therapy produces significant intravertebral separation in lumbar spine. Researchers concluded, "If increases in intervertebral dimensions play a role in the relief of low back syndrome, then gravity-facilitated traction may be an effective moda1i;y in the treatment of this condition."[iii]
Preliminary research from New Castle University found that patients who were told they needed sciatic operations who performed inversion therapy were 70.5% less likely to require back surgery.[iv]
Even the U.S. Army Physical Fitness School uses inversion therapy for soldiers, and reports that the technique leads to fewer joint-related injuries and back muscle pain.
Why You Want to Avoid Cheap Inversion Tables
Cheap inversion tables that sell for $100 or so at popular chain stores like Walmart are often made from plastic or low-quality metals.
Why does this matter?
Because if the inversion table breaks while you're using it, it can lead to serious injury, which is the last thing you need when you're trying to become pain-free. These tables are not only potentially unsafe, but they are often uncomfortable to use. And you know better than anyone that if the table hurts your ankles or is difficult to maneuver, you're never going to use it, making the table a complete waste of money.
What to Look for in Your Inversion Table
By investing just a little bit more, you can get a high-quality table made from heavy duty steel. The chance of an inversion table made out of heavy duty steel breaking is probably less than the chances of your car's steering wheel suddenly falling off while you're driving.
The Healthy Back Institute® Seated Inversion Therapy System is not only made from heavy duty steel, it also offers multiple special features for superior comfort, safety and ease of use:
Easy to reach, long ankle locking bar, which eliminates the need to bend over and secure your ankles in. Unlike other models, this allows you to lock yourself into the inversion table without having to bend your already pain-filled back!
Comfortable, durable foam ankle clamps, which help reduce the amount of pressure on your ankles … as well as hold your ankles in securely and safely.
Easily adjustable height controls so you can quickly and easily adjust yourself to the table in a matter of seconds … and avoid having to fiddle around with the settings for hours before you even get to try it.
Adjustable pivot point handles that allow you to get into position quickly, easily and safely … plus give you a "helping hand" when you're coming back up!
Safety Tether Strap leaves YOU in control of how far inverted you'd like to go … so you'll feel completely safe at all times.
Comfortable Black Nylon Fabric helps you relax while you're inverting.
1-Year Warranty shows you just how confident we are in the safety and sturdiness of our inversion table! Many of our competitors are afraid to even THINK of offering a 1-year warranty because they know their inversion table is cheaply-made and will break by then!
Heavy Duty Steel Frame provides the sturdiest, most durable and safest frame you can possibly have in an inversion table (about 400% more sturdy than our competitors) … so unlike the majority of other tables you never have to worry about "falling" again!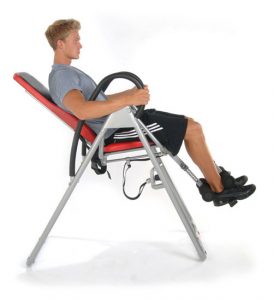 Best of all, you only need to sit down and lean back for fast pain relief! It doesn't get any easier than that…
Thousands of customers have reported back just how thrilled they are with the results of inversion therapy using The Healthy Back Institute® Seated Inversion Therapy System — don't be the one who misses out on the real pain relief you've been looking for!
What are YOU waiting for?
At best, your back pain could be resolved and you can get on with your life without pain … and at worst, you have absolutely nothing to lose, because if you're not satisfied in 90 days, I insist on giving you a full refund. This makes trying out your new inversion table absolutely risk-free for you, which is how we want it to be.
You owe it to yourself to live pain free…