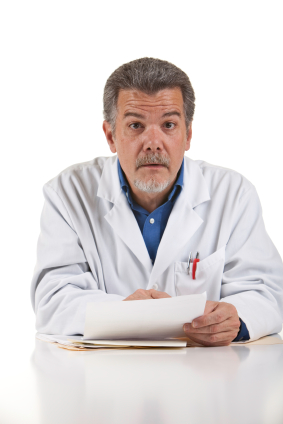 A New Jersey man has recently experienced what's got to be one of the most shocking reasons for back pain on record.
At around 2 am early one Sunday morning, the 42-year-old man (who remains unnamed) went out on his porch to smoke a cigarette. A stranger asked him for a light, to which he declined. A fight ensued, the stranger ran away, and the man (who had reportedly been drinking) went to bed.
Ten hours later, the man woke up with severe pain in his back and asked his brother to take a look for the source of the pain.
What did he discover?
A five-inch knife!
Apparently the man had been stabbed in the back without realizing it and had to be transported to the hospital to have the knife removed.[i]
So if you have back pain, check your back in the mirror … if you don't see a knife protruding, breathe a sigh of relief that you don't have a stab wound!
Instead, chances are very high your back pain is caused by muscle imbalances … and the Lose the Back Pain System will guide you to learning your imbalances and fixing them fast!
With the Lose the Back Pain System, you'll first identify the causes of your muscle imbalances, then implement proven strategies to help reduce and manage your pain so you can focus on correcting the dysfunction(s) that are causing it. You will work on treating the causes and also implementing additional treatments and strategies that are specific to the condition you may have been diagnosed with.
Remember, the position and curvature of your spine is determined by the amount of balance in numerous muscle groups including your thighs, hips and torso. When muscle imbalances pull your spine and body out of alignment, the level of stress on certain muscles, bones and joints increases.
Even the smallest muscle imbalance can over time pull you out of balance and place tremendous amounts of uneven pressure and wear and tear on your body … especially the vertebrae, discs, spine and its supporting muscles.
The Lose the Back Pain System is a powerful 3-part program consisting of DVD's … audio CD's … and an easy-to-read reference manual:
The 2 educational DVD's walk you through a series of self-assessments designed to help you pinpoint which physical dysfunctions and muscle imbalances you have. You'll receive your very own notebook to help you keep track of your findings — and keep track of your progress.
Once you've identified your physical dysfunctions, you'll discover a customized series of corrective exercises, stretches and self-treatments that are unique to your condition.
Each of the 3 audio CD's contains the latest, clinically proven recommendations, techniques, and treatments that have been clinically proven to help you STOP pain BEFORE it starts!
The Lose the Back Pain System also contains an in-depth reference manual that many of our patients refer to as their own personal "back pain" Bible. All of your personal corrective exercises, stretches, and pain-reduction strategies are included in ONE extensive manual for easy access – whenever you need them! Plus, you get diagrams, photos and charts that illustrate every step of each technique so you don't forget how to perform each exercise properly.
Unless you've got a knife in your back, there's a very good chance muscle imbalances are the source of your back pain. Give the Lose the Back Pain system a try to become pain-free for good.
Filed Under:
Back Pain
Written By: Updated:
December 13,2013