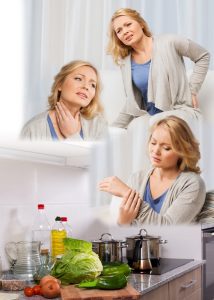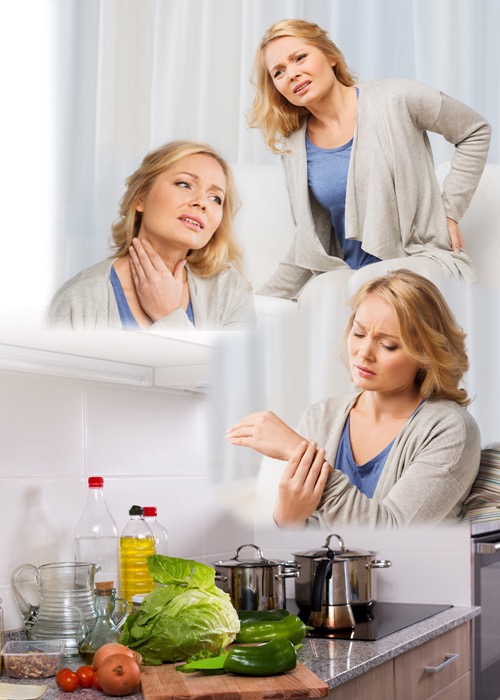 By Tiffany Harelik, MA
If you are in pain, you have probably tried a lot of different techniques, herbs, devices and strategies to get pain free.
But have you looked to the one thing you do besides breathing, every day, as a potential source of chronic pain? Have you taken an inventory of your diet?
Inflammation is a normal, healthy response to chronic and acute pain, but being stuck in inflammation is not. Below we identify what to remove from your diet completely and what anti-inflammatory foods to add to your diet right away.
And to help you get started on your path to being pain free, you'll find a recipe straight from The Live Pain Free® Cookbook.
Pain Free – Remove these from your diet completely:
Sugar, artificial sweeteners and high fructose corn syrup

Processed sugars are the worst thing you can put into your body if you are trying to reduce inflammation.
Examples of processed sugars include sodas, candies and packaged sweets.

Processed meats

Much of the calorie content in processed meats come from fats. Eating processed meats regularly is a poor choice for long-term optimal health.
Examples of processed meats: certain hot dogs, lunch meats, etc.
Food dyes

Artificial coloring is made from toxic, synthetic ingredients that have adverse effects on health. It is best to omit these from your diet.
Read food labels carefully to avoid artificial coloring such as Yellow 5 and Yellow 6.
Trans fats

Also known as hydrogenated or partially hydrogenated fats, trans fats are toxic fats that increase levels of bad cholesterol, increases blood clotting and contributes to weight gain.
Avoid margarine and choose real butter instead.
Pain Free – Incorporate these anti-inflammatory foods in your diet:
Turmeric:

Buy it in bulk and remove the skin. Grate it like a carrot and add it fresh to any salad, tea or smoothie.

Beets:

Bake at 400º F for about an hour or until desired tenderness. Once cooled, remove the skin. Slice into rounds and layer with orange slices for a simple, two-ingredient beet salad.

Berries:

Try a berry salad with raspberries, blueberries and blackberries.

Ginger:

Chop in large chunks and boil in water to make a tea. Add honey and lemon to taste.

Garlic and onions:

These inflammation-fighting foods are a great flavor combination to add to any roasted vegetable dish such as broccoli or potatoes.

Cacao:

Add some raw cacao to your coffee or smoothie.

Green tea:

Drink this as an afternoon pick-me-up. Note: if you are using raw honey to sweeten this tea, you will kill the beneficial properties of raw honey if you pour it into hot tea. Instead, wait until the tea has cooled to add honey. Alternatively, try xylitol or lemon in your hot tea.

Anti-Inflammatory Teas:

Ginger Tea, Green Tea, Rooibos Tea, Rose Hips, Black Tea, Willow Bark Tea and Nettle Leaf Tea are all anti-inflammatory.
Sample Recipe: Collard Green and Tabbouleh Wraps
Anti-inflammatory collard greens are part of the cruciferous vegetable family. They are full of antioxidants and support your body's detoxification process. Firm and hearty yet supple and flexible, they make a great base for a hearty wrap.
Makes 6-8 wraps.
6-8 large, organic collard green leaves
1 ½ – 2 ½ cups cooked quinoa
1 organic tomato, diced
½ organic red onion, diced
½ bunch organic fresh parsley, chopped fine
2-3 tablespoons organic fresh mint, chopped fine
1 small organic cucumber, diced
½ – 1 cup kalamata olives (seedless)
½ – 1 cup oil-packed sun dried tomatoes, chopped
Juice of 1-2 organic lemons
½ cup organic grapeseed or olive oil
Sea salt, to taste
Coarse ground black pepper, to taste
Combine all ingredients besides the collard green leaves in a large bowl and toss to combine thoroughly to make the tabbouleh. Chill tabbouleh until ready to use. When ready to serve, spoon a large amount of tabbouleh into the clean, raw collard green. Wrap it up like a burrito and serve fresh.
Make It Your Own
Substitute kale for collard greens.
Add a deseeded and diced bell pepper for enhanced nutrition and color.
Add feta cheese for extra protein.
Substitute avocado oil or olive oil for grapeseed oil.
Try using your favorite Italian salad dressing instead of the oil and lemon juice.
Try blanching the collard greens slightly if you do not like the taste of them raw. Do not overcook, or it will become too tender to hold the tabbouleh as a wrap.

---
Get Every Recipe In Our Brand New
Live Pain Free® Cookbook – FREE!
You won't miss a single tasty, pain-relieving recipe when you have our brand new Live Pain Free® Cookbook.
And when you click the link below I'll show you how you can have it completely free!