After President Obama signed the "Patient Protection and Affordable Care Act" into law I wrote a short article about some of the negative impacts of Obamacare.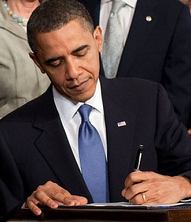 I predicted Americans would show their extreme displeasure with this type of big government rammed down our throats at the polls in November. Indeed, we witnessed a dramatic shift in Congress during the most recent election.
Whether or not the newly elected Congress will overturn this ill conceived law, I've believed all along that it's an unconstitutional overreach of Congress' authority. Now it appears at least one federal judge agrees.
The final outcome of this law is anything but certain. Even the judge who ruled against the provision in Obamacare requiring the purchase of health insurance indicated it will undoubtedly go all the way to the United States Supreme Court before a final decision is made.
One thing is clear, however. Should this law stand, those who choose to maintain their health largely through natural means will have less money available to take charge of their own healthcare as they are forced into "buying in" to our current broken healthcare system.
In the meanwhile, make sure you do what you can to keep yourself out of the doctor's office by keeping yourself in the best shape possible. You'll find tons of helpful advice right here on our Lose the Back Pain blog.
We've also compiled a list of some of our most popular natural health and back pain articles to get you started. Finally, if you have a specific question, consider visiting our Lose the Back Pain discussion forum where thousands of back pain sufferers find help every day.