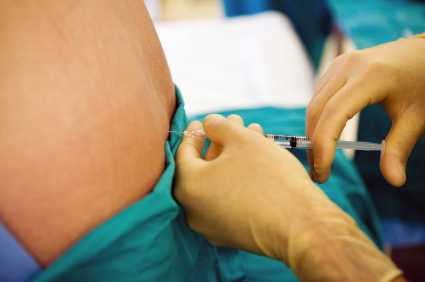 Every year, millions of Americans have a mixture of corticosteroids and numbing medications injected into their lower backs in an attempt to get rid of back pain (and many more do so to relieve pain during childbirth).
The steroids are injected into the epidural space of your spine, which is the area outside of the sac of fluid around your spinal cord.
As you might suspect, anytime you have something injected into your spine, you run the risk of complications, especially if the needle is inserted into the wrong place.
Unbeknownst to many, corticosteroids are not approved by the U.S. Food and Drug Administration (FDA) for injection into the epidural space of the spine! Also commonly unknown is the fact that these injections may cause irreversible neurological problems and, in rare cases, even death.
FDA Requires New Warning Label on Epidural Steroid Injections for Pain
When even the FDA is taking note of serious problems, you know it's got to be bad. According to the FDA:[i]
"The U.S. Food and Drug Administration (FDA) is warning that injection of corticosteroids into the epidural space of the spine may result in rare but serious adverse events, including loss of vision, stroke, paralysis, and death … We are requiring the addition of a Warning to the drug labels of injectable corticosteroids to describe these risks."
The FDA began investigating the issue when they learned of medical professionals' concerns about the risks of serious neurologic adverse effects following epidural steroid injections. They reviewed cases in the FDA Adverse Event Reporting System (FAERS) and determined there was a need for a new warning label requirement for injectable corticosteroids including methylprednisolone, hydrocortisone, triamcinolone, betamethasone, and dexamethasone.
Pfizer's Depo-Medrol (methylprednisolone) is already banned for use in epidurals in Australia and New Zealand.
Generally, during the steroid injection fluoroscopic (x-ray) guidance is used to help confirm that the needle is placed in the correct spot before the medication is injected, but the FDA noted that serious neurologic events occurred both with and without the use of fluoroscopy. They also noted that "many patients did not recover from these reported adverse events."
The data revealed the following serious reactions, which occurred within minutes to 48 hours after injection.
| | | |
| --- | --- | --- |
| Death | Spinal cord infarction | Paraplegia |
| Quadriplegia | Cortical blindness | Stroke |
| Seizures | Nerve injury | Brain edema |
The FDA plans on convening an Advisory Committee meeting of external experts in late 2014 to determine if further action is required.
Patients Warn of the "Dark Side of Epidurals"
Dawn Gonzalez is among those who have suffered permanent damage from an epidural. In her case, she suffers from arachnoiditis, an inflammation of the arachnoid membrane surrounding the spinal cord, which causes severe chronic pain and other neurological problems. She told the National Pain Report:[ii]
"I am relieved and hopeful that things are on the right track, but there is still much more that needs to be done to stop these ineffective, harmful pain treatments from maiming and crippling people and ruining their lives … They need to do something to warn specifically about arachnoiditis, and do something to help those of us that have already been damaged by these procedures.

They will find that these instances are not in fact rare like they say, but are in epidemic proportions relative to the number of these injections that have been given over the last 10 or so years."
Another woman, Terri Anderson, also spoke to the National Pain Report about developing arachnoiditis after receiving epidural steroid injections for a ruptured disc in her back. She said:[iii]
"The risk of serious adverse events is not rare and arachnoiditis is grossly misdiagnosed and under-reported to the FDA for obvious reasons (fear of reprisal and legal liability)."
Arachnoiditis is incurable and incredibly painful, with patients describing sensations of electric shocks, muscle cramps, bugs crawling on their skin and constant, stabbing pain so severe many consider suicide. As the condition progresses, patients may lose bowel and bladder function and be confined to a wheelchair or bedridden. Other complications of steroid injections include:
Spinal headache
Meningitis
Bowel and bladder dysfunction
Infection
Bone fracture
Adrenal insufficiency
At this point it's unknown just how often serious complications are occurring, but with the growing incidence of epidural procedures, the complication rate is likely to increase. The Anesthesia Patient Safety Foundation reported:[iv]
"The rate of serious complications resulting from these [epidural steroid injection] procedures is impossible to estimate in the U.S. because of the lack of mandatory reporting and the reluctance to report cases that are being or may become litigated. The ASA Closed Claims Project indicated that epidural steroid injections accounted for 40% of all claims involving pain management cases that occurred between 1970 and 1999.

Fourteen cases of spinal cord injury were reported, of which 6 resulted in paraplegia and 1 in quadriplegia. With the rapid increase in procedure rates for epidural steroid injections since that time, the incidence of these devastating complications has undoubtedly increased."
This Works Better Than Steroid Injections, With NO Side Effects
Even under the best circumstances, epidural steroid injections provide only short-term relief, which generally wears off in six to eight weeks, and is estimated to be effective in only 50% of patients. This may be why, despite a documented 629 percent increase in Medicare expenditures for epidural steroid injections, no correlating improvement in patient outcomes or disability rates have been found.[v]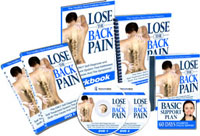 It's really not surprising, because these injections do nothing to resolve the physical dysfunctions that are at the root of most back pain. Physical dysfunctions develop over time — the result of poor posture, repetitive stresses, sitting too much, and so on – and are the direct result of imbalances between various muscle groups, i.e. "muscle imbalances." Your body is then forced to work each day with this dysfunction and eventually this creates a condition, like a herniated disc or a pinched nerve, for example.
Then the condition causes lumbar pain, and maybe associated pain in your upper back, buttocks, legs, shoulders and neck, and as you know, pain is your body's way of alerting you to a problem that needs to be fixed …Â  and the solution starts at the foundational level with your original muscle imbalances.
With the Lose the Back Pain System, you'll first identify the causes of your dysfunctions and muscle imbalances, then implement proven strategies to help reduce and manage your pain so you can focus on correcting the dysfunction(s) that are causing it. You will work on treating the causes and also implementing additional treatments and strategies that are specific to the condition you may have been diagnosed with.
This is a safe, straightforward system that works to heal your pain at the very root, foundational level, and it should be your go-to solution if you're currently struggling with pain. There are no risks and absolutely no side effects, so please, try this first before you consider an epidural steroid injection that might do little to resolve your back pain … or worse!
---
Filed Under:
Back Pain
Written By: Updated:
May 20,2014