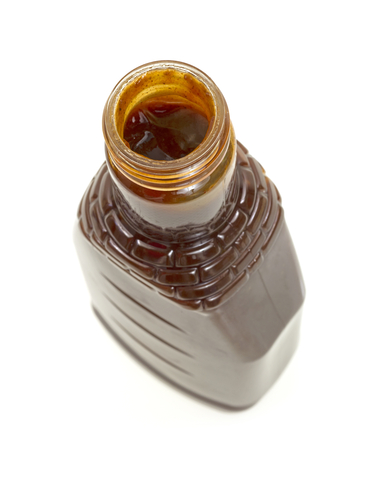 I recently featured the 8 healthiest condiments to keep in your fridge. Now it's time to tackle the bad guys … the unhealthy condiments that have no business taking up precious space on your refrigerator door.
If you're interested in giving your health a bit of a boost, simply swapping the following unhealthy condiments for the healthier versions listed here would be an excellent start …
6. Soy Sauce
Soy sauce is very high in sodium. Just two tablespoons has more than you should get in a day, and most people use more than two tablespoons. Many soy sauce brands also contain monosodium glutamate (MSG), a known "excitotoxin," meaning it causes brain cells to fire so rapidly they burn themselves out within hours of exposure.
5. Honey Mustard
While regular mustard is a healthy option, honey mustard typically contains added sugar. While not as bad as some condiments (see BBQ sauce below), especially if you only use it in moderation, you're better off swapping honey mustard for regular.
4. BBQ Sauce
Sugar is a main ingredient in most barbecue sauces, which can easily add 9 grams of sugar or more per serving, and even more if you like extra sauce.
3. Bottled Salad Dressing
Many people use ranch, Italian and other dressings as a dip for veggies, topping for sandwiches and much more. But bottled dressings, especially reduced-fat varieties, can contain up to 50 grams of sugar in a half-cup. Many also contain soybean oil (see below), MSG, artificial flavors and preservatives. Do your health a favor and make your own dressings at home using olive oil, balsamic vinegar, lemon juice, garlic, buttermilk, and other spices.
2. Mayo
You knew it was coming … but the primary reason why mayo is a no-no isn't because it's high in fat, per se, but rather because it's high in pro-inflammatory omega-6 fats. This comes from the soybean oil that makes up most mayonnaise. Most Americans already consume far to many omega-6 fats from vegetable oils like soybean oil, and mayonnaise will only add to this.
1. Tartar Sauce
Most store-bought tartar sauce brands have a mayonnaise base (i.e. more soybean oil) plus added sugar and high fructose corn syrup. If you love tartar sauce, it's possible to make your own healthier version (and your own home-made mayo) using egg yolks, lemon juice, olive oil, salt and seasonings (like pickles, onion, dill or capers).
An Urgent Message for Those in Pain…
If you're in pain, the condiments in your fridge may be the last thing on your mind. And you certainly need to get your pain under control before you can start making additional positive lifestyle changes, like cleaning up your diet.
For those of you suffering right now, are you taking one of these 5 most dangerous painkillers? If your answer is 'yes' … my next question is … WHY?
Click here to learn about the 12 SAFEST & MOST EFFECTIVE pain relievers in the world. They're available all together in one powerful formula that actually HEALS the underlying condition causing your pain, safely and for good.