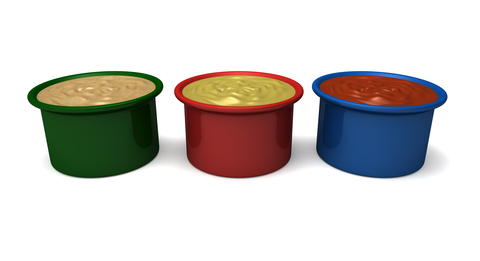 If variety is the spice of life, then the more condiments you keep in your fridge, the better. Especially if they're the right condiments.
By that I mean condiments that are not only tasty (if not, then what's the point?) but healthy too. Surprisingly, you can actually pick your condiments strategically to add nutrients, antioxidants and flavor to your meals, one teaspoon, squirt or dollop at a time.
The 8 Healthiest Condiments to Keep in Your Fridge
8. Organic Ketchup
Ketchup gets a bad rap because it often contains sugar and high-fructose corn syrup. But, it also contains lycopene, a powerful antioxidant that is known to help prevent many types of cancer, including prostate, breast, endometrial, lung and colorectal. Go for organic ketchup, which doesn't contain HFCS and has been found to have significantly more lycopene than conventional varieties.
7. Mustard
Mustard is low in calories but rich in flavor. Plus, high-quality brands contain nothing more than mustard seeds, turmeric (for color), water and vinegar. Turmeric is a powerful anti-inflammatory and mustard seeds contain omega-3 fats and may even boost your metabolism.
6. Horseradish
This spicy root contains important nutrients like potassium, vitamin C, B vitamins, magnesium, phosphorus and zinc. Plus, it contains phytochemicals called glucosinolates, which potentially have anti-cancer properties, and mustard oil, which may block the growth of disease-causing bacteria.[i]
If you're new to horseradish, try mixing it with ketchup, mustard or yogurt (plus dill) and using it as a cocktail sauce, sandwich spread or dip, respectively.
5. Guacamole
Avocado is rich in heart-healthy fats many people are lacking. It may also contain other beneficial ingredients like tomatoes, lime juice, cilantro and onions. If you're not going to make your own, look for brands with whole ingredients and no preservatives. Guacamole makes a great sandwich spread.
4. Salsa
Salsa is low in calories and rich in nutrients and phytochemicals, which come from the tomatoes, cilantro, hot peppers, onions and other spices it contains. A serving of salsa will provide you with beneficial vitamin C, vitamin A, capsaicin and much more, so use it liberally on eggs, meat, fish, potatoes and more.
3. Hot Sauce
Authentic hot sauce made from chili peppers contains potent compounds called capsaicinoids (capsaicin and related chemicals) — they're what give hot peppers their "kick." Among the health benefits of spicy peppers in hot sauce include reducing inflammation and pain, fighting cancer, relieving sinus infections and even boosting fat-burning and metabolism.
2. Black Pepper
Black pepper contains piperine, which may have anti-cancer effects[ii] and improves insulin sensitivity.[iii]
1. Pesto
Pesto is typically a nutrient-dense mix of basil, olive oil and garlic, possibly with Parmesan cheese or pine nuts mixed in. Along with heart-healthy monounsaturated fats from the olive oil, pesto contains a massive dose of free-radical-fighting antioxidants from the garlic and basil. Try pesto not only over pasta but also as a sandwich spread or condiment for meat, fish and veggies. You can even stir it into soups or stews.
Craving more natural tips and tricks? Click here to read about the 12 Most Powerful Natural Pain Relievers that actually work.