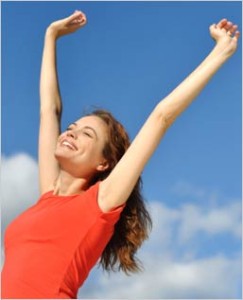 Proteolytic enzymes have an unsurpassed ability to fight chronic inflammation and underlying pain. Unlike ordinary enzymes, proteolytic enzymes can migrate to other parts of your body, entering your bloodstream where they literally seek and destroy "danger zones," like scar tissue and blood vessels packed with fibrin.
These powerhouse enzymes work systemically to fight inflammation in your body at an unsurpassed level, and we've made some exciting changes to our own popular Heal-n-Soothe systemic proteolytic enzyme formula.
Now, in every dose you'll find double the amount of proteolytic enzymes, making this our most powerful, most potent enzyme formula yet.
In fact, since we first formulated Heal-n-Soothe in 2007, we've carefully been making adjustments to make it even better. Originally, our enzyme formula was made by one of the oldest and most trusted enzyme manufacturers in the United States. I then learned about a new extraction process that used much less heat, helping to retain even more of the efficacy of the nutrients.
I searched for a new manufacturer that could support this process, and in 2010 we switched manufacturers to incorporate this new processing technique. At this time we also doubled the dose of enzymes contained in the formula … for the first time.
Our latest and most powerful formula has double the dose again – which means Heal-n-Soothe now has four times the enzymes it did in 2007.
We Had to Literally Make Room to Fit All These Enzymes in One Capsule
The addition was so significant in volume that we had to make some hard choices about what to remove. There simply was not enough volume in the capsules to double the enzymes without taking something out. And so, we've removed the vitamin E and reduced the citrus bioflavonoids and ginger to allow enough room for more enzymes.
We've also added a 50-milligram dose of alpha-lipoic acid to address nerve-based pain. While the majority of pain is inflammatory in nature, a small segment of the population suffers from nerve-related pain, and we wanted to be sure this formula could help them too.
The proteolytic enzyme dose, remember, has doubled not only in volume but also in activity. While we used to recommend a starting or maintenance dose of six capsules a day, we now recommend three.
We've Made it Even Easier to Figure Out the Best, Most Effective Dose for YOU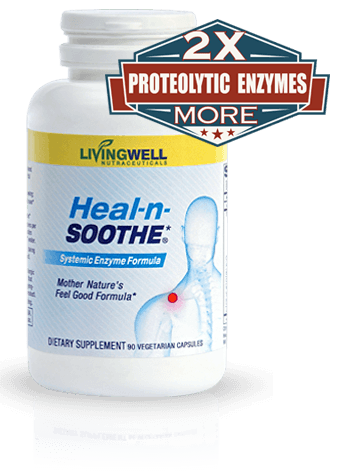 Now, this doesn't mean three capsules a day will be the right number for you. The size of your body, your weight, the duration and severity of your conditions, your metabolic rate and your activity level all influence the dosage you will need.
We recommend starting with three capsules and increasing the dose until your improvements stop. Later, when your symptoms have calmed down you can drop back down to the maintenance dose that you feel works for you.
Please understand that we've also made significant improvements to help you track your first 30 days of Heal-n-Soothe use. You'll receive a chart to help you record your symptoms and experiences during your first month to help you figure out what dose works best for you. Again, you can keep increasing as your symptoms improve. When they level out, you'll know you've reached your "Goldilocks zone" that's just right.
By doubling the enzymes, we're helping you to take the minimum amount yet get the most powerful formula, and the best results, yet. And after you try it, we'd love to hear from you.
Share Your Story With Us So We Can Share it With the World!
Please share your results, your story, your recovery and anything else you'd like us to know, with as much detail as possible. Once you're on LosetheBackPain.com, you can e-mail us directly using the 'contact us' link (located in the upper right corner).
Once we hear from you, we'd love to share your story with the world to help others who may be in your shoes right now – in pain and searching for relief. It's why we do what we do, and we love to spread the word about how Heal-n-Soothe works to give you back your life and vitality without pain.
We already had the purest, most powerful proteolytic enzyme supplement on the market. Now it's even better.