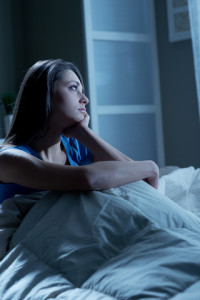 Chronic pain is a major cause of sleep loss and is associated with insomnia. For instance, the National Sleep Foundation points out that if you have lower back pain you might experience intense "microarousals" throughout the night.
Microarousals are changes in your sleep state to a lighter stage of sleep, and they often lead to awakenings in people with chronic pain.[i] Less widely known, however, is the fact that getting less sleep may also lead to more pain.
According to new research from the University of Haifa, if you have trouble sleeping, you're 1.5 times more likely to suffer from back pain at some point in your life.[ii] Why does lack of sleep increase your risk of chronic pain? There might be a "biological factor" that hasn't yet been identified, according to the researchers, but they also suggested stress might be involved:[iii]
"One possible link is stress; people suffering from insomnia generally describe their lives as stressful, so it's almost certain that they would suffer from chronic restlessness that will increase muscle tension and reduce the number of micro-pauses in muscle activity, which leads to back pain."
Separate researched published in Arthritis and Rheumatology in 2014 found that non-restorative sleep was the strongest independent predictor of widespread pain in older adults – even stronger than factors such as anxiety, cognitive problems or osteoarthritis.[iv] Specifically, those who reported feeling tired or worn out after a night of sleep were nearly twice as likely to develop widespread pain than people without sleep problems.
The link makes sense, since lack of sleep is known to trigger an inflammatory response in your body, and inflammation is often at the root of chronic pain. Fortunately, there are several key things you can do to help yourself sleep better … like turning off your electronic gadgets (and your TV) at night. Artificial light, and particularly the blue light emitted by many electronics, may suppress melatonin, a light-sensitive hormone that that promotes sleep.[v]
Ideally, try to keep the use of such devices to a minimum before bed (this is important to help your mind rest and get ready for sleep as well). Also important, get regular exercise, which can help you fall asleep faster and stay asleep longer. Exercise is so conducive to restful sleep that it's often described as a natural treatment for insomnia.[vi]
Also, for times when I'm having trouble sleeping, or wake up feeling unrested, I take Sleepzyme®, which contains the natural sedative Valerian plus nine other proven, all-natural sleep aids. This includes:
Magnesium citrate to boost and activate your 'sleep hormone' (melatonin)
GABA, which improves your most vital state of sleep (the delta phase)
5–HTTP to help your body make serotonin and melatonin
Inositol, which helps you stay asleep longer and have fewer bad dreams
L-Theanine, which helps you relax and fall asleep with ease
Lemon balm leaf to reduce anxiety and improve sleep
Hops flower, which contains a naturally occurring sedative
Passion flower, which is also recognized as an herbal sedative
Melatonin to help regulate your sleep cycle (i.e. your circadian rhythm)
It also contains a special blend of enzymes uniquely formulated to improve the effectiveness of the botanical ingredients. If you're serious about getting proper sleep, there's no better solution on the market. Sleepzyme is mother-nature-approved. It's all natural, non-addictive and has no negative side effects. Just take 3 capsules approximately one hour before bed each night with an 8 oz. glass of water, and let nature do the rest.
[i] National Sleep Foundation, Pain and Sleep
[ii] PLoS ONE, 2014; 9 (8): e103591
[iii] Science Daily December 12, 2014
[iv] Arthritis Rheumatol. 2014 Mar;66(3):757-67.
[vi] National Sleep Foundation, How does exercise help those with chronic insomnia?
Filed Under:
Sleep
Written By: Updated:
January 9,2015