(And How NOT To Shovel Snow!)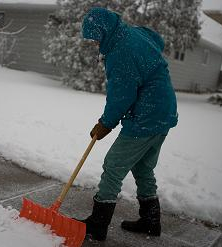 It's that time of the year again for many people worldwide. And if you want to avoid excruciating back pain, it pays to (re)learn how to shovel snow!
In the U.S. alone, more than 11,000 were treated annually between 1990-2006 for injuries connected with shoveling snow, according to a recent study.
Not surprisingly, more than 70 percent of the snow-shoveling injuries were related to musculoskeletal exertion or slips and falls, and more than a third of involved lower back injuries. And nearly 100 deaths each year were blamed on cardiac events that occurred while Americans were shoveling the frozen white stuff!
The numbers don't lie! So again it really pays to know how to shovel snow, and here are the common sense tips:
The Pregame
1. Warm up with some light exercise.
Before you put on the winter gear, doing 10 minutes of light exercise will loosen up your muscles and protect your back.
2. Do your stretching before and after shoveling snow.
Avoid muscle and shoulder injuries in addition to lower back pain by taking time before and after shoveling snow to stretch your muscles, especially your lower back and hamstrings, two problem areas, due to muscle imbalances, that are more prone to injuries.
3. Use the right tools.
Choosing the right shovel is probably the least of your concerns when the white stuff starts piling up, but it's just as important in protecting your back as moving around and stretching. According to the experts, cheaper is not better. A metal shovel should be your preferred tool to guard against back pain when shoveling snow because it supports heavier loads of snow and is far more durable compared to those made of plastic.
4. Wear shoes or boots with slip-resistant soles.
Avoid all sorts of potential headaches, backaches and broken bones by investing in a pair of boots and shoes equipped with slip-resistant soles or ice and snow traction cleats. The same applies for a good pair of gloves to protect your hands and keep them warm.
5. Keep the layers of clothes you wear to a minimum.
Because sweating while snow shoveling will do your body no good, be sure to wear loose-fitting layers of clothes you can remove easily when necessary. And stay hydrated by drinking plenty of fresh water.
Think Ahead
6. Stay ahead of the snow, if you can.
Yes, it's fun to watch the snow fall, especially when it's piling up while you're sitting in front of a fireplace on your favorite couch. Your back and your health will thank you with fewer aches and pains, however, if you get a head-start on removing the snow.
7. Get rid of snow smartly.
Before your shovel hits the snow, do a quick-check to determine where you'll be moving it. The best direction to move snow is the shortest distance possible. Another trick to guard against back pain after shoveling: Scoop snow in a forward motion, then step in the direction you throw it.
8. Don't do it alone.
The quote, "A burden shared is a burden halved," applies to a great many things, snow shoveling included. Shoveling snow may be fun and a challenge for some of you hardy souls who like to go it alone, particularly when there's lots of it. Resist the temptation and protect your health by getting your family and neighbors involved. (At the very least, make sure someone is aware you are shoveling snow!)
Take Your Time
9. Take as many breaks as you can.
Relocating snow, especially the wet, heavy stuff, off your sidewalk and driveway with your trusty shovel means moving hundreds of pounds in a relatively short period of time. Rest often.
10. Stop when it hurts.
Shoveling snow is hard work and stressful for your body, particularly if you're not used to it. So, if you start feeling pain for any reason, don't ignore it. Let that pain be a reminder of the muscle imbalances you want to avoid at all costs, for the sake of your back.
11. Be sure to have a safe and effective pain relieving cream on hand and USE IT afterward…
Ignoring any pain you do experience or trying to "tough it out" afterward is a dangerous mistake, because in a sort of vicious circle the inflammation can lead to other health (and even emotional) issues, and also more pain.
Always have a safe and effective pain relieving cream on hand … one that doesn't merely work at the surface but that actually addresses the inflammation. Learn WHY you want to avoid the common pain relieving creams like Ben Gay and choose the far more effective and safer alternative …

Discover the 8 Most Effective Pain-Relieving Ingredients
and the Pain Cream that has a 100% Success Rate Now
American Journal of Emergency Medicine
American Academy of Orthopaedic Surgeons
Filed Under:
Back Pain
Written By: Updated:
December 17,2011