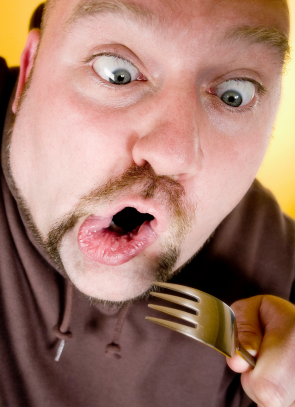 Many Americans are trying to eat healthier these days, and you're probably among them. You've cut back on your daily sodas, swapped your fried chicken for baked, and eat a salad nearly every day of the week …
But you're human, after all. And some days you need to grab a bite to eat, and you need to do it quick … fortunately, most fast-food chains have jumped on the healthy eating bandwagon and now offer "healthy" alternatives to the typical burgers and fries. But as it turns out, using "fast food" and "healthy" in the same sentence may really be an oxymoron, as even the "good" options at most fast food chains are veritable nutritional disasters.
8 "Healthy" Fast Food Meals to Watch Out For
8. McDonald's Fruit & Maple Oatmeal
Aside from the preservative-laden, sweetened fruit and added color, this "healthy" breakfast option has 32 grams of sugar — more than a Snickers bar. And if you order this looking for the maple syrup, you'll have to look pretty hard, because it contains none.
7. KFC Kentucky Grilled Chicken
What could be wrong with a grilled piece of chicken? Well this one from KFC contains not only 460 milligrams of sodium but also has what the Physicians Committee for Responsible Medicine called "substantial amounts" of a herterocyclic amine called PhIP. PhIP can cause DNA mutations and is classified as a carcinogen.
6. Sonic Strawberry Smoothie
A "smoothie" conjures up images of fresh fruit blended with calcium-rich milk or yogurt … but if you choose one from Sonic, you're getting 99 grams of sugar — that's five Twinkies' worth … and that's for the smallest size!
5. Wendy's Baja Salad
How bad could a salad be? Well this one contains chili, cheese and fried tortilla chips, along with a cheesy dressing, all of which add up to 47 grams of fat and 1,990 milligrams of sodium, which is more than you're supposed to eat in a day (for a salad).
4. Sonic Kids' Jr. Burger Meal
Adults aren't the only ones being targeted with supposedly healthier fast-food meals. This one from Sonic comes with a burger and apple slices, along with a fat-free caramel dipping sauce, instead of fries. But  it's loaded with sugar, and actually contains more than the amount food in two Twinkies.
3. Jamba Juice Mango a Go-Go
It's a smoothie, from a juice place — healthy, right? This is another trick of marketing, as a regular size Manga a Go-Go has 85 grams of sugar, which is more than twice the American Heart Association recommends you eat in a day. Even the "light" options at smoothie joints are far from "healthy," as most contain artificial sweeteners with questionable impacts on your health.
2. Subway Sweet Onion Chicken Teriyaki Sandwich
Subway prides itself on being a healthier fast-food joint, period, but you have to be choosy about their menu. Most of their sandwiches contain processed meats, which are linked to cancer, but the Sweet Onion Chicken Teriyaki, in particular, will set you back a whopping 34 grams of sugar and 2,020 milligrams of sodium for a foot-long.
1. McDonald's Southwest Salad with Grilled Chicken
It sounds innocent enough, but the grilled chicken on this salad is not the kind you could cook in your own kitchen. It contains 18 ingredients (sugar and chicken skin being two of them) and the salad also contains corn syrup solids and high fructose corn syrup …
Are you resorting to "healthy" fast-food meals in an effort to shed some pounds? Be sure to check out the new free weight-loss report our team has been working on for over 6 months … "Secrets of Effective Weight Loss." It explains what really works to get the weight off, and keep it off, for good!
Sources
Physicians Committee for Responsible Medicine June 2012
Physicians Committee for Responsible Medicine Spring 2011
Filed Under:
Nutrition
Written By: Updated:
August 17,2012