Dr. Farid Fata, a Detroit-area hematologist and oncologist who was once described as "world-renowned" has been sentenced to 45 years in prison for prescribing chemotherapy to his patients.
They weren't just any patients, however – most of them were not sick and did not have cancer. This didn't matter to Fata, who viewed the chemotherapy and other cancer treatments as an ongoing gravy train.
Federal prosecutors, who called Fata the "most egregious fraudster in the history of this country," noted that patients were not people to him but rather "profit centers."[i]
During the trial it was revealed that Fata had collected $17.6 million from Medicare and private insurance companies while subjecting 553 patients to medically unnecessary cancer treatments.
He pleaded guilty to 13 counts of Medicare fraud, one count of conspiracy to pay or receive kickbacks and two counts of money laundering.[ii] Among the misdiagnosed and mistreated patients who testified in court were:[iii]
Robert Sobieray, who was given chemo for 2.5 years even though he never had cancer. He lost all but one of his teeth and his jaw changed shape, all while being made physically sick from the treatments.
Patty Hester, who was told she had myelodysplastic syndrome (MDS) and needed chemo but instead went on expensive blood plasma treatments. She did not have cancer.
Chris Sneary, a man who received "gross overtreatment" for testicular cancer, including 40 days of chemotherapy and dozens of other treatments. He received harsher, more expensive chemo and even had a testicle removed unnecessarily.
Fraudulent Doctors are Not That Rare …
Doctors take the Hippocratic oath pledging to do no harm, but ultimately they are human – and with being human comes a possibility of good and evil. Most doctors are good people who mean well, and their services are of course very valuable … But you can't trust blindly.
Fraudulent activity like Fata's is, unfortunately, regularly reported in the medical field. This past June 2015, the FBI arrested 46 doctors and nurses across the US who were involved in fraudulent Medicare billing. In all, 243 people were arrested for taking part in "the largest Medicare fraud bust ever." About $712 million worth of medical care was billed to Medicare that was either unnecessary or never given. CNN reported:[iv]
"In one of the most egregious cases, owners of a mental health facility in Miami billed tens of millions of dollars for psychotherapy sessions based on treatment that was little more than moving patients to different locations, said Attorney General Loretta Lynch."
Further, according to the Association of Certified Fraud Examiners, false or unnecessary issuance of prescription drugs is one of the top 10 most common health care provider fraud schemes.[v] Also in June 2015, physician Nibedita Mohanty, the former chief of medicine at Stafford Hospital in Virginia, was found guilty of issuing medically unnecessary prescriptions for oxycodone, Fentanyl, Percocet and other drugs, and was sentenced to four years in prison.
At least one patient died of an overdose from drugs she received from Mohanty, while many said you could get any prescription drug you wanted if you paid $250.[vi] And then there was the recently reported case of an anesthesiologist who trashed a colonoscopy patient while he was sedated for the procedure.
In addition to mocking and insulting him, the anesthesiologist issued a false diagnosis, writing on his chart that the man had hemorrhoids when he did not. The man would never have known the behavior was going on – except his cell phone was on and recorded the whole thing. He sued for defamation and medical malpractice and was awarded $500,000 in damages.[vii]
Taking Matters Into Your Own Hands When it Comes to Your Health …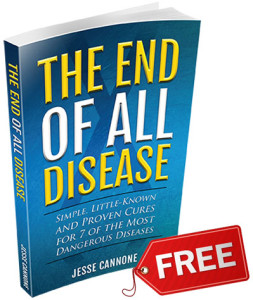 While most doctors are not malicious … there's no doubt that some are. You've got to enter into any relationship with a health care provider with both eyes open and a healthy dose of skepticism. It's ok, and even encouraged, that you ask questions and seek a second or even third opinion before making any major health care decisions.
And, as much as possible, you should take your health and wellness into your own hands and always try to keep it there.
If that makes sense to you — if you insist on taking control of your own health, educating yourself on the TRUTH to prevent others from taking advantage of you, and preventing serious diseases in the process — I invite you — urge you, in fact — to read my new book: The End of All Disease <— Click Here Today and It's Yours FREE!
[v] Association of Certified Fraud Examiners January/February 2013
[vi] Fredericksburg.com June 27, 2015
[vii] Washington Post June 23, 2015
Filed Under:
Back Pain
Written By: Updated:
July 16,2015