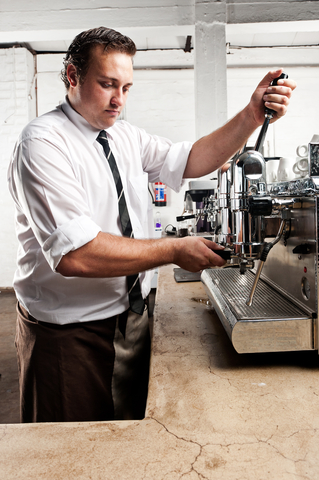 Coffee causes back pain? Turns out it certainly can if you are a barista whose job is to make and serve coffee-based drinks!
This might not sound like a widespread problem, but Starbucks alone employs 129,000 people, many of whom must tamp espresso over and over during their shifts. This process, which creates the dense puck of coffee (and resulting beige 'crema') such drinks are known for, is particularly problematic, requiring an "awkward posture" and force of up to 75 pounds per tamping.[i]
The activity creates cumulative loading on muscles and other tissues, which, together with long hours spent standing, helps explain why so many baristas report being in pain.
According to a new study in Ergonomics, which surveyed 59 baristas from 18 cafes, 73 percent reported low back pain and 68 percent reported shoulder pain, with half of the cases being attributed to the barista work. Many others also reported pain in their neck, upper back, wrist, elbow and knees.[ii]
According to the researchers:
"Many baristas complain of low back pain (LBP) and upper extremity discomfort while at work. … Those who suffered from LBP had higher peak low back compression and those with shoulder pain had, in general, higher moments about their dominant shoulder."
If you're a barista, what can you do? For starters, use an automated tamper, if one is available (though this doesn't provide the same level of control over espresso consistency, it can help keep you out of pain). Second, make sure you're using proper form. One barista said his company recommends being centered while tamping, acknowledging that poor tamping technique might result in injury.[iii]
Finally, your job duties should be rotated so that you're not engaging in constant tamping for your entire shift. That being said, even standing behind the counter for long hours can lead to back pain, especially if you have poor posture (as anyone who works in retail sorely knows).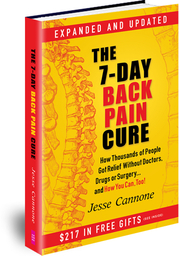 So what can you do if you're already suffering? Get your FREE copy of The 7-Day Back Pain Cure now. You'll learn about three new treatments that deliver fast and lasting pain relief in as little as 60 seconds, plus discover the seven mistakes that nearly all back pain sufferers make. You'll also find out the five hidden causes of back pain and how to get rid of the pain now and prevent pain flare-ups in the future.
It's 254 pages of back-pain secrets and top tips for relief, and it's FREE right now, while supplies last.
Not a barista? No worries, The 7-Day Back Pain Cure works for back pain from other causes too. Still, be sure to SHARE this post with anyone you know who works as a barista … they'll be so thankful, maybe even give you a free espresso shot too … 😉