Let's face it, we all have days or moments where we feel like we just don't have the time or energy to
get in that workout
,  do that back pain stretch… or finish that project we have been putting off.  I have a video that will change the way you think about how "hard" your life is, or how "difficult" your job can be.  This post will be short and to the point. I'm only asking that you do the following 3 things.
1. Watch This Video (It's 9 Minutes Long – If you are at work and can't watch it now, watch it when you get home. If you can't find the time when you get home to watch something that could possibly change your life forever… well, I feel for you because you need this more than anyone)
2. Tell Me What You Think – If this video inspired you or made you rethink a lot of things in your life, please leave a comment.
3.  Share This on Facebook or email it to your friends – It's a little disturbing to me to see videos of teen nonsense that have 20 million views and a story like this  has only been seen by a tiny fraction of the world population. How many people do you know that could benefit from seeing such an incredible story of devotion?
For our blog readers that are hearing impaired, here is a basic synopsis of what you'll see in this video.
For more than 20 years, Dick Hoyt has either towed, pushed or carried Rick in a string of athletic challenges including every Boston Marathon since 1981 and, most recently, last month's Ironman Triathlon World Championships in Hawaii.
For that event, competitors have to swim 2 1/2 miles through the ocean and then peddle a bicycle 112 miles before running a hilly, 26.2-mile marathon.
In the triathlon swim, Rick lies on his back in a rubber raft attached by rope to a wetsuit vest worn by his father. In the bike portion, Rick sits in a chair attached to the front of Dick's bike, and on the run, Dick pushes Rick in the race chair.
This year, it took them 16 hours and 14 minutes to finish the 140-mile day of reckoning — about two hours slower than their first try, in 1989. But time isn't the point. Teamwork is. The Hoyts are the only tandem ever to complete the Ironman Triathlon World Championships together. 'The biggest smile you ever saw in your life'
The spark for this lifetime of patience and devotion was ignited in 1977.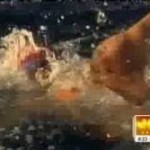 The teen-age Rick asked his father if he could participate in a five-kilometer (3.1 mile) race to benefit an athlete paralyzed in an accident. Dick agreed and pushed his son the entire distance in a jerry-rigged chair that now resides in the Massachusetts Sports Hall of Fame.
As they crossed the finish line that day, Rick flashed "the biggest smile you ever saw in your life," his father told CNN. When they got home, Rick went to a specially built computer that allowed him to communicate using a head switch to select letters and spell out words.
The message Rick typed, expressing his joy of feeling "like I wasn't handicapped," began an odyssey of love that continues to this day, taking father and son to competitions around the world. It even inspired Dick to learn how to swim.
"He's the one who has motivated me because if it wasn't for him, I wouldn't be out there competing," says Dick. "What I'm doing is loaning Rick my arms and legs so he can be out there competing like everybody else."
What did you think about this video and story, please leave a comment and share your thoughts…