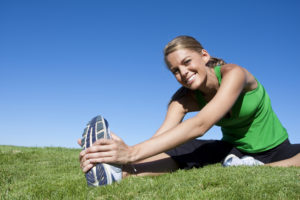 Everyone wants to live pain free, maintaining their mobility and flexibility.
Stretching helps you do both. But stretching improperly can hurt you.
That's part of why I chose to interview Brad Walker, Founder and CEO of Injury Fix™ and the Stretching Institute™.
During the interview we were discussing the two main types of stretching. Since most of our listeners aren't elite athletes, I asked him point blank which stretch is best for the everyday, average person.
Below you'll find that excerpt from the interview so you can get the answer direct from one of the world's leading experts on stretching… along with where you can find and listen to the rest of the interview.
---
Jesse:
If we could I'd like to jump to my next question. Can you maybe describe to people the different types of stretching that exists? I know there are probably many sub variations but what are the primary types of stretching?
Brad:
Broadly speaking stretches or stretching exercises can be categorized into two main groups. The first group is your static stretches and the 2nd group is dynamic stretches. Now the static stretches are any stretching exercise where the stretch is performed without movement. So in other words, someone would get into the stretch position and then they'd hold that stretch for a specific amount of time, whether it's 20 seconds, 50 seconds, whatever it is. But the point is there is no actual movement during the stretch. That's why it's called static stretches because they're performed statically, or in a still position.
The other type of stretching is dynamic stretching and that's the opposite of static. That is a stretching exercise you perform with movement and I think most people would be familiar with a leg swing or arm swing type stretch that they've probably seen.
Now within those two different groups there's a number of different ways you can do those stretches. For example, as static stretching there are a few different types. Some people might be familiar with the term PNF stretching, there's active stretching, there's isometric stretching and there's a few other types.
With dynamic stretching there's also a number of different types of stretching exercises you can do. There are some called active isolated stretching, resistant stretching and loaded stretching is quite popular at the moment. But I think one of the most important things to get across to people when you're talking about the different types of stretching is there is no one best type of stretching.
I keep using the analogy of strength training, but the principles with stretching are very similar to the principles with strength training. And just like there is no one best way to strength train, for example free weights are a great form of strength training but they're not the best. It's the same with stretching.
So although there's many different types out there, they all have their advantages and disadvantages, they all have benefits, they all have particular uses where a particular type of stretching is better for a particular purpose. So it's not a matter of one type of stretching being better than another. They all have their benefits and it's just a matter of matching the right type of stretching to, number one the person you're working with and number two the goal they're trying to achieve.
Jesse:
That's great. So if I could, I'd like to ask you a follow up question. So for the average person, somebody who is maybe not a world class athlete, they may be athletic but may not be, so the average Joe or Jane… is there a specific approach to stretching you feel is most useful or most helpful for somebody who is your everyday average person?
Brad:
Yes and I like especially when starting with clients I like to stick with plain old static stretching. I know it's not as fancy as some of the new dynamic stretches and all this other stuff, but good old static stretching, long hold static stretching where you get into the stretch position, you relax, you breathe deeply and give yourself at least 20 or 30 seconds for your muscles to relax and lengthen out and you just relax into the stretch and hold the stretch and breathe deeply… I find that is still the best form of stretching for most people to start with.
---
Again, that's just a short segment from the full interview I had with Brad Walker.
Every month I record another interview with a leading doctor, nutritionist or other natural health specialist like Brad about how you can naturally relieve pain and live a healthier, more fulfilling life.
Then I send the complete interview on CD to every member of our premium Live Pain Free® community along with the monthly print issue.
Plus, every Live Pain Free® member has full access to every past issue including well over 100 archived videos, audio interviews and special reports.
You'll find my complete interview with Brad Walker, along with his feature article, Reduce Chronic Pain by Avoiding These 3 Stretching Mistakes, in the archives under April 2014.
Filed Under:
Stretching
Written By: Updated:
July 8,2016