… The Best Cooking Oils from #5 to #1!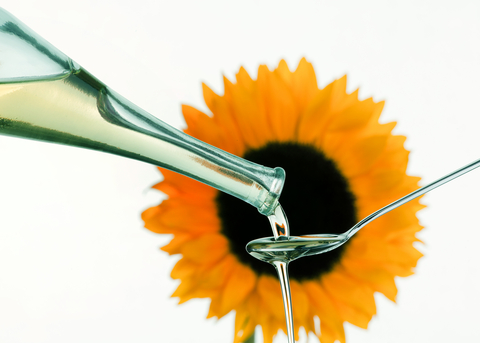 What is the best cooking oil?
Well, you know those large plastic jugs of all-purpose vegetable oil (corn, soy, canola, etc.) that line supermarket shelves? That is NOT it. In fact, that's the absolute worst oil to cook with because it's highly susceptible to oxidation when it's exposed to heat from cooking.
Heating vegetable oils actually leads to the formation of dangerous trans fats, and many of these oils are actually rancid before you even open the bottle because of light and heat exposure during storage and transportation. Americans are also notorious for eating far too many of these omega-6 vegetable oils, leading to body-wide imbalances linked to diseases like cancer and heart disease.
So back to the original question …
What is the Best Cooking Oil?
5. Olive Oil (But This Comes With a Caveat!)
The monounsaturated fats in olive oil are wonderful for your heart, and may help lower your total and LDL (bad) cholesterol levels, and normalize blood clotting, which can reduce your risk of heart disease. Olive oil may also be beneficial for people with type 2 diabetes, as it benefits insulin and blood sugar levels.
It's also been shown that olive oil, with its antioxidants and other phytonutrients, may even help prevent cancer.
One caveat, however: Olive oil is extremely perishable and easily damaged by heat (and light). So while it's an ideal oil for "cooking" cold salads and other cold dishes and dipping bread, olive oil should not be used for cooking that requires heat.
4. Avocado Oil
Like olive oil, avocado oil is a rich source of heart-healthy monounsaturated oils, and is known to lower LDL cholesterol and triglycerides while raising HDL (good) cholesterol, which protects you from heart disease. Unlike olive oil, however, avocado oil is quite tolerant of heat, making it ideal for sautéing, frying and all-purpose cooking (it's also a great massage oil, as it's wonderful for your skin).
3. Grapeseed Oil
With a neutral taste and a high tolerance for heat, grapeseed oil is ideal for higher heat cooking. It's a rich source of monounsaturated fats, vitamin E and antioxidants, including oligomeric proanthocyanidin complexes, which may help prevent chronic disease. Because of its light, neutral taste, grapeseed oil is ideal for baking, sautéing and stir-frying, or for use in salad dressings.
2. Sesame Oil
Another heart-healthy oil rich in monounsaturated fats, sesame oil has the additional distinction of two unique antioxidants called sesamol and sesamin. Researchers have found that high blood pressure patients who switched to sesame oil for all of their cooking needs experienced a significant drop in blood pressure, reaching normal levels within 60 days (when even blood pressure medications were unable to do this).[i]
Because sesame oil is heat-stable, it's a great choice for frying and sautéing. It also has a wonderful flavor (especially the unrefined versions) that make it perfect for sauces, dressings, and stir-frys.
1. Coconut Oil
Coconut oil is a beneficial saturated fat that contains medium-chain triglycerides (MCTs). Along with offering immune system support, MCTs help fight off bacteria, fungi and viruses, and even boost your metabolism. Coconut oil may actually help with weight loss and has been shown to decrease waist size when added to women's diets.[ii] In a separate study that found MCTs, such as those in coconut oil, decrease body fat in overweight men, researchers concluded:[iii]
"MCTs may be considered as agents that aid in the prevention of obesity or potentially stimulate weight loss."
Coconut oil is also one of the most heat-tolerant of all oils, which means it will NOT be damaged by heat. Its heat tolerance and pleasant, tropical flavor make it the best cooking oil, hands down. Plus, you can't beat the added weight-loss potential, too!
For even more unique and simple tips to shed your extra pounds for good, don't miss the new free weight-loss report our team has been working on for over 6 months … "Secrets of Effective Weight Loss."