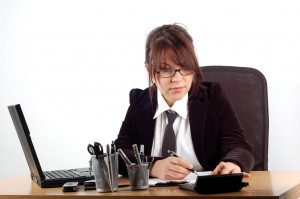 You probably don't give much thought to sitting … until it becomes a literal pain in your back. And it's peculiar, really, that we typically sit any old way, on any old chair, given that most of us sit for so long each and every day.
You probably put some thought into your mattress, where you spend maybe 8 hours a day. Well, studies suggest the average American sits for at least 8 hours a day as well — and some sit for far more. But you probably haven't thought much about making sure you have a proper back support pillow while you're doing all of that sitting, and that is a mistake.
Poor Posture While Sitting is a Leading Cause of Back Pain
Sitting actually puts more pressure on your back than standing, and your muscles and ligaments can easily become overstretched, fatigued and strained if you sit in the wrong position. The trouble is, virtually everyone sits in the "wrong" position, as it is very difficult to maintain perfect posture all the time, especially after hours of sitting. So, more often, we slouch, slump and contort our spines into the "danger zone," which is in the shape of a "C" with our shoulders forward of our hips.
The healthy position is when our spine is shaped like an "S" but holding that position means working on our abdominal, trunk and back muscles and remembering to sit that way, which most of us do not. This is where the proper back support pillow can be invaluable in preventing sitting-induced back pain and protecting your spine health, because it keeps your spine in the proper position effortlessly.
What to AVOID in a Back Support Pillow
All back support pillows are not created equal, and if you're not careful you could end up wasting your money on a cushion that's no better than a rolled up towel placed behind your lower back. Here are some examples of what you don't want in your back support pillow:
Hard padding: Over time this can add to the pressure and be uncomfortable on your spine.
Non-ergonomic design: If a back support cushion is a non-descript rectangle, oval or square shape, it's unlikely to provide the ergonomic support you need to gently guide your spine into the correct sitting position.
Narrow or short support area: Many back support cushions are too narrow, and do not properly "hug" your body to keep your back in proper alignment. Others are too short and do not give you full support from your upper back to your hips.
Non-breathable, cheap material: Not only will this look cheap, but it can make your back hot and sweaty.
Not easily secured: Many back pillows slip out of position constantly, so you have to keep adjusting them to stay comfortable.
What to Look for in a Back Support Pillow
The right back support pillow, such as the Freedom Back support pillow, will provide near-instantaneous pain relief while you're sitting, as well as help prevent back pain from occurring. Here's what you need to look for:
Full-Length Back Support: You need back support from your upper-back all the way down to your hips.
Wide Back Support: The best back support pillow will wrap around your sides and "hug" your body, providing extra lateral stability.
Spinal Channel: The Freedom Back has a unique spinal channel that allows your back to be fully supported without putting pressure on your spinal column.
Thoughtfully Designed with Real People in Mind: Look for a special cut out shape on the bottom of the pillow, which makes sure you're not getting pressure on your sacrum. The Freedom Back also has a tapered shape at the top so you get free movement of your arms and shoulders.
No Need for Adjustments: The Freedom Back has been designed around the bodies of real people so you get comfort and support, and don't have to keep adjusting it to stay comfortable. Once you put it on your chair, it stays right were you need it.
High-Quality Breathable Fabric: Keeps your back cool and comfy during use, and looks great.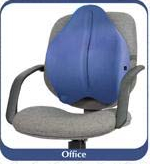 Can a pillow really do all of that?
Yes! As long as you choose the Freedom Back. This back support pillow represents the latest, cutting-edge technology in back support, and it will gently help your spine stay in the perfect posture anytime you sit down — not to mention massage and relax your muscles with its built-in massager. Use it in your car, with your desk chair, in your favorite chair at home or in a wheelchair — it doesn't matter where you use it, just be sure that you do!
Try it for yourself, we promise you won't be disappointed. The only question left is, how have you managed to sit this long without it?