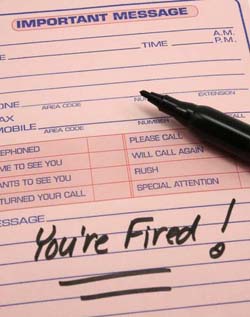 Is there someone in your life who desperately needs to get a pink slip?
You know who I'm talking about… it's the one you hate hearing from… the one you always let the answering machine pick up or whose email sits in your inbox for days before you respond.
If you find yourself actively avoiding a person, there's a reason. Call it survival instinct. So think about your relationship with that person right now.
If every time you speak to them you get brought down yourself, there's a negative aspect to that relationship that could hurt you, literally, through the stress it brings. If so, then it's time to show them the door, or if you're stuck (co-worker, family member), at least be firm about keeping time together to a minimum.
Here's a 3-step process for deciding on writing out that pink slip:
Examine yourself first… are you creating any type of negative atmosphere that leads the other person to be the way they are around you? If so, fix that first.
Have a friendly but direct and honest discussion with the other person about how their attitude is negatively affecting you. It's possible they don't even realize they're being a jerk… or at least how much it's impacting their relationship with you.
When all else fails… "You're Fired!"
Remember, the more stressed you are, the more likely back pain will wreck your day. End stress and you'll reap the benefits of less pain and possibly a longer life.
Want More Tips Like This One?
Discover 100 More Proven Tips for Lasting Back Pain Relief:

Filed Under:
Stress
Written By: Updated:
October 4,2011