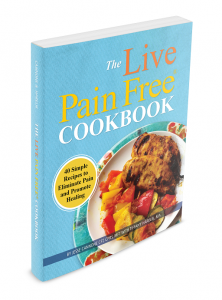 Sneak Peek of My NEW Live Pain Free® Cookbook:
Your body responds to the foods you eat in many ways… give it the right stuff, and you create an abundance of energy along with minimal inflammation.
And lowering inflammation means living pain free.
Now, what should we eat at breakfast to support healing and reduce your pain?
Here are 3 great choices:
Protein. Eating protein in the morning gives your body a chance to digest it throughout the day and assimilate it before your body switches gears from "digestion mode" to "sleeping mode" at night.
Fruit. Fruit is great to eat all throughout the day, but especially in the morning because if eaten at night, there's a chance that the fruit might not be fully digested and will lay in your stomach to ferment somewhat while the body is not actively digesting.
Greens. Greens for breakfast? You bet! Breakfast is a fantastic time to add more greens (i.e. more nutrients) to your diet, especially if you're not getting enough later in the day.
Now, how to incorporate all of this?
Try this delicious and easy recipe from my NEW Live Pain Free® Cookbook:
Goji Turkey Breakfast Sausage, Wilted Spinach and Pesto Eggs
Lean protein in the morning is a great way to lower inflammation and kick-start your healing for the day. It fuels muscle recovery and provides energy for your day. It keeps you full, making it easier to avoid binge-eating extra calories when you finally get hungry.
As an added bonus, if you need to add a little fruit (goji and cherries) and greens (spinach and pesto) into your day, this recipe will do the trick.
Goji turkey breakfast sausage
This tasty recipe utilizes superfruit goji berries (also called wolfberries). Native to China, this anti-inflammatory, antioxidant fruit has been eaten for centuries and several Asian cultures claim regular ingestion of Goji increases longevity. Cherries are also a powerful antioxidant and anti-inflammatory.
Makes 3-4 servings.
1 organic red apple, deseeded and grated
1-2 tablespoons dried organic goji berries, chopped
1-2 tablespoons dried organic tart cherries, chopped
1 pound organic turkey breakfast sausage
1 tablespoon organic extra virgin olive oil for cooking
Roughly chop the goji berries and cherries and put them in a bowl. Grate the apple and mix in with the berries. Remove any apple seeds that may have fallen in the mix.
Add the turkey breakfast sausage and mix all ingredients besides the olive oil with your hands until everything is incorporated.
Wash your hands and pour a little olive oil into a frying pan. Pat the sausage into small, flat, round patties and cook over medium-high heat for 3-4 minutes on each side or until there is no pink in the middle.
Set cooked patties on a paper towel to drain. Serve warm with wilted spinach and pesto eggs.
Make It Your Own
   Try rotating different dried fruits and berries as well as different breakfast sausage meats:

Dried blueberries and apples with pork breakfast sausage
Dried apricots and prunes with beef breakfast sausage

Add chopped nuts to increase nutritional value and add a crunchy texture.
Add different anti-inflammatory spices, like cinnamon, that go well with savory dishes.
Add a metabolism-boosting dipping sauce like sriracha or cholula.
Use a different cooking oil of your choosing to add a different flavor element like macadamia nut oil, grapeseed oil or avocado oil.
Wilted spinach
Most of us do not get enough greens in our diet. Adding them to your breakfast routine kick-starts your day with essential nutrition. Spinach is a great choice to always have on hand in your freezer so you always have some nutritious greens available. This recipe utilizes frozen spinach, but you can just as easily swap the frozen spinach for fresh spinach. Frozen spinach has plenty of water without needing to add extra when cooking. If you use fresh, you will want to add a few tablespoons of water to help it wilt.
Makes 3-4 servings.
1 clove garlic, minced
½ white onion, diced
½ pound frozen spinach
1 tablespoon extra virgin olive oil for cooking
Cook minced garlic and diced onion in olive oil over medium-high heat 4-5 minutes until they become translucent. Be careful not to burn them. Add frozen spinach and cook over medium heat 6-8 minutes until wilted but not browned. Serve warm with breakfast sausage and pesto eggs.
Make It Your Own
   Add a tablespoon of apple cider vinegar, fresh lemon juice, soy sauce or coconut aminos to taste after you have cooked the spinach. If you add them while the spinach is too hot, these sauces can create a sour taste. Add them during the last minute of cooking or after the spinach has been removed from the heat.
   Add organic, nitrate-free bacon crumbles or ham cut in matchsticks to add flavor and protein.
   Try different greens like mustard greens, collard greens or kale.
   Add cubed avocado, diced tomatoes, mushrooms or any other fresh organic vegetable you desire.
Pesto eggs
Eggs, they're what's for breakfast. Try adding pesto to your scrambled eggs for a different twist on an old favorite.
2-3 eggs make one serving.
1 teaspoon extra virgin olive oil for cooking
2-3 organic eggs
1 teaspoon *pesto
Heat olive oil over medium-high heat. Scramble eggs and pour into the hot oil, turning gently as the egg starts to cook. Add a teaspoon of pesto or more to taste. Continue to fold the pesto into the egg as it cooks, 1-2 minutes. When the eggs are firm, remove from heat. Serve warm with breakfast sausage and greens.
*Pesto. If you buy pre-made pesto from the store, look for the one that is greenest in color as it contains more herbs than fat (oils or cheeses). If you make pesto at home, use a blend of garlic, pine nuts, basil and olive oil.
Make It Your Own
   Concerned about cholesterol? Pesto is great in egg whites alone instead of scrambling the whole egg.
   Eating too much dairy can put you in an unbalanced state. Adding a little parmesan to these eggs if you are not eating too much dairy throughout the week is a tasty way to add flavor and a little protein to this dish.
   This is a great stand alone dish or can be served over leftover fajita steak meat instead of breakfast sausage and greens.
   Try serving this dish with a side of leftover rice and beans.
   Add diced tomatoes or leftover vegetables to the eggs while they are cooking.
UPDATE: The Live Pain Free® Cookbook – NOW AVAILABLE!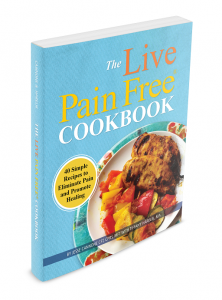 After months of work with co-author Tiffany Harelik, we're excited to announce we've finally released The Live Pain Free® Cookbook to the world!
Besides dozens of recipes, we share exactly what you need to know to prevent your diet from keeping you in pain… and how to incorporate delicious recipes that can relieve pain and inflammation fast.