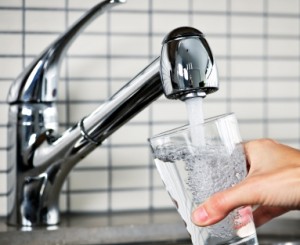 When you turn on the tap for water, like most people you probably assume the water that comes out is pure. Or, even if you know it's not as clean as fresh water from an uninhabited mountain spring … you at least assume it's safe.
But the Environmental Working Group (EWG) has analyzed nearly 20 million records of water utility testing, and revealed that there are 315 pollutants in U.S. tap water.[i] More than half of these can be present in any amount, as they are not subject to safety regulations. This doesn't mean they're innocuous … only that regulators probably haven't gotten around to researching them just yet.
Many of the chemicals are regulated, of course, but they still sometimes show up at dangerously excessive levels. This was the case for 49 contaminants detected by EWG, which resulted in polluted tap water for nearly 54 million Americans.
Which Cities Have the Worst Tap Water?
To answer the question everyone wants to know … the cities with the worst tap water according to EWG analysis … are below. In case you're wondering, the ratings are based on:
The total number of chemicals detected since 2004
The percentage of chemicals found of those tested
The highest average level for an individual pollutant, relative to legal limits or national average amounts
10. Jacksonville, Florida
Twenty-three chemicals were found, 12 of which exceeded health guidelines and one of which exceeded health standards. Industrial pollutants, agricultural pollutants, and sprawl and urban pollutants were all detected, among others.
9. San Diego, California
Twenty chemicals were detected, eight of which exceeded health guidelines and two that exceeded health standards. Water treatment chemicals and byproducts, such as chloroform, trihalomethanes (TTHMs) and haloacetic acids (HAAs), and industrial pollutants were the most common.
8. North Las Vegas, Nevada
Of the 26 pollutants found, 11 exceeded health guidelines. This included combined uranium, lead, bromate, radon and more.
7. Omaha, Nebraska
Forty-two chemicals were found, with 20 exceeding health guidelines and 4 exceeding health standards. This included agricultural pollutants like nitrate and nitrite, industrial pollutants like arsenic, water treatment and distribution byproducts and more.
6. Houston, Texas
Forty-six chemicals were detected in all, 18 of them exceeded health guidelines and 3 exceeded health standards. Chloroform, arsenic, radium-226, lead and methylene chloride were all detected at potentially harmful levels.
5. Reno, Nevada
Twenty-one pollutants were found, 8 of which exceeded health guidelines and 3 of which exceeded health standards (compared to a national average of 0.5). Industrial pollutants were particularly problematic, followed by naturally occurring contaminants that are often increased in areas affected by sprawl, agriculture or industrial development.
4. Riverside County, California
Twenty-two pollutants were detected, 13 of which exceeded health guidelines and 1 that exceeded health standards. Treatment chemicals and their byproducts, followed by industrial pollutants, were the most common offenders.
3. Las Vegas, Nevada
Thirty pollutants detected, 12 of which exceed health guidelines (the national average is 4). Industrial pollutants, such as aluminum, foaming agents, phthalates, and barium were especially prevalent.
2. Riverside, California
Thirty pollutants were detected, including 15 in levels that exceeded health guidelines established by federal and state health agencies (such as radon, perchlorate, arsenic, and combined uranium) and 1 that exceeded health standards set by the U.S. Environmental Protection Agency (EPA).
1. Pensacola, Florida
Forty-five chemicals were discovered in this Florida panhandle city's water (compared to a national average of 8), including radium-228 and -228, trichloroethylene, tetrachloroethylene, alpha particles, benzine and lead, cyanide and chloroform. Twenty-one of the chemicals occurred in unhealthy levels.
If Your Water Doesn't Kill You, It's… Um…"Safe"
This is, thankfully, an exaggeration, but it's not too far off from the truth because Americans, and that probably includes you, regularly drink water that contains 20, 30 or even 40+ chemical and other contaminants. They may linger at levels that are legal, that is, they are present in low enough concentrations that they won't make you clutch your heart and fall to the ground when you take a sip … but year after year, day after day, drinking all of those chemicals cannot be good.
Now, we suspect you'll find this to be as outrageous as we did, but the federal government does not actually require that your water be safe for long-term consumption — even though we all drink it long-term … what other choice do we have?
EWG states:[ii]
"Federal law does not require tap water to be safe for long-term consumption; the long-term risks of cancer and other health threats are balanced against the cost and feasibility of purification. As a result, health officials acknowledge that legally binding contamination limits typically allow exposure to levels of pollutants that present real health risks. For hundreds of other contaminants there are no legal limits at all — any amount is legal."
Want to Give YOUR Water a MEGA-Healthy Boost?
Filtering your tap water is one of the best investments you can make for your health, considering that water is so essential to human life.
But… did you know you can add 4 drops of Ultimate pH Balance to your ordinary tap water and turn it into a veritable flood of health?
This natural elixir combats all of the acidic substances your body is faced with every day — this includes not only certain foods and beverages and even cellular waste, but also the pollutants in your environment … like those in your water.
When you become overly acidic, it can impact your heart and brain, your muscles, your bones and joints, every organ in your body.
Ultimate pH Balance is a simple way to raise your pH levels and get balanced; it's a key to optimal health, and it may even help to combat all of the nasties found in U.S. tap water… click the picture to the right to discover more now!
Filed Under:
Toxins
Written By: Updated:
June 8,2012