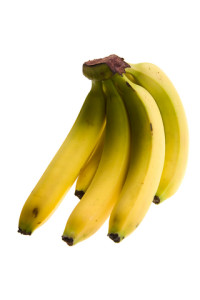 Apple creator Steve Jobs is probably the most famous person to follow a fruitarian (i.e. mostly fruit) diet. And while it landed Ashton Kutcher in the hospital while preparing to portray the late Apple CEO in a film … maybe the fruit helped drive some of Jobs' extraordinary creative talent.
In fact, Steve Jobs himself is said to have sworn that fruit helped improve his ideas[i] … and now there appears to be research to back it up.
Tyrosine in Fruit Boosts "Deep Thinking"
While anecdotal evidence suggests that creative people sometimes use food to overcome lack of inspiration, actual evidence toward this end is sparse.[ii] So researchers set out to prove (or disprove) this notion …
They gave a group of participants orange juice enriched with the dietary supplement tyrosine or a placebo, and wouldn't you know it … those who drank the tyrosine-enriched juice had an increased ability to think deeply. As the researchers explained, "the food we eat may affect the way we think."[iii] The lead researcher, cognitive psychologist Lorenza Colzato, told Science Daily:[iv]
"Food rich in tyrosine and food supplements that include tyrosine are a healthy and cheap way to increase our ability to think deeply. For instance, students who have to sit for an exam can benefit from added tyrosine.'

… Take a look at … Steve Jobs, one of the most creative minds of our time. He often claimed that his fruit diet formed the basis of his successes. And as fruit is rich in tyrosine, that might not be such a weird statement after all."
What is Tyrosine (And Why is it So Good for Creative Thinking)?
Tyrosine is a non-essential amino acid that acts as a building block for several important neurotransmitters (brain chemicals), which help your nerve cells communicate and influence your mood. Tyrosine plays a role in helping your brain produce:[v]
Epinephrine
Norepinephrine
Dopamine
Dopamine, in particular, is linked to creative thinking. In fact, people who take synthetic dopamine to treat Parkinson's disease often begin to create artwork, leading the chemical to be dubbed "the creativity pill."[vi] Since tyrosine increases your brain's production of dopamine, it's not a stretch to understand why it might boost deep thinking and creativity, too.
3 Top Tyrosine-Rich Fruits
If you want more tyrosine in your diet, your best bet is to eat more protein-rich foods like grass-fed organic meat, wild-caught fish, free-range poultry and organic grass-fed dairy products. As far as fruit goes, you can find some tyrosine in virtually any fruit, but if you want to boost your creative deep-thinking, try eating these particularly tyrosine-rich varieties:
Peaches
Avocado
Bananas (ripe)
Nature truly is amazing, isn't it? But your food fuels far more than creative thinking … it can impact your pain levels too.
After all, Mother Nature is also the source of the 12 Natural Ingredients Proven to Fight PAIN Best.
[i] Science Daily October 14, 2014
[ii] Psychological Research September 26, 2014
[iii] Psychological Research September 26, 2014
[iv] Science Daily October 14, 2014
[v] University of Maryland Medical Center, Tyrosine
[vi] The Atlantic July 17, 2014