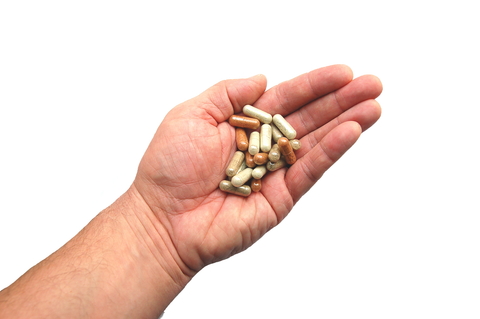 About 50 percent of Americans use vitamin and mineral supplements to support their health, but controversial new research is claiming that doing so is a 'waste of money" that won't help you prevent chronic disease.
The research is being met by criticism by some who claim it is doing a disservice by dismissing even proven benefits of vitamins and minerals, while assuming that everyone is following a 'perfect' diet and getting all their necessary nutrients from food alone.
Multivitamins for Chronic Disease: Do They Work?
The new research includes three studies that analyzed the use of multivitamins for cancer protection and heart and brain health. In a nutshell, the studies revealed the following:
One analysis of 24 studies and two trials found vitamin and mineral supplements may not reduce heart disease or cancer (although two trials did find a 'borderline-significant' benefit in cancer reduction among men taking such supplements).[i]
A second study found the use of multivitamin supplements did not prevent cognitive decline in men.[ii]
The third study found no difference in rates of second heart attack, chest pain, stroke and early death among prior heart-attack-patients who took multivitamins.[iii]
An editorial review of the studies painted a scathing review of vitamin and mineral supplements and, quite loftily, claimed that the 'case is closed' regarding the use of most mineral and vitamin supplements. They even urged Americans to 'stop wanting your money' on such products and stated:[iv]
"We believe that the case is closed — supplementing the diet of well-nourished adults with (most) mineral or vitamin supplements has no clear benefit and might even be harmful … These vitamins should not be used for chronic disease prevention. Enough is enough."
Editorial co-author Dr. Edgar Miller, who was previously paid by litigation-support firm Rubin/Anders to work as a consultant on a class-action lawsuit related to health claims made by a vitamin E manufacturer, said:
"The 'stop wasting your money' means that perhaps you're spending money on things that won't protect you long term … What will protect you is if you spend the money on fruits, vegetables, nuts, beans, low fat dairy, things like that … exercising would probably be a better use of the money."
It's a sentiment that makes sense, but there are some major considerations that should be taken into account before declaring vitamin supplements a waste of money for most people …
4 Reasons Why Downplaying the Importance of Supplements May be Dangerous
1. Nutritional Deficiencies are Widespread
According to the U.S. Centers for Disease Control and Prevention's (CDC) Second Nutrition Report, many Americans may be missing specific nutrients from their diets. This includes vitamin B12, vitamin C, vitamin D, iodine, iron, magnesium and zinc.[v]
Yet, according to the first study above, "the analysis included only primary prevention studies in adults without known nutritional deficiencies." The second study also noted that a limitation of the study was that "the population may be too well-nourished to benefit from a multivitamin."
The fact is, if you're eating a very healthful diet, including multiple servings of high-quality fruits and vegetables each day, you very well may not need extra nutritional support from supplements. But most Americans are not eating perfectly and many are not even close to a 'perfect' diet …
2. Supplements Vary Widely in Quality and Dosages
The studies did not include information on the type of supplements evaluated. For instance, did the multivitamins include synthetic or whole-food-based vitamins? Was the vitamin D D2 or D3? What kind of vitamin K was taken, K1, K2 or K3? Was the vitamin E synthetic? These types of variations can have a significant influence on their health effects.
Further, it could also be that the supplements in question did not contain the proper dosages of nutrients to provide significant benefits. At least one of the studies used supplement doses lower than the upper tolerable limit, and this is often too low to provide a meaningful benefit. Even one of the studies noted the following as a limitation:[vi]
"Doses of vitamin may be too low …"
Further, in the first analysis, the duration of most studies used was less than 10 years. It's impossible to know whether evaluating the patients' health beyond this point may have shown improvements.
3. Some People Stopped Taking Their Vitamins …
In the study which found multivitamins and mineral supplements to be of little use to patients wishing to prevent a second heart attack, it was noted that "there was considerable nonadherence and withdrawal, limiting the ability to draw firm conclusions." In other words, many of the study participants dropped out or did not take their vitamins as directed. Making assumptions that multivitamins are a 'waste of money' based on a study with this limitation is misleading and potentially even dangerous.
4. Many Studies Show Proven Benefits From Taking Supplements
The editorial comment also overlooks the many credible studies before it, which have shown nutritional supplements to be of great value. There is little doubt, for instance, that people with unhealthy diets, nutrient deficiencies or certain conditions like celiac disease and pregnancy may benefit from such supplementation.
Among those with mood disorders, meanwhile, those who had a higher intake of vitamins and minerals had better overall mental functioning, according to a study earlier this year.[vii] Other research has shown:
People who took a multivitamin for four months reported significantly increased energy, improved mood and better sleep, compared to those who took a placebo.[viii]
Men who took a daily multivitamin had a significantly reduced risk of cancer compared to those taking a placebo.[ix]
B-vitamin supplementation has been shown to slow brain shrinkage in regions associated with Alzheimer's disease and cognitive decline.[x]
Supplementing with cancer and vitamin D has been shown to "substantially reduce all-cancer risk in postmenopausal women.[xi]
Proclaiming Supplements as Useless Shows "an Ignorance of Clinical Nutrition"
Dr. Andrew Saul, Orthomolecular Medicine News Service Editor, denounced NBC News for running a supplement-bashing headline in response to the Annals study mentioned above (which concluded supplements may not reduce the risk of heart disease or cancer).
He wrote:[xii]
"NBC's supplement-bashing headline article, "Vitamins don't prevent heart disease or cancer, experts find" displays an ignorance of clinical nutrition that is difficult to ignore, and, thanks to its media prominence, can't be.

Of vitamin supplementation, NBC specifically said that a "very extensive look at the studies that have been done show it may be a waste of time when it comes to preventing the diseases most likely to kill you."

The "very extensive look" encompassed 24 preselected studies. It looks like they just possibly may have missed a few, such as these …"
He then went on to highlight an extensive list of research showing nutritional supplements' worth, including studies showing:
Multivitamins may lower your risk of cancer
Vitamin D may lower cancer risk
Vitamin C may lower your risk of heart failure and prevent and reverse radiation damage and cancer
Natural vitamin E may reduce your risk of cancer, heart attack and mortality and has shown benefit for Alzheimer's disease, epileptic seizures, chronic liver disease and COPD (chronic obstructive pulmonary disease)
So while I'm certainly not going to debate the importance of a healthy diet — and using it as your primary source of nutrients — discounting the value of virtually all nutritional supplements on the basis of three studies just doesn't make sense … and I, for one, will not be giving up my daily supplement regimen any time soon.
Who's with me?
---
Filed Under:
Supplements
Written By: Updated:
December 20,2013