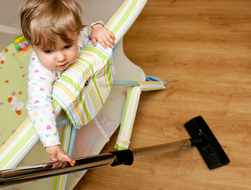 Did you know some of the most dangerous
disease-causing bacteria
may be hiding out in your vacuum cleaner?
All of the 21 vacuum cleaners tested by researchers released at least some fine dust, allergens and bacteria back in the air, according to a recent Environmental Science & Technology study.
It was no surprise that older vacuum cleaners — scientists tested models as ancient as 22 years — did more to pollute indoor environments than newer ones.
But it was a surprise that vacuums equipped with more modern High-Efficiency Particulate Air (HEPA) filters dispersed only slightly lower levels of bacteria and dust into the air, even though such devices claim to rid the air of at least 99 percent of these contaminants!
Science experts are torn: some recommend newer vacuums with HEPA filters (but that you change the filters regularly), while others believe a central vacuuming unit — one with the filtration unit and motor enclosed separately from the home — is more effective in getting rid of dust consistently.
Among the dangerous bacteria that may be spread around, but not removed, by your vacuum cleaner: Salmonella (the second most frequent cause of bacterial problems in America) and Closteridium botulinum (responsible for infecting our foods).
Discover how you CAN protect yourself and your loved ones, though, in this new free report below…
Protect Your Body
From Bacterial Invaders By Reading
This FREE Report Today!
Environmental Science & Technology