Back pain is one of the most common ailments presented in physicians' offices yearly. Spinal compression, muscle imbalances, pinched or irritated nerves, muscle spasms, trigger points, stress, slips and falls… they all contribute to and can be created by back pain.
If we look at the possible causes of back pain, we can then uncover how the pain occurs. In a perfect world, we could then prevent the pain by not doing those things that contribute to the pain. However, we don't live in such a world. And it seems there are certain jobs or professions that top the list for putting people at risk of developing chronic back pain.
Topping the list are drivers of heavy trucks and tractor-trailers. Their pain is caused by spinal compression and tight low back muscles caused by the constant compression and vibration they are subject to while driving ling distances. Sitting for such longer periods also plays a vital role in this.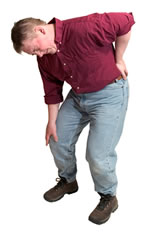 Construction workers and shingle roofers are also prone to back pain. Their vocation requires holding and maneuvering in awkward positions, lifting heavy objects and repetitive hammering, cutting or pulling.
Landscapers also made the list by way of the requirement for lifting heavy objects like bags of dirt, small trees and stones. Their vigorous twisting, turning and bending motions also place them at high risk for back pain.
Police officers often experience back pain, especially in the lower back, as a result of the extended periods they spend sitting in their cars. The weight of their equipment belts and the sudden and un-natural movements they sometimes make when apprehending a suspect also contribute to their pain.
Other peace officers such as firemen and emergency medical technicians also experience back pain due to the carrying people, lifting heavy objects and using the water powered fire hose and swinging axes to open spaces.
Spots on the list are also taken by farmers and delivery drivers. Sitting for long periods in a delivery truck or farm vehicle and lifting heavy objects are the cause.
Awkward positions and favored use of the dominant hand to achieve tasks earned auto mechanics their spot on the list of worst jobs for back pain.
Finishing the list are home nurses, whose pain is generally caused by lifting heavy objects… other people! Helping someone in and out of bed, in and out of the tub, dressing them, undressing them all contribute to back injury.
The list of worst jobs for subjecting people to the possibility of experiencing back pain was initially compiled in 1994 by the American Chiropractic Association. And in addition to the above mentioned vocations, were mentioned one's working posture and work station design. Even in low-stress jobs, the effects of posture on the back cannot be ignored.
In the end, we cannot practically change our jobs, but we can do things to prevent the acute pain from becoming chronic. Ways of doing this include balancing the development of muscles with muscle balance therapy, removing inflammation with systemic enzyme therapy products like Heal-n-Soothe®, and working out trigger points with trigger point therapy.
50 Years of Back Pain Gone in Just Days!
Jerry Talisman had suffered from chronic back pain on and off for over 50 years. Like most people, he had tried it all… chiropractors, physical therapy, he even overdosed on tylenol but nothing gave him lasting relief until he discovered muscle balance therapy.
Unlike most treatments which only deliver temporary relief, if any at all, muscle balance therapy delivers lasting relief to 8 out of 10 people who use it because it addresses the underlying cause of the pain, not just the symptoms.
If you suffer from any type of back pain, neck pain or sciatica, I urge you to learn more about this breakthrough new treatment. Click here to learn more…
Filed Under:
Back Pain
Written By: Updated:
September 7,2017