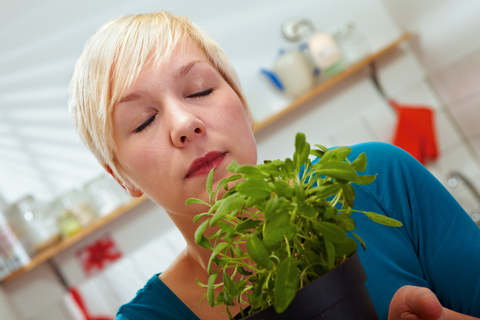 According to research by Dr. Alan Hirsch of the Smell & Taste Treatment and Research Foundation in Chicago, you don't have to eat a food in order to feel satisfied by it.
Simply smelling certain foods may instead trick your brain into believing you've eaten it, helping you to feel full faster — and ultimately lose weight.
In a revealing study, 108 overweight participants sprinkled Hirsch's tasteless calorie-free but scented crystals onto everything they ate for six months. They lost, on average, a respectable 30+ pounds each![i] Although the research has yet to be published, and many remain skeptical about whether or not the scented crystals really work, the results seem to speak for themselves.
Plus, taste begins in your nose, as the olfactory nerve in your nose is linked to the brain regions that tell you when you're full, so it's a hypothesis that makes perfect sense.
Hirsch told ABC News:[ii]
"By smelling the smells, their brain perceives: 'I've smelled it, therefore I've eaten it, therefore I better stop eating it. I've overeaten … It fools your brain into thinking you've eaten more and thus you eat less. You can eat whatever you want to eat. You eat whatever you normally would eat. You'll feel full faster, you'll eat less."
Of course, you don't have to have scented crystals to get these appetite-suppressing smells (and the crystals used in Hirsch's research aren't even on the market if you wanted to). Instead you could try smelling the actual food or spice itself, and see if it helps you to feel full faster, eat less and lose weight.
What are the Best Food Smells to Suppress Appetite Naturally?
So what were the food smells that led to a 30+-pound weight loss in just six months?
Cocoa
Spearmint
Banana
Strawberry
Raspberry
Malt
Taco
Cheddar cheese
Parmesan cheese
Ranch dressing flavor
Horseradish
Onion
Interestingly, separate research has also shown that the smell of olive oil may also help with weight loss, as people exposed to its scent had improved blood sugar responses as well as ate fewer calories.[iii] Hirsch also recommended adding any strongly aromatic fruits, vegetables and spices, such as garlic and onion, to your meals to help boost your feelings of satiety at home.[iv]
What Else Can Stop Your Cravings in Their Tracks?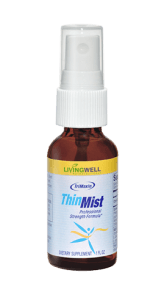 If you like the idea of a quick, natural method to get rid of your food cravings, you can try sprinkling your meals with strong-smelling spices like cinnamon, nutmeg and cloves … or you can try ThinMist, an all-natural blend of DHEA, essential amino acids and 500 mcg of chromium to curb your sugar cravings while boosting your body's natural production of human growth hormone (HGH), which speeds metabolism and weight loss.
ThinMist is scientifically formulated to reduce cravings, which it does by helping regulate your blood sugar and serotonin ('happy hormones'). Studies suggest the chromium in ThinMist can help keep your blood sugar in balance and research suggests it may also help to lover sugar cravings. Plus, this breakthrough formula contains a uniquely calibrated blend of 7 essential vitamins and amino acids that work together to help boost your body's ability to produce HGH, one of your body's most powerful fat burners to help you lose weight without exercise and dieting. Among them:
L-Valine: To help muscles heal after strenuous workouts. By speeding the recovery of muscle, lean muscle develops quickly. And the more lean muscle your body has – the more fat-burning power it possesses!
L-Arginine: Clinically shown to boost your production of creatine in the muscles … increase circulation … improve blood flow … boost sexual desire … and even protect your heart!
L-Tyrosine: To turbo charge your adrenaline! Also helps suppress your appetite … improve your brain's ability to focus … relieve headaches and tension … and fight off chronic fatigue!
Try it risk-free for the next 90 days (it only takes a quick spritz three times a day), then let us know how many pounds you lost as a result!
Filed Under:
Weight Loss
Written By: Updated:
June 28,2013