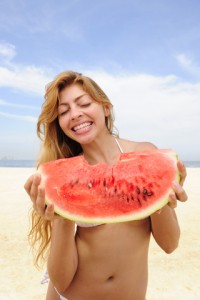 Summer is finally here, and no matter what your age this brings with it the special "school's out" feeling … the one that only fireflies and weather so warm it feels like a blanket wrapped around your shoulders can bring.
Maybe it's the heat, or maybe it's just something about summer, but you probably find yourself slowing down your pace just a bit.
And that's a very good thing, as simply taking time to stop and smell the roses (or taste the watermelon) is a smart move for your health. But that's not all …
Top Ways to Boost Your Health This Summer
10. Don't Forget to Apply the HEAT
With sweltering temperatures you may be tempted to give your far-infrared heating pad the summer off. But if you have any form of chronic pain… DON'T. It's important to keep applying the far-infrared heat right through the summer months to most effectively stop the pain and heal underlying causes of it.
9. Catch Some Rays
A bit of sun exposure, experts say about 15 minutes or so a day, depending on weather conditions, your location, and your skin color, allows your body to produce disease-fighting vitamin D. Many in the United States are deficient, so get out and get yours naturally today (sensible exposure is the name of the game … be sure you don't get burned!).
8. Don't Let the Heat Rule Your Emotions
The summer heat can make people more irritated and angry than normal. This may be in part because you're not sleeping as well, or you're just plain uncomfortable. Heat also impacts your brain's hypothalamus, activating it as though a threat is present … and your body may react to that threat with a tendency to anger quickly.[i] So take a yoga class, de-stress in a lukewarm (or cool) bath and generally be extra nurturing toward your emotional self.
7. Stay Safe — Violent Crimes Peak in Summer
Just as heat can make emotions rise, heat drives up crime rates as well. Generally speaking, violent crime rises in spring, peaks in the summer, then falls in the fall and winter.
There are a few reasons for this — for one, when it's nice out, people spend more time outside, interacting more and generally getting into more trouble. Teens are also out of school, with more time on their hands to get into trouble too. There's also the heat-anger connection described above, as it's known heat leads to significant impacts on cognitive and physical functions, increasing heart rate and feelings of hostility and aggression while decreasing feelings of comfort.[ii]
So be aware of your surroundings, and avoid traveling alone at night in questionable areas — even if it's still light outside.
6. Watch Those Empty Calories!
On those hot days it's all too easy to reach for a sugary soda or energy drink, but these are loaded with empty calories that will not only widen your waistline — they'll leave you craving more and more sugar, an addiction that is very difficult to break. Experts have even recently shown that consuming sugar is very similar to consuming alcohol in the effects it has on your body — so stay hydrated with a seltzer water "spiced up" with a squeeze of lemon or lime instead.
Check Out Our FREE Weight Loss Guide for Even MORE Slimming Tips!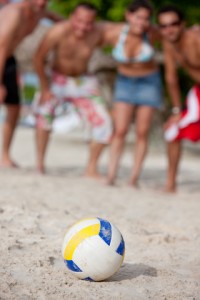 5. Join a Beach Volleyball Team!
Just because it's hot outside doesn't mean you can turn on the fan and make yourself a permanent fixture on the couch. Your local gym is air conditioned, and if you head outside in the early morning or evening, it will still be cool enough to get in your workout outdoors. Remember, all those fun and stress-busting activities like gardening, beach volleyball and swimming can only be done when it's warm out, so take advantage now! With as active as you're going to be, be sure you have a tube of Rub on Relief on hand … an all-natural way to get pain relief, fast.
4. Take a Vacation
Summer's a great time for a road trip, a beach stay or travel just about anywhere. You can even take a "stay-cation," and have your vacation right at home. The idea is to take some time off to rest, relax and unwind — and nourish your inner spirit by seeing new sights or simply taking time for inner reflection.
3. Invite Your Friends Over
What better time for an impromptu get-together than on a warm summer day or night? You can have a BBQ, a picnic or a wine-and-cheese party — it doesn't matter, really, what you do, just that you take time to laugh, socialize and nourish your connections with your friends. Life often gets so busy that we forget how important our friends really are — and how happy they make us feel.
2. Keep Sleeping
With some of the shortest nights of the year, you may be tempted to "burn the midnight oil" and stay up later than you normally do. Resist this temptation, as it's a trap that will only zap your energy and quickly lead to burnout, and even disease. Keeping up with your regular bedtime routine, at the same time as normal, is best for your health and well being.
If you do not get a great night of sleep EVERY night, discover the #1 most powerful and safest natural sleep aid available…
Discover Sleepzyme and Try a FREE Bottle Today!
1. Visit Your Local Farmer's Markets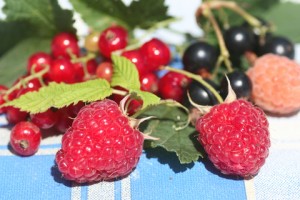 There are about 7,000 farmer's markets in the United States. Find one near you and take advantage of all that fresh, locally grown produce. Berries, plums, peppers, tomatoes, Swiss chard and much, much more are now in season and at their peak in flavor. So stop by your local farmer's market — it's good for your body, and the chance to meet and chat with local merchants and neighbors in your area is good for your mind.