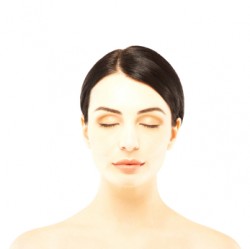 Have you ever wondered if the benefits of meditation have ever been studied and actually proven?
Yogis and monks have been practiced meditation for thousands of years, and they certainly seem more peaceful … but what does science have to say?
Amazingly – a LOT!
Meditation Vs. "Mindfulness"
"Meditation" is a mental, spiritual and physical practice that dates back to antiquity. Most ancient religions – from Hindusim to Christianity – used some form of meditation to increase spiritual connection and develop a greater sense of well-being.
But today, modern culture looks at meditation as a secular practice with no particular religious platform. It has gained such traction that universities around the world are exploring the complete spectrum of meditation benefits.
Meditation in the clinical research setting is called "mindfulness practice." Like meditation, it creates a mental state of calm attentiveness and allows you to focus on the present moment. Worries about the past or future are swept aside in favor of the now.
Mindfulness has been found helpful for everything from post-traumatic stress disorder to cancer … and scientists continue to make incredible discoveries about the power of meditation.
8 Proven Health Benefits of Meditation
Meditation Reduces Loneliness – and Inflammation
One of the most exciting studies on meditation shows as little as 30 minutes a day can significantly reduce chronic inflammation, indicated in diseases from diabetes to Alzheimer's disease.
A Carnegie Mellon study of 40 older adults between 55 and 85 hypothesized that Mindfulness-Based Stress Reduction treatment could reduce participants' loneliness. "We know that loneliness is a major risk factor for health problems and mortality in older adults," explained lead author J. David Creswell.
After eight weeks of two-hour live sessions, daily 30 minute sessions at home, and a daylong retreat, the researchers found meditation in fact decreases loneliness.
But more significantly, they found meditation changes genes that cause inflammation. "These results provide some of the first indications that immune cell gene expression profiles can be modulated by a psychological intervention," said Steven Cole, a study collaborator and professor of medicine at UCLA.
Meditation Improves Focus and Reduces "Mind-Wandering"
Researchers at the University of Miami wanted to see how meditation training would help students stay focused on the present, especially during stressful exams. For seven weeks, participants performed attention-building exercises and learned to observe the activity of their minds.
Those who received training showed significant improvements in attention and reported no increase in mind-wandering – which is characterized as replaying past events or daydreaming about the future.
Another similar study from the University of California-Santa Barbara showed that mindfulness training could improve reading comprehension, working memory capacity and ability to focus – in as little as two weeks.
Meditation Improves Post-Traumatic Stress Disorder Symptoms
In 2013, the University of Michigan studied the effects of mindfulness and meditation on veterans with PTSD. After just 8 weeks, 73% of participants showed meaningful improvement, including decreased self-blame and perceptions of constant danger. Only 33% of those who experienced "regular" therapy showed improvement.
Other proven benefits of meditation include…
Meditation relieves stress-induced and emotional inflammation…
Meditation reduces anxiety, stress and depression in cancer patients, which reduces mortality and prolonged hospitalization…
Meditation slows the progression of HIV by reducing stress and boosting the immune system…
Meditation relieves chronic low back pain while improving attention, sleep, well-being and quality of life…
How to Get the Health Benefits of Meditation
Automatically Without Trying

When you consider that most of these studies were performed on people who were sick or overly stressed, the benefits of meditation for "regular" people like you and me could be astronomical.
And you don't have to meditate 10 hours a day to get the benefits. In fact, as little as 30 minutes a day can make a tremendous difference in your mental focus, energy levels, memory, self-confidence and mood.
Plus, daily reduction of stress and inflammation – two huge risk factors for chronic disease – may mean you'll live a longer, happier and healthier life.
However, many people find it difficult to learn how to meditate without guidance. And in truth, it can be tricky learning how to meditate correctly from a book or Wikipedia.
But what if you didn't have to learn – or even try – to meditate? What if you could get all the benefits of meditation automatically?
Good news – you can.
In fact, this is the goal of brainwave entrainment expert Michael Kelly's Brain Evolution System. A program that allows you to change your mental state at will. Whether you want to be more creative, compassionate, peaceful or joyful, his Brain Evolution System helps you get there – automatically.
The "BrainEv" System is designed to work in just 30 minutes a day and it couldn't be simpler. You do nothing more than listen to beautiful, relaxing audio tracks with your headphones. These scientifically designed tracks physically alter your brainwaves to allow you to get the benefits of deep, practiced meditation without the months or years of struggle learning how.
The research I shared above only scratches the surface of the many proven health benefits of meditation. If you'd like to discover the potential treasure chest of benefits meditation could bring to your life, I heartily recommend Michael's Brain Evolution System as the perfect starting point.
 

References
Rea S. Mindfulness meditation reduces loneliness in older adults, Carnegie Mellon study shows. 2012 Jul. 24. EurekAlert.org.
Creswell JD. Mindfulness-Based Stress Reduction training reduces loneliness and pro-inflammatory gene expression in older adults: a small randomized controlled trial. Brain, Behavior, and Immunity. 2012 Oct;26(7):1095-101.
Morrison AB. Taming a wandering attention: short-form mindfulness training in student cohorts. Frontiers in Human Neuroscience. 2013;7: 897.
King AP. A Pilot Study of Group Mindfulness-Based Cognitive Therapy (MBCT) for Combat Veterans with Posttraumatic Stress Disorder (PTSD). Depression and Anxiety. 2013 Jul;30(7):638-45.
Fernandez S. Mindfulness improves reading ability, working memory, and task-focus. EurekAlert.org. 2013 Mar. 26.
Rosenkranz MA. A comparison of mindfulness-based stress reduction and an active control in modulation of neurogenic inflammation. Brain, Behavior, Immunity. 2013 Jan;27(1):174-84.
Piet J. Mindfulness reduces anxiety and depression in cancer patients. EurekAlert.org. 2012 Jun. 11.
Creswell JD. Mindfulness meditation training effects on CD4+ T lymphocytes in HIV-1 infected adults: a small randomized controlled trial. Brain, Behavior, and Immunity. 2009 Feb;23(2):184-8.
Morone NE. "I felt like a new person." the effects of mindfulness meditation on older adults with chronic pain: qualitative narrative analysis of diary entries. Journal of Pain. 2008 Sep;9(9):841-8.
Carlson LE. Mindfulness-based stress reduction in relation to quality of life, mood, symptoms of stress and levels of cortisol, dehydroepiandrosterone sulfate (DHEAS) and melatonin in breast and prostate cancer outpatients. Psychoneuroendocrinology. 2004 May;29(4):448-74.
Filed Under:
Meditation
Written By: Updated:
February 27,2014